I had an unusual number of grandparents as a child. There were many surrogate parent figures in my life from a young age, many who knew me since birth. The liberal church my mom worked at in Maine, USA, was filled with many grandparents who were overflowing with love and support for my sister and me, and we grew up in the most safe and welcoming environment. 
As a kid, going to Pride was just a normal activity for me. I would march next to my family, holding my homemade sign and dress up in the most rainbow outfit I could possibly conjure up. I met activists and went to rallies and cheered when the United States legalized same-sex marriage, a fight my mom had been working on for years. This is why when I came out to my mom, I wasn't surprised that the news didn't faze her. My whole life, I had been surrounded by open, loving and brave people who were living their truth without fear. That really shaped me as a person.
Moving to Costa Rica when I was 11 was exciting. I thought the animals were cool and the sunsets were pretty, and over time I made amazing friends.  Realizing I was queer, that I wasn't straight, wasn't a painful process. It was just something that made sense to me, something that felt right. Growing up in such a supportive climate, I was taught to always be authentic and stand up for what I believed in, which I think is why I wasn't afraid of being myself even in a new place.
Telling my friends in our rural community, Monteverde, was fairly easy. They were mostly nonchalant about it. Coming out is a constant thing, though. A queer person will have to come out for the rest of their life, and I feel like I'm constantly repeating the same process. The adrenaline and fear that comes from telling someone something that feels so secretive and personal never gets easier.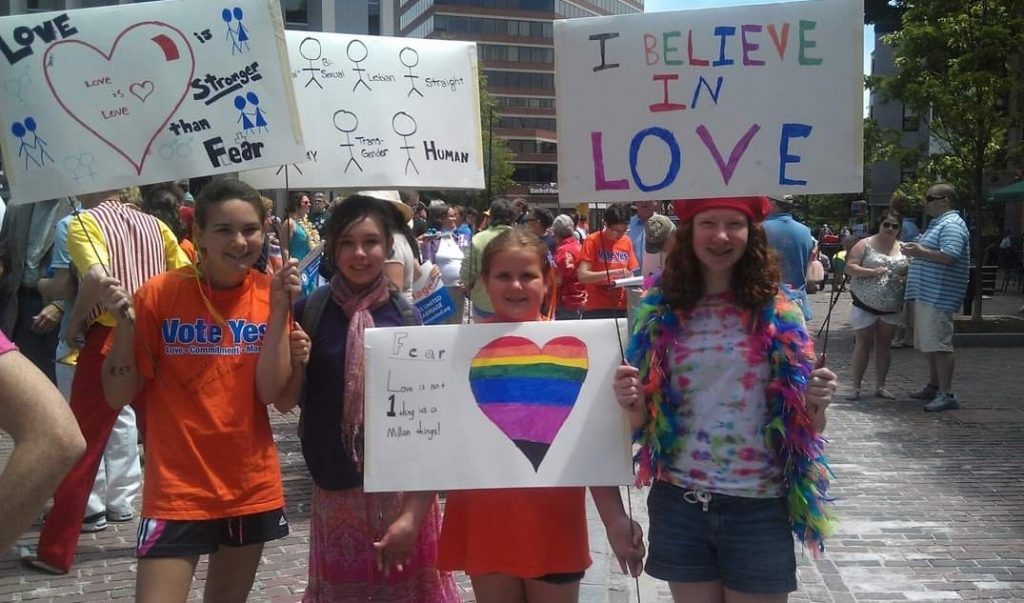 Costa Rica, like every other country, has a history of not supporting, and even attacking queer people. I think that prejudice is still very prevalent today. I'm lucky: I've never felt unsafe or uncomfortable in my home, which unfortunately is what many queer people have to endure. The fact that I've never personally felt unsafe, however,, doesn't undo the amount of times I've been hurt. The comments of those in my community, or even my friends, who say hateful things right in front of me, because they don't know I am one of "those people" they hate. The parents of my queer friends who say they'd never tolerate having a gay kid, and I can't defend them because they haven't yet come out. These attacks aren't physical and they aren't personal, but they hurt nonetheless, and I'm definitely not as comfortable wearing my rainbow outfits now asI was as a kid. 
My heart goes out to those who do face violence, and who do feel unsafe. In most parts of Costa Rica, injustice is common, and only in recent years have things begun to change regarding acceptance and LGBTQ+ rights. However, I would say Monteverde is an accepting place, comparatively.  Or maybe the people I surround myself with are more accepting than the rest, and that skews my view. 
I think the most comforting thing that a young, closeted, queer person can hear is that there are other people like them. When I first came out to my friends, there was only one other LGBTQ+ person in my school that I knew of, and they helped me feel more comfortable telling others how I felt. To date, many other friends and classmates have come out as LGBTQ+, though not to everyone. 
Homophobia, transphobia and prejudice are very much still prevalent in my community, in Costa Rica, and around the globe. In many spaces, queer people can't exist without living in fear. I feel that it's my goal and also partly my duty to help change that. The only way this prejudice can be fixed is through education, and personally connecting with people. It's only when people connect and tell their stories that others will start to open their hearts. Connection and education are the main things that can help turn around the pathway of hatred that many are on. 
It's amazing to see more young queer people find themselves and work hard to help combat this prejudice and hate. We're in this together, and I can't wait to see what else we can do when we work together, on the side of love.
Our ongoing Young Writers space showcases the perspectives of children, adolescents and young adults on what is happening in their communities. Are you a young writer, or an educator or community leader who works with youth, who would like to be informed about topics of interest for future issues? Join our Educación 506 group by contacting Katherine, [email protected], or messaging us at 8506-1506.