When we decide to start a food-related business, we do it because of the passion we have for cooking. We begin to design the products we want to offer. We start selling to friends and family. Before we know it, more people believe in us, and our business is off and running.
But what also happens, all too often? We miss an important step: researching the procedures we have to complete so that our business can become part of a formal framework that will allow us to sell more, and operate without risking product confiscation or a fine.
This is the story of many entrepreneurs who make delicious products, with a lot of dedication and love, aligned with market trends: sometimes they can't make progress because of the challenges of formalization. They get frustrated and end up closing their businesses, despite their potential.
I have been working with entrepreneurs for more than 15 years. The most common problem is the paperwork, and getting training so that they can compete in the market. You can have the best product, but if people don't know about it; can't find it at different points of sale; or can't find your information on the product because your operation is clandestine, you're going to lose opportunities and position. You won't be able to grow.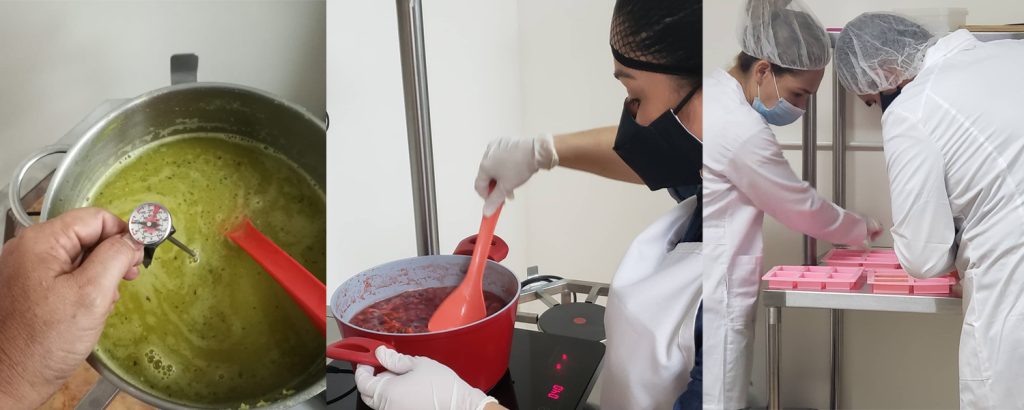 Imagine that you're at a training and the people in charge ask who could provide the food service for the closing event. You could do it, but it turns out they can only hire someone who's registered with tax authorities. You've already lost a sale and a contact that could continue to buy from you.
Or let's imagine another situation: you make a delicious pesto that you always take to parties with your friends. They love it. One friend wants to sell it in certain places that he already has in mind. You make several samples to take along, and they say: do you have a health permit? You ask, "Why?" It turns out that it is one of the requirements to be able to market the packaged products; it demonstrates that it was well handled, processed and prepared in a licensed facility.
So in order to promote our product and also guarantee the health and confidence of our consumers, we must follow a series of procedures.

You can run your business as an individual (persona natural) or as an entity (persona jurídica). It's no problem to start your business as the former; the market might nudge you towards setting up an entity down the road, but you can do that little by little. If you decide to set up your company as a legal entity before the Mercantile Registry, you must hire a lawyer for this procedure and consult their fees. In addition, other associated expenses must be paid. It is done online, here. Remember that you must pay corporate taxes every year.

This is mandatory. It shows that your restaurant or cafeteria's food preparation activities are allowed at your location. This depends on your municipality's zoning laws. Carry out this process at your municipality; it's often free. You'll need the number of your property, its registry number, its size in square meters and, of course, the kinds of activities you will carry out. You can complete the form in person or online. In some municipalities they will ask you for a surveyed master plan (visado de plano). The process can take about a month.

This is also mandatory. It is granted by the Ministry of Health and guarantees the physical facilities for the activity that you are going to carry out. You will need:
The land use certificate given to you by the municipality. It must have the correct activity on it:  if you requested a land use certificate for a cafeteria, then you must indicate the same activity for the Ministry of Health.

Complete the Operating Permit application form.

Pay the fee according activity's risk level: $100, $50, or $30. If you are a certified SME, then you'll pay $20 regardless of the risk of the activity. I'll tell you how to get that SME certification later, so keep reading.

Prepare your production space according to the requirements.

Here is a link with the details.

Make sure you are registered and up to date with the CCSS. If you haven't already done this, reserve five days for this process.

Complete an affidavit.

In some cases, the ministry could ask for an environmental feasibility study, good manufacturing practices, waste management, professional regency, Veterinary Certificate of Operation (

CVO

), or a pest control plan, among others.

The procedure is valid for one year and must be renewed every year.

This registration is required by all individuals or entities with economic activities. It's mandatory. You can do it online: https://www.hacienda.go.cr/ 
This allows you to sell with an invoice, and to deduct your business expenses. 
Depending on the nature of your business, you may qualify for the simplified regime. Bakeries, restaurants, and sodas are often among these. It is important to know that it does not apply to everything, and has certain conditions. In this regime, you pay taxes every three months based on your purchases—not your sales—and you are not required to issue an invoice unless your client requests it. Always remember to present your tax statement, even if you have not made any sales.
In the Traditional Regime, you must declare VAT every month. But be careful: even if you haven't had any sales, you still have to present the form. If you don't, you'll have to pay a fine for not presenting it. Your  income tax declaration is presented annually, with partial payments.  

Whenever we carry out any economic activity, it is mandatory to register with the CCSS. This applies even if you have another job where you are insured; you need to register for your own business as well. You must complete a form and submit bills from the last three months. This procedure can be done online, but you need to have a digital signature.

This insurance provides coverage for accidents and illnesses on the job or as a consequence of it. Per Costa Rica's Labor Code, employers must insure their employees for work risks.
If your business is sole proprietorship or a family operation, you can apply for an exemption. However, my advice is to buy insurance. It's not very expensive. Check with an insurance agent. It will depend on the activity carried out, the hours of work, and the salary.

This is the authorization for the exercise of your lucrative business activity in your respective canton. It's paid quarterly. The requirements are:
Land use permit.

Complete the application form.

Sanitary Operating Permit from the Ministry of Health  

Risk policy, or or exemption.

Registration as an employer or as an independent worker with the CCSS.

The applicant and owner of the property must be up to date with the payment of their municipal taxes.

Copy of ID or legal status as appropriate.
By virtue of municipal autonomy, the procedure and requirements for obtaining a patent may vary from one municipality to another.

This allows you to market a product. It's mandatory. It's an authorization and control number issued by the Ministry of Health which you can place on your products in order to sell them. It applies to products that are packaged and sold outside your establishment.  
This is permit processed online on the platform of the Ministry of Health, Regístrelo. For food products, the fee is $100 per product. It is valid for five years. The requirements are:
Label that complies with the regulations corresponding to prepackaged foods.

Digital signature.

Sanitary Operating Permit that corresponds to the activity of the product that is being manufactured and packed.

This code has information about your product. It is printed on the packaging or boxes of the products. This allows you to sell at other points of sale that have readers for these codes, for example in supermarkets. Request it with the GS1.
Requirements:
Complete the affiliation forms and the barcode request form.

Copy of ID or legal status.

Your last income tax declaration. If your business is less than a year old, then your tax registration, affidavit of assets, and a projected cash flow must be authenticated by a lawyer.

A copy of your SME certification (optional).

This procedure is not mandatory, but it is a good thing to do to protect the name of your company. If you market products under a registered brand, it gives your clients a feeling of trust and quality. That way, no one will be able to use your name in the class where you protect it. The procedure is carried out at the Industrial Property Registry. You can also do it online if you have a digital signature.
 Requirements:
Complete the form.

Pay $50. If you choose to protect your business in additional classes, then you must pay $50 for each additional class. Classes within the food industry include 29,30,31, 32 and 33.

Pay the fee for publication in La Gaceta, when the system telsl you to do so.
It is a procedure that you can do alone, if you have patience and time. It may take about five months.

This certification, the "Sello PYME," is offered by the SIEC, part of the Ministry of Economy, Industry and Commerce (MEIC). The procedure is done online. It provides benefits corresponding to Law 8262—which provides support for SMEs— and invitation to training and fairs. Once you have this certification, your Operating Permit costs $20, the fee for each Sanitary Registry has an 80% discount, and you can become exempt from paying your annual corporate tax.
Requirements:
Any two of these three procedures: be registered in the CCSS, be registered in Hacienda (show your last income tax declaration), and have a work risk policy.

Complete the registration form.

Copy of your company's ID.

The digital signature is a technological solution that gives security and confidence to electronic documents. Unlike a regular signature, the digital signature consists of a sequence of characters (electronic data) that are obtained by means of an algorithm in a mathematical mechanism called asymmetric encryption. It's extremely useful, and allows you to sign documents remotely—for example, for the procedures I've mentioned here, or if you are going to participate in a tender. It can be used on various government platforms.

It's mandatory to have a Food Handling card. If you are going to package products, it's also important to have basic knowledge of food technology. You must know, for example, how to measure the pH (degree of acidity), Brix degrees (sweetness index) and temperatures, so that your products can be preserved for longer and protect them from microorganisms. This also ensures that you won't cause illness.
It is normal that at the beginning we do not know anything about these topics. It's something that is rarely taught. However, we can't ignore it. Remember that in the end, the work that goes into formalizing your business will help you compete.
Reference links:
Inscripción de Sociedad: https://tramiteya.go.cr/consultaPublica
Permisos de establecimientos: https://www.ministeriodesalud.go.cr/ministeriodesaludbk/index.php/tramites-ms/permisos-a-establecimientos-ms/
Certificado Veterinario de Operación : http://www.senasa.go.cr/institucion/organizacion/direcciones-nacionales/direccion-nacional-de-operaciones/cvo
Régimen simplificado: https://www.hacienda.go.cr/contenido/14852-informacion-general-regimen-de-tributacion-simplificada
Registro de Marca: https://www.rnpdigital.com
Registro PYME: www.siec.go.cr