"Y, ¡a jartar se ha dicho!" Time to eat up!
Today's recipe was shared with us by Rocío Vargas Gonzáles, an entrepreneur originally from Atenas, Alajuela, who has lived in Puerto Jiménez de Puntarenas on the Osa Peninsula for 26 years. Rocío is the founder, owner and head chef of Soda Las Palmas.
In La Palma de Puerto Jiménez, her soda offers visitors "a place for traditional meals in a friendly, pleasant, and very simple family environment."
Rocío says that her business began as a family project. She now employs three more people from the community.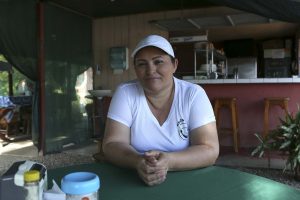 In addition to being an entrepreneur, Rocío is a community leader. She has worked in multiple community organizations, including development associations. One of those projects is Caminos de Osa, where she is not only one of the entrepreneurs that offers rural tourism experiences to visitors, but also serves on the board of directors. Read more about Caminos de Osa in El Colectivo 506 here.
Soda Las Palmas is located in La Palma de Puerto Jiménez, in the shopping center 50m south of the EBAIS. You can contact Soda Las Palmas at WhatsApp +506 8312-6176.
"It is a pleasure to serve you," says Rocío.
Rocío's ceviche recipe
Serves eight
Ingredients:
¼ cup plus 1 tsp salt
1 cup of white vinegar
1 kg of a firm white fish for ceviche
1 sweet red pepper
1 onion
½ roll of culantro
16 ounces of lime juice
16 ounces of ginger ale
1 teaspoon of salt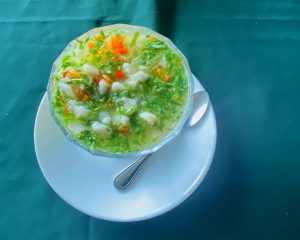 Preparation
Chop the fish into small squares.
Mince the onion, sweet red pepper, and culantro into fine pieces.
In a large bowl, place the fish and then add the salt, vinegar and 2 cups of water. This allows you to wash the fish.
Rub the fish well for several minutes.
Rinse fish thoroughly with fresh water at least three times.
Drain the fish.
Add the lemon, onion, pepper, the teaspoon of salt, and the ginger ale to the fish.
Mix well.
Add the culantro.
Let stand for 10 minutes.
Serve alongside soda crackers or some fried potatoes.