Every community has distinctive features that set it apart from its neighbors and are a source of local pride. Sometimes these are natural features, sometimes cultural. Atenas, Costa Rica, has a traditional downtown centered on its park and church, surrounded by many hillsides where coffee production still predominates. The town is the proud home of the boyero statue that commemorates the traditional use of oxcarts to haul coffee beans to market. It also enthusiastically promotes its reputation for having "the best climate in the world."
The town is also home to many skilled artists and craftspeople, both ticos and foreign residents who have come to call Costa Rica home. However, this feature of the town has evolved over time with little recognition. Last year, a small group of local craftspeople decided to try to change this. We decided to have a show and sale called "Just in Time for the Holidays."
The event was designed to serve many goals: to provide a place where local artists and craftspeople could show and sell their work; to provide an opportunity for local residents to buy holiday presents made locally; and to support local charities. We also hoped that by raising awareness of the artistic community that already existed in Atenas, we could encourage even more artists and craftspeople to live and work here—enriching the local culture for everyone while supporting the town's effort to increase tourism.
Nine artists agreed to participate in the first event, which was held in a small storefront. It was a wonderful success. People loved the idea and welcomed the chance to buy unique holiday gifts. So this year we are doing it again on Dec. 9, 10 and 11, in a larger space, and with additional activities to attract even more people. Artists will give demonstrations for both children and adults, and popular local bands will play in the evenings.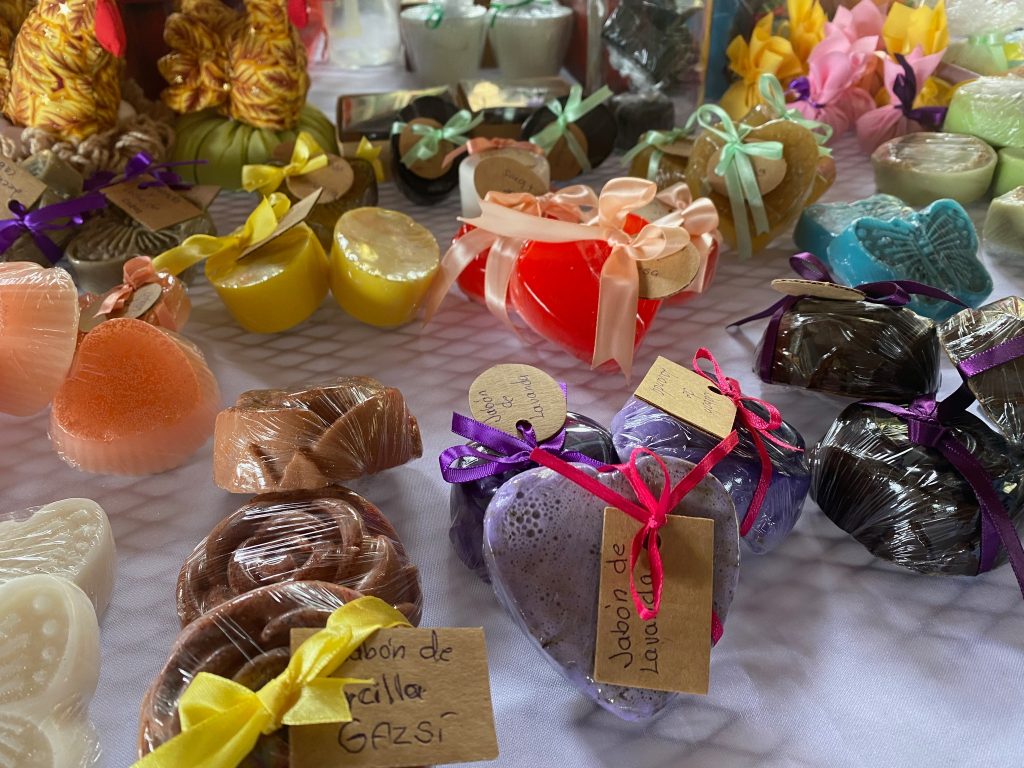 A total of 21 artists will be participating, a mix of Costa Ricans and foreign residents. Some have exhibited in galleries and museums internationally; for some it is their first sale outside of the local feria. Their work encompasses a broad range of media including oil paintings, ceramics, botanical printing on silk, photography, macramé, various types of jewelry, products for pets, soaps and lotions formulated with local ingredients, wooden sculptures, and other objects. Other products for sale includecondiments and unusual plants.
At least 10% of sales will be donated to four local charities: the Atenas Cruz Roja, the Atenas Food Bank, Animales Atenas, and Rescate Animales Atenas.
The event will be held at the Colinas del Sol resort, which is near downtown Atenas, not far from the radial. The staff at Colinas will prepare food and refreshments to be available for purchase during the sale.
Two popular local bands will provide entertainment: "On Fire" with Jack, Piet and Syl, on Friday and "The Poison Dart Frogs" on Saturday. The bands will play from 5:30 to 8 pm, while the sale continues so patrons can take a break and do their shopping.
There will be special demonstrations on Saturday and Sunday. From 11 am to noon on Saturday, Ana Matteucci and Felipe Keta from Art House Atenas will demonstrate her use of spray paint techniques and his innovative use of oil paint; from 12:30 to 1:30 pm, Lisa Fleck will demonstrate how she uses resin to create artistic designs on locally made cutting boards; from 2:30 to 3:30 pm, Nidia Ramos will demonstrate her method for making necklaces and give out samples of her special Christmas fruit cake; and at 3:30 pm Jacqueline Dodd will demonstrate her method for making jewelry using different types of clay.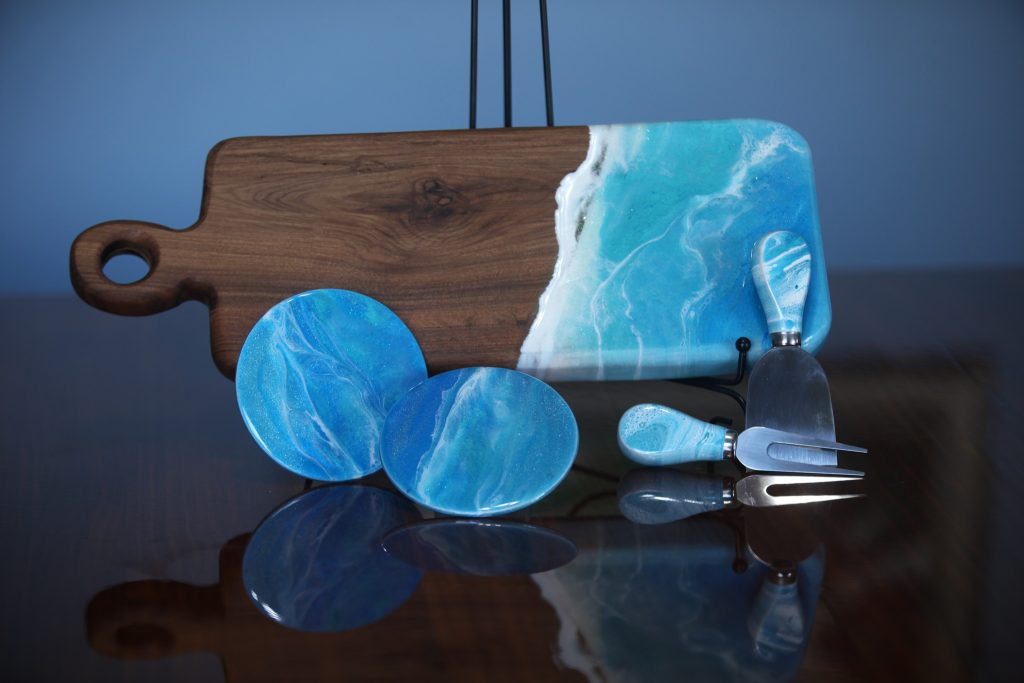 On Sunday, Denise Gillen will provide a ceramic demonstration at 11 am and return at 1pm to read her children's book "Where the Wild Sloths Roam," which explains the difference between two and three-toed sloths, and talk about her experience as a "sloth nanny." At noon, Lisa Fleck will provide another demonstration on her use of resin on wood.
We have been delighted by the pleasure the artists are taking in meeting and working with each other and beginning to develop a new community around art. We do not expect or desire that Atenas will become the next Santa Fe or San Miguel de Allende—but we do hope that "Just in Time for the Holidays" will continue to encourage and support this growing community of artists and craftspeople as another feature that makes Atenas distinctive and a special place to call home or to visit.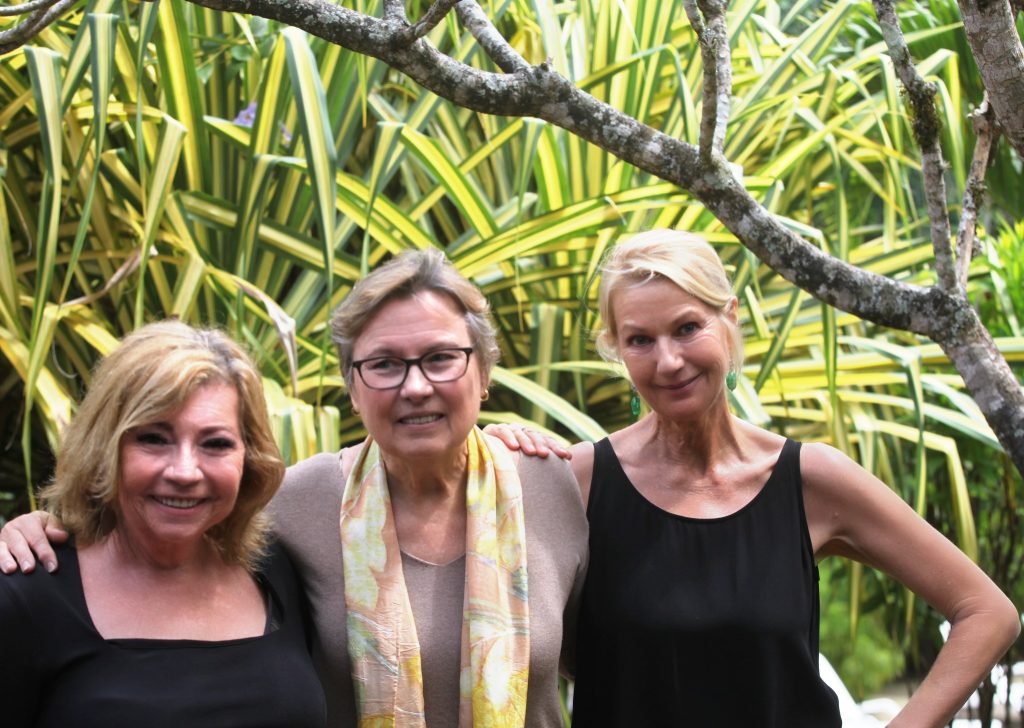 The "Just in Time for the Holidays" art show and sale will take place at Colinas del Sol, Atenas, on Dec. 9 (3 pm to 8 pm), Dec. 10 (10 am to 8 pm), and Dec.11 (10 am to 4 pm). For more information about the artists and their work, as well as updates on the events of the sale weekend, please see their Facebook page, JIT for Atenas.
Find out more about some of the artists participating in "Just In Time for the Holidays" below:
Al Alexander – Painter
alalexanderartist.com
Beatrice Lisa – Jeweler
https://blisa58.etsy.com
Denise Gillen – Author
"Where the Wild Sloths Roam"
www.lulu.com
Diana F. Miskell – Equine and cattle art
https://www.dianamiskell.com
Elisa Morera Benn – Painter
https://www.artmorerabenn.com
Facebook: Elisa Morera Benn
Instagram: @artmorerabenn
Graham and Natalia – Wallwork paintings, prints and others
Facebook: Wallworkbywallwork
Instagram: @wallwork_by_wallwork
John Taylor – Painter
johntaylorfinearts.com
Lizmaye Pérez – Painter
Facebook: Lizmaye Pérez
Instagram: @lizmaye_Arte
Pinterest: Arte Lizmaye, lizmaye67
Margaret Centorceli – Photographer
Facebook: Margaret Centorceli Photography
Instagram: @margaretcentorceliphotography
Mónica Hernandez Garcia – Ceramist
Facebook: estudiomónicagarcia
Instagram: @moga_estudioceramico
Rustico Artesanos – Wood works
Facebook: Rustico Artesanos