The act of "releasing a book" is very powerful. It allows you to share the pleasure of reading with others. But what does it mean to release a book? It means leaving books in different places so that whoever passes by and sees them can take them home without paying a dime.
In addition to the gesture people make when they donate old books in good condition, or new books, the most important final result is that the literary work that is shared from hand to hand, allows more people to enjoy the benefits of reading.
During my years working at Grupo Nación, I was able to participate in many "book releases," but the greatest impact I experienced came after I retired and moved to Tilarán. In 2019 I began to investigate if there had ever been a book release in the canton, and if there was space to place a couple of little free libraries. Tilarán has a public library, but few people use it. I thought that maybe if I put some little free libraries in the park, it would encourage people to read on nearby benches.
Through the little libraries, children, youth, adults and seniors can access the books that are placed there. They can read for a while, comfortably ensconced on the benches located around the park;  they can take them home with the commitment to return them or to bring another book in exchange.
My research showed that no one had released books in Tilarán, let alone created any little free libraries.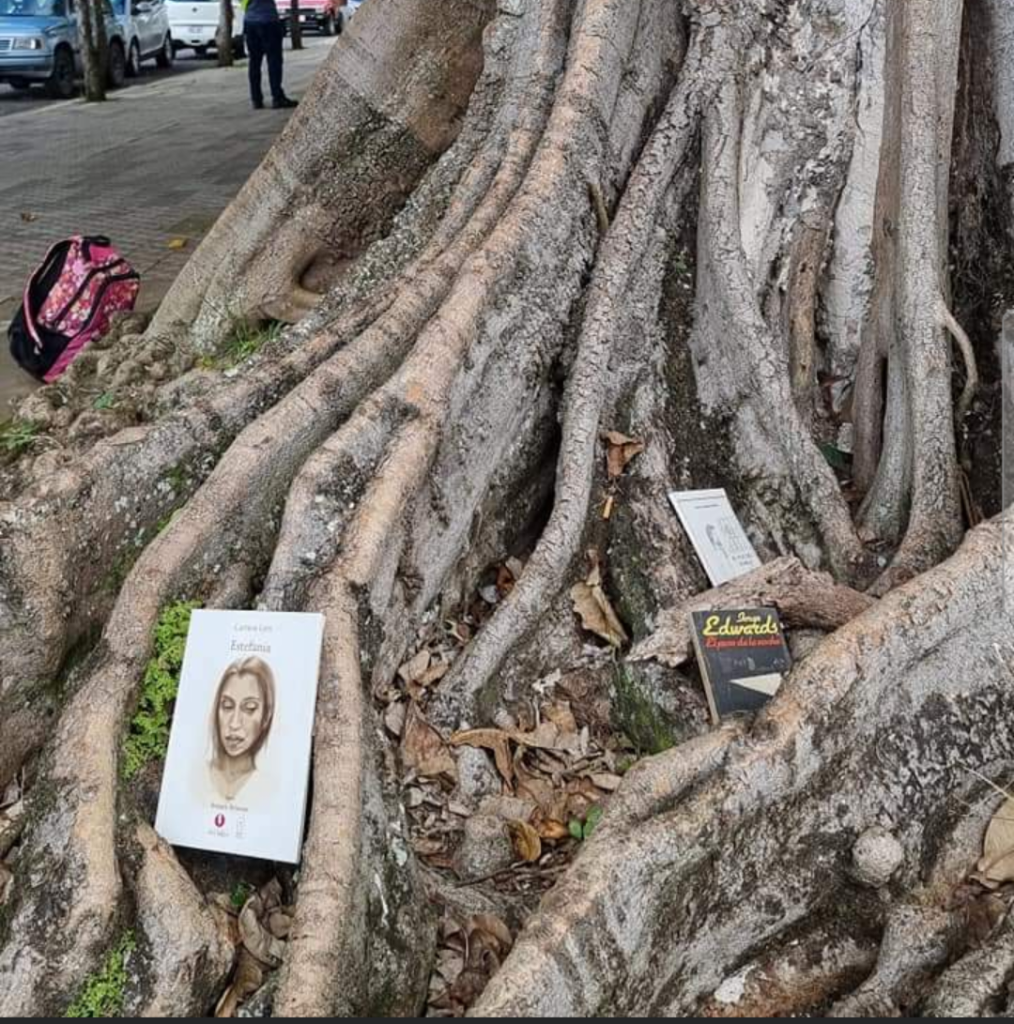 In May 2019, I approached the mayor, Juan Pablo Barquero, with the project. I explained the benefits of book release events and creating mini public libraries: better reading comprehension, healthy distraction, reading a book or taking it home for a short time and then returning it, and more. The project was very well received.
The book release was held on October 30, 2019, at 3 pm. The mayor donated two metal mini-libraries that were placed in the park: one in front of CINDEA, an educational institution, designed for the use of children; and the other one next to Banco Nacional, for the use of young people and older people alike.
The books in the libraries were donated by Grupo Nación and Proyecto Ángeles—a project by former journalist colleague classmates of mine who collect new and old books in good condition to donate—as well as UNED Tilarán and Escuela Líder El Carmen. Some residents of Tilarán also made a contribution.
The project has been running for four years and has been widely accepted by the community. Many believed that it was going to be a failure. They told me that in a short time there would be no books, and that people were going to destroy the two little houses. That has not happened. Recently, a small group of people painted the houses in more cheerful and lively tones.
People in the community already know how to use the little libraries. Many others know where to contact me to donate books to be placed in the park, so there is always material available. The journalist José David Guevara found out about the project and in 2021, through his initiative "Don Librote," made a donation of about 400 books. Some were released for the Bicentennial of Independence, others were given to those who attended the event, and others were placed in the little libraries.
Since Tilarán is a transit area for foreign tourists going to Monteverde, some visitors have left books in English and German that have been useful to the students.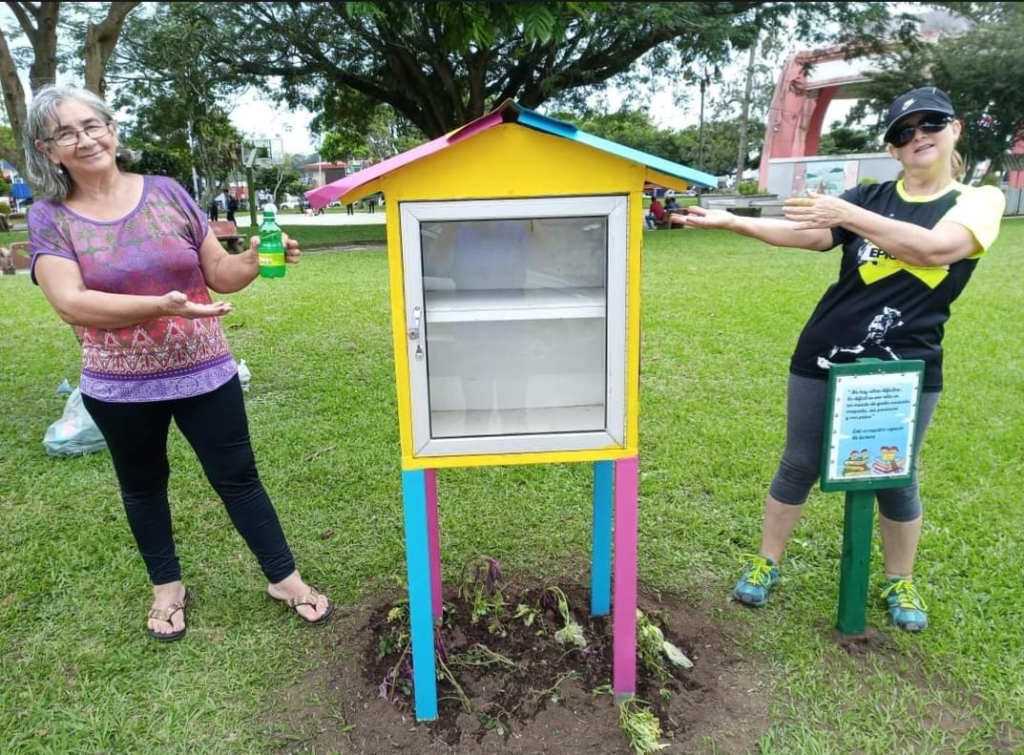 Soon we are going to place the third mini-library at the entrance to CINDEA; it will be designed for the elderly. Through social networks we are constantly sharing posts explaining that the little libraries are there for the enjoyment of children and adults.
The biggest difficulty the project has faced has been the theft of valuable books such as a complete illustrated 12-volume collection. The first time it was stolen, we located the person who took them. He even paid for a taxi to transport them! A neighbor reported the theft immediately. We were able to contact the person and at night the entire collection was returned, but three days later, they disappeared again without any news to date. We have noticed that others passing through take the books and sell them in other cantons.
These thefts are unfortunate events. The damage is done to those who like to read. Now the park has security cameras. Perhaps from now on it will be more difficult for the light-fingered to continue with these practices.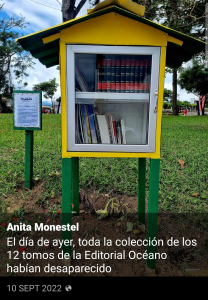 Despite everything, it is clear that the community wants the project to be a success. The best thing about this project is that the books that are placed are free and are available to everyone, as long as they take care of them and get used to returning them.
The little libraries are relatively cheap. You need only the support of the local government, and of the individuals and private companies who can donate books or build the structures. There are beautiful designs that can be made even with recycled materials. As the founder of this project in Tilarán, I invite you to join this beautiful initiative. If you need any guidance, you can contact me via email: [email protected].
Outdoor libraries must exist so that anyone has access to reading, regardless of whether they are a child, youth, adult, or senior citizen. These spaces are places of recreation and serve to make the population more interested in the habit of reading that, of late, is getting lost.