Did you know that dogs' pain threshold is really high? When dogs appear to be in pain, it is very likely that they have an advanced condition and have already been enduring pain for a long time. That's why it's so important not to wait until we notice symptoms to take our pet in for a control visit.
Just like people who are inevitably going to have some discomfort in the spine or different parts of the body due to bad posture, dogs can also develop bad posture, mostly as a result of the passage of years of domestication that have made them more and more human. It used to be that dogs didn't climb stairs, or onto beds or couches—now it's something they do every day, and which their bodies weren't designed for.
The patients who come to my office might come with a referral from other colleagues or from an orthopedist to be treated for an ailment that is already chronic. However, the people who work at Fisiovet are veterinarians, so we can also diagnose issues before that takes place.
Our patients first undergo a general objective examination, then an orthopedic and neurological examination, leaving the affected part of the body for last. Once the problem is determined, treatment begins and a physiotherapeutic protocol is established that can use laser, magnetotherapy, ultrasound, electrostimulation, acupuncture, electroacupuncture, swimming pool, water treadmill, and an exercise area.
The orthopedic health of your pet is something that should always be on your radar because it affects almost all animals.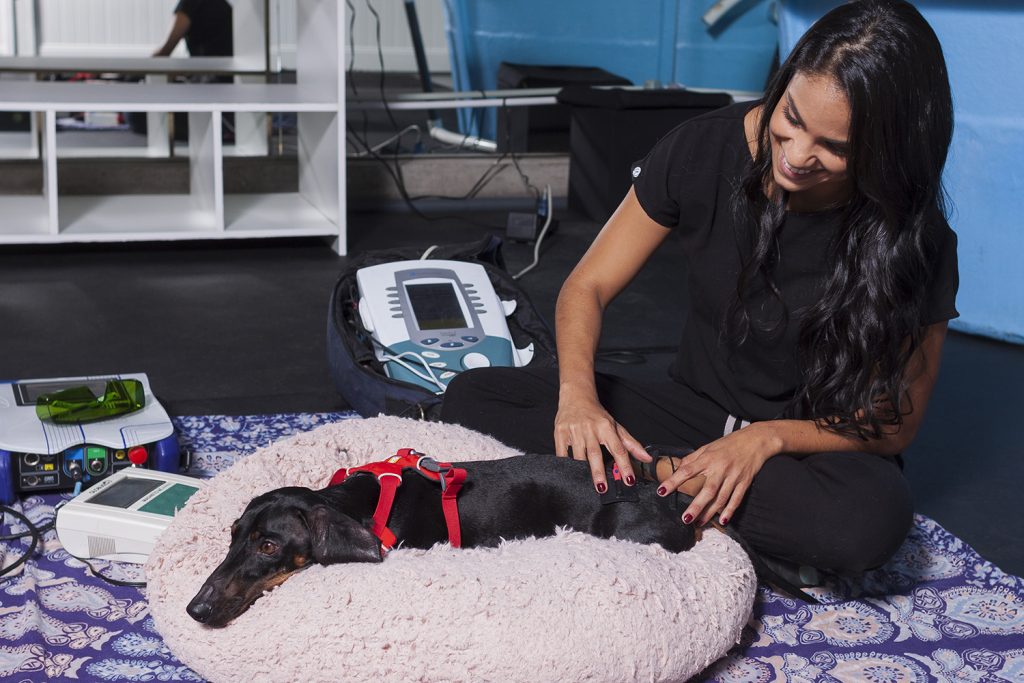 No one can escape genetics
Advances in veterinary studies have shown that dogs weighing less than 10 kg are very likely to suffer from patellar luxation, that is, an instability in their knee because the patella gets out of place. This instability in the knee can lead to the rupture of the cranial cruciate ligament, one of the most common reasons for hind leg lameness in dogs. This causes pain and can later lead to knee arthritis.
Some of the most popular breeds today, such as dachshunds, poodles, bulldogs, and French bulldogs, are almost inevitably going to suffer from spinal problems. These breeds have this predisposition due to their long and heavy structure, which, with daily mishandling, results in injuries.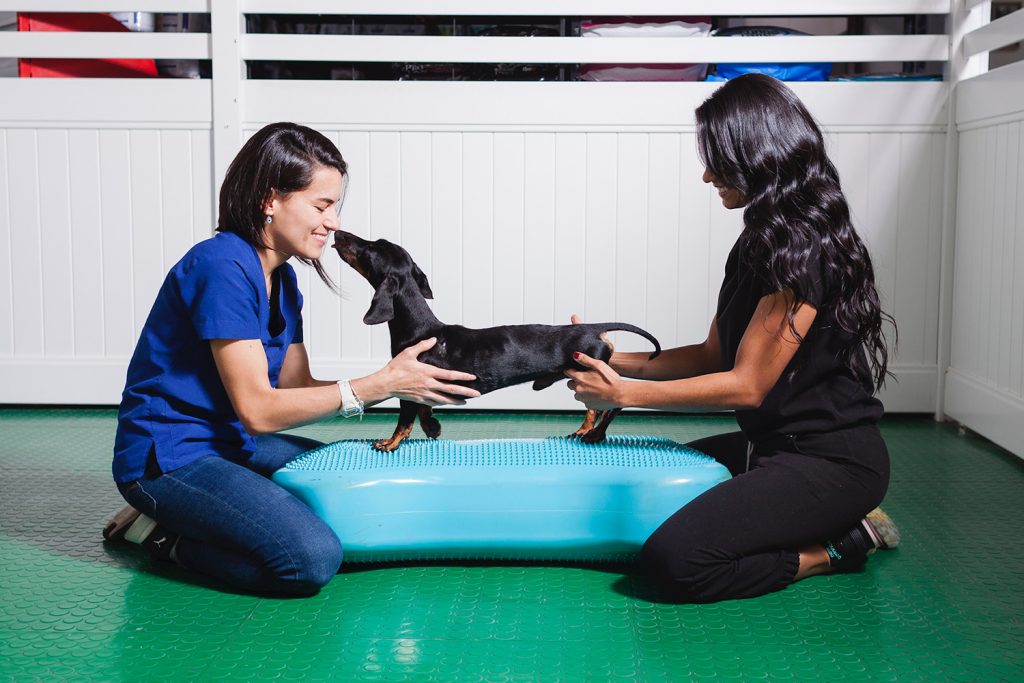 Large dogs, such as Labradors, German Shepherds, Golden Retrievers, or Rottweilers, will almost inevitably suffer from problems in the lumbosacral area, which is the final section of the spine, or hernias and other ailments in the spine. It is also highly common for them to present joint inconsistencies, such as elbow and hip dysplasia, which means that they will suffer from lameness and other ailments. These can result in serious damage to their limbs.
Beating genetics over time
Although these ailments are almost inevitable, changes in the lifestyle of many of our pets can prevent them from appearing at an early age, or make them less aggressive.
A first consideration is for those of us who love it when our pets sleep with us. Jumping on beds or armchairs affects dogs a lot. To avoid a negative effect of this practice, the ideal is to get them a ramp or stairs, to use a Japanese-style bed that is lower to the ground.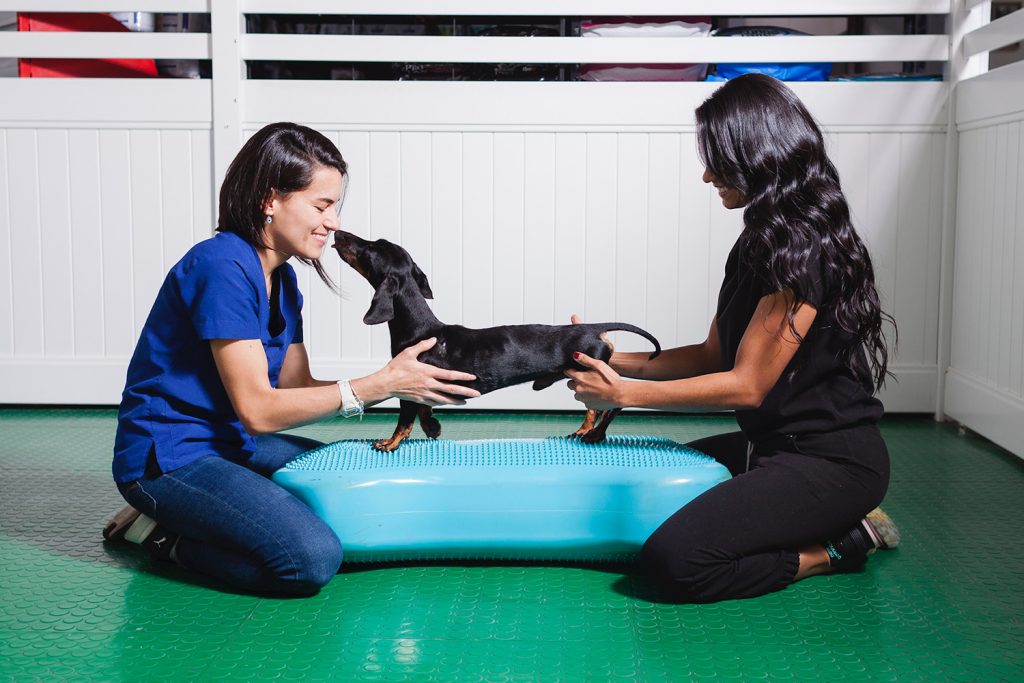 If your home has a lot of stairs, it's a good idea to put up railings so you can restrict the number of times a day dogs can go up and down the stairs.
When you take walks with your dogs, they should be short and controlled. Almost no dog is designed to run 6 to 10 km a day. Aim for 30-minute walks, always with a chest and leash, not with a collar.
For many years it was customary to use choke collars on dogs, especially in the case of trainers. This practice is changing to one of training through positive reinforcement. This is good practice, but it's also important to avoid any kind of collar and use a chest piece instead. This is essential to avoid injuries to the cervical vertebrae in the long term.
Finally, we must not forget food. There are many studies that show that ad libitum feeding or overfeeding will predispose growing animals to develop joint inconsistencies, caused by rapid bone growth, leading to hip or elbow dysplasia.
When it comes to feeding your dog, don't forget to use a product that is balanced for your pet's age and weight, and offer it in the right portions. If you dog maintains a healthy weight, you can prevent a number of orthopedic conditions.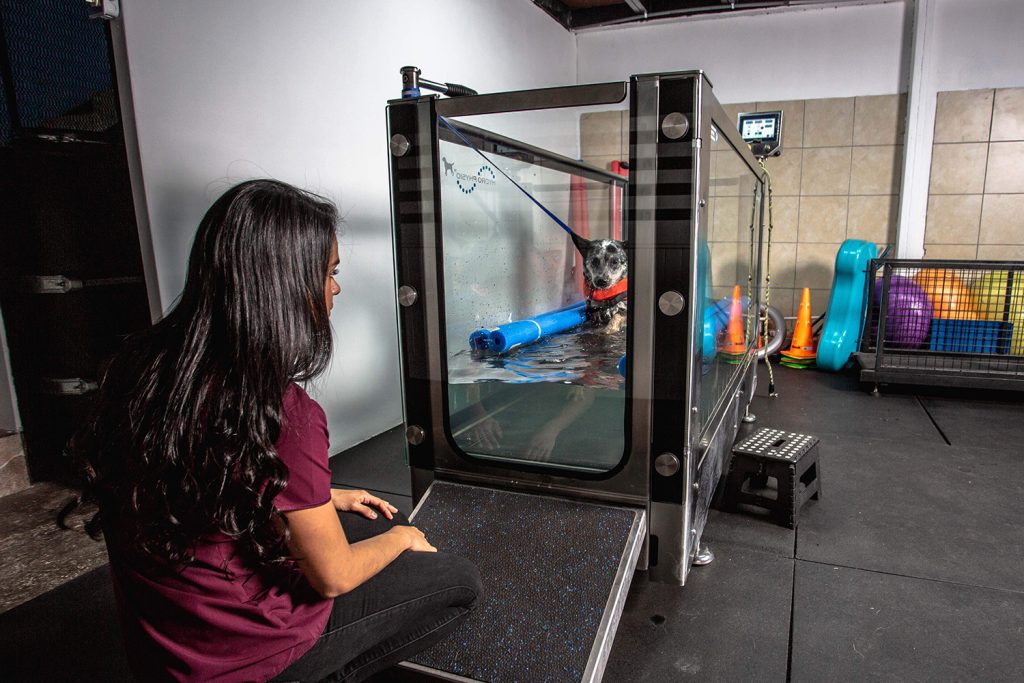 Another consideration
Your pet's preventive or maintenance checkups are very important. It is during these visits that we can detect areas of pain or discomfort in your pet before they present a serious clinical manifestation. In many cases, when a serious manifestation can be detected, pets will require surgery or a slightly more invasive treatment.
When you visit the vet with your pet, you'll receive recommendations for lifestyle changes and the right supplements for your pet. With this knowledge and discipline, you can continue to prevent these types of pathologies and many others that when they occur will not only cost you money, but will cause you and your pet pain.

Support for this story was provided by Instinct, a dog and cat food produced in the United States and imported to Costa Rica since 2014 by PROVETCRE, a MyPYME that cares about Costa Rican pets and what they eat. Instinct's mission is to transform the lives of pets: "We believe that all pets deserve the best life possible. And if you ask us — it starts with food."
This week, Dr. Saravia, founder and specialist at FISIOVET Veterinary Clinic, shares her knowledge through this column.
You can find Instinct in every province of Costa Rica. Find your closest point of sale on Instagram, @Instinct.CostaRica
Follow the brand in Costa Rica on Facebook at @Instinct.CostaRica.
If you are a veterinarian interested in providing Instinct as an option for customers, call PROVETCRE at 2215-4399.