It's 4 pm, and a particular aroma comes from the kitchen of doña Guisselle Vásquez's house in the center of Ciudad Puerto Cortés. Guisselle is cooking bamboo to make her famous vinagretad bamboo, or vinagreta, which will soon be available to her restaurant patrons. They will probably eat it as a condiment alongside one of Guisselle's empanadas, one of the most famous in Cortés and the delight of adults and kids alike. 
Ciudad Puerto Cortés is the first district of the Canton of Osa, in the Southern Zone of Costa Rica, and belongs to the province of Puntarenas. This unique town has significant indigenous, Chiricana and Chinese influences.
The gastronomy of the town is diverse thanks to these multicultural influences, in addition to being a coastal town. Seafood, rice tamales, and flour cakes can all be found on cortesanos' tables—but without a doubt, the presence of bamboo, a legacy of Chinese immigrants, draws a lot of attention. While it's an unusual food in other parts of Costa Rica, it's very common in Cortés. Everyone eats it.
How do they use it? How did this ingredient become a pillar of this southern town? And how can Ciudad Cortés find new ways to market this cultural heritage, an enticing opportunity in a place where employment and entrepreneurship opportunities are not abundant?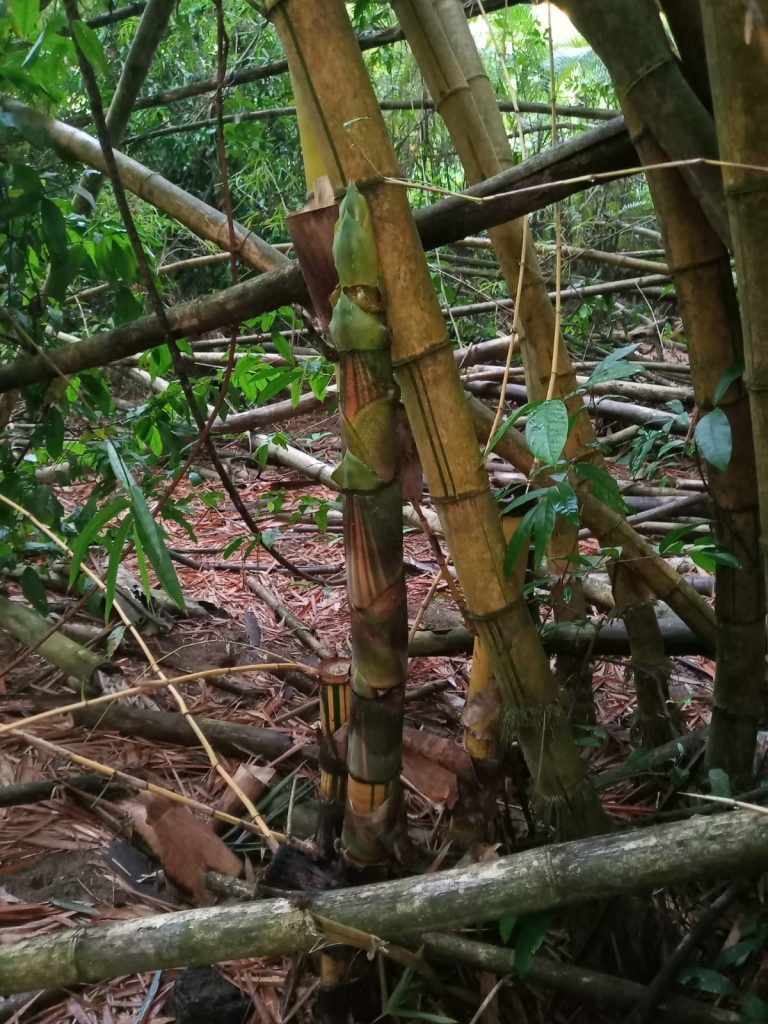 A legacy of Chinese culture
The first Chinese immigrants to arrive in Costa Rica were a group of 77 people hired to work on the Panama railroad. They arrived in 1855, from Canton. Most Chinese people arriving in Costa Rica during this period came to Puntarenas, motivated by the extreme poverty experienced in their place of origin. Quickly, in that city and its surroundings, a flourishing Asian community was formed. One of its founders was José Chen Apuy, who arrived in 1873. 
Chinese culture, particularly Cantonese culture, has had a profound impact on Costa Rican culture, particularly in culinary terms. Hand in hand with the large influx of Chinese immigrants in this country was the founding of cultural and language institutes and restaurants. Bicultural families have contributed to the heterogeneous and diverse national identity of Costa Rica.
According to data from the National Institute of Statistics and Census (INEC), 0.2% of the people in Costa Rica today are of Chinese nationality—that is, about 9,000. However, the total number of people with Chinese ancestry exceeds 60 thousand people.
The Chinese and their descendants constitute a very important ethnic group in the southern region of Costa Rica, and in what is now Ciudad Puerto Cortés. Their presence dates back to the end of the 19th century in El Pozo, today Ciudad Puerto Cortés, where the Wong and the Sing families are first mentioned. With the banana boom, El Pozo became important as a river port and commercial center, with significant participation of new Chinese families who managed stores, warehouses, bars and other commercial establishments. Some of these families are the Chan, Sanchún, Apuy and Tak, among others.
And how did bamboo get to the area? Marlon Rupuy, a resident of Ciudad Puerto Cortés, explained in an interview with Costa Ballena TV that "bamboo was used in the banana company to prop up the banana with the rods. For that reason, a lot was planted in this area. Before, there was no plastic rope, so bamboo was used to support the bunches."
It was also used as food: first among people of Chinese descent, but later among more people in the area.
"The Chinese were the ones who started eating bamboo [here]. They did it with chicken and pork, with oriental-style ingredients like Chinese sauce and ginger," says Marlon. "Later, the people of the town began to consume it and it began to be prepared in other ways, more in the Tico style. This is how the vinagretas and chileras appeared. With chili it is very tasty, because being fibrous, the flavor of the chili penetrates." 
About bamboo
According to the Franqui Hogar website, which sells bamboo products in Spain, "for years bamboo was considered a tree but, scientifically speaking, it is not a tree but a plant. It is a grass (Poaceae) like corn, rice or wheat and belongs to the Bambusoideas subfamily. It comprises more than 115 genera and 1,400 species, and is growing rapidly."
As a food, bamboo's advantages include its high fiber and potassium content, according to the site. The latter "helps the proper functioning of the nervous system and regulates blood pressure."
Guiselle, from Soda 5 Esquinas, explains that the process of preparing her famous vinagreta is relatively simple. Guisselle buys the bamboo and prepares it almost daily. She chops it up and then begins the process of cooking it.
"I cook it once for two hours until it's soft and then I wash it with water," she explains. "Once cold, I start making the vinagreta."
She explains that the idea of ​​combining his vinagreta with empanadas has been the key to his success.
"I was born here in Cortés," she says. "People ate bamboo and I remember that once I made some tamales; to accompany them, I prepared vinagreta. Everyone liked it a lot, hence the idea of ​​accompanying my soda empanadas with the sauce… Now, in addition to vinagreta for the empanadas, I also sell it in a bag".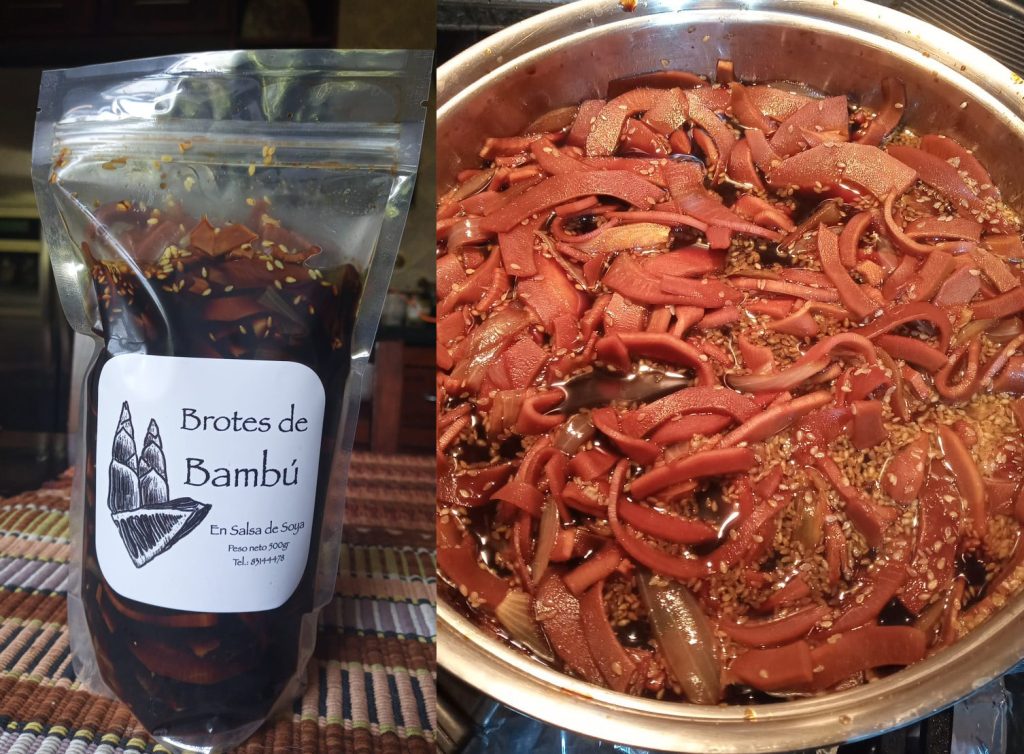 A pillar of local gastronomy
One of the Chinese families in Ciudad Cortes is the Chang family, whose descendants still live here.
At 88 years old, doña Delia Chang is sitting in the breezeway of her house. With her characteristic smile and some nostalgia, she remembers her childhood among her family and her paisanos. (That's what they called the other Chinese who lived in El Pozo.)
"My grandfather, my father's father, was Domingo Chan Chan," she explains. "He was born in Canton, China and then came to Puntarenas and lived in Miramar. There, he married Marcelina López Quesada, my grandmother. My grandfather came with his uncles; by the way, one of them is the grandfather of [Costa Rican-U.S. astronaut] Franklin Chang."
Delia explains that her grandfather came to Cortés with his children around 1920 to plant rice. Over time, the family businesses expanded to include cattle, as well as a general store, store, butcher shop, and canteen: "He owned almost the entire block." 
Delia's grandfather ended up bringing more Chinese people to the community and building their quarters. "He'd build their house for them, always up high, because it flooded. He told us that in 1930 there was a great flood. The river passed through the whole town, with fish swimming through the streets." (Read more about the historic flooding of Ciudad Cortés in El Colectivo 506.)
Delia remembers how her family ordered bamboo from the farm.
"They'd drop it off and we'd prepare it at home," she says. "It was boiled twice to remove a bit of the bitterness. People here didn't eat it—only the Chinese. Then I started making it with pork and chicken, and people loved it. My husband Ángel had a very famous canteen at that time and I taught him how to prepare bamboo vinagreta. Very quickly, it became popular to eat it everywhere." 
Although Delia says that bamboo can be cooked with chicken, meat, shrimp, or fish, the vinagreta is what his family has marketed the most: "My son Ricardo Jiménez Chan, sells vinagreta at some farmer's markets in San José."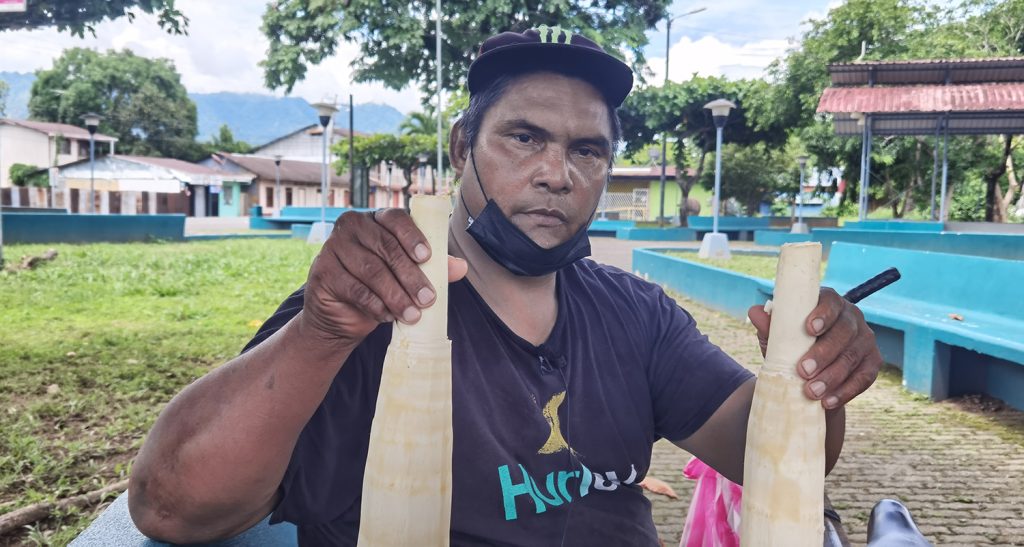 The bamboo process
At the house of the Mora Picado family, Agustín Mora is beginning the process of peeling the bamboo. 
"The first thing that is done is to cut the bamboo. It must be tender—we call it the bamboo whistles. They are usually the ones that are no more than a meter high. Once we have the bamboo, it's peeled until we reach the most tender part. Then we cut it into slices and boil them with a teaspoon of salt and a pinch of bicarbonate so that the bitterness goes away," he says. "Some people boil it up to three times. In my case, I only do it once, but well boiled, for about 40 minutes. Once I finish boiling it, I wash it well and put it in water with lemon and salt for about two hours. After this process, the bamboo is ready to be done however you want. It can be cooked with meat or in vinagreta."
Another person who knows a lot about the bamboo process is José Fransisco Torres, a resident of Finca 7 in Palmar Sur. For more than 25 years, he's sold peeled bamboo. 
"It's not an everyday business, but it helps me a lot to get ahead, since I had an accident and both of my knees are damaged," he explains. "People from Cortés ask me for it, and a friend helps me cut it. I peel it at home and bring it to Cortés… Now there are not as many as before, but good plants are still available."
Francisco has a careful technique for cutting bamboo. 
"If the bush has three canes, I cut two and leave the other so that it continues to produce offspring and stays that way forever. I cut it from below, leaving a part on the ground so that it can sprout again," he explains. "The higher up, the better the flavor. The bamboo is peeled similarly to yucca, removing the shell with a knife until it is white, so that the person who orders it just chops and boils it. I cut the bamboo and after 15 days it starts sprouting again."
Francisco, known as Chucha, perseveres. He has to take a boat to cross the river from the farms to Cortés. Despite his poor health, he continues to sell quality bamboo that will reach the tables of those who enjoy this exotic delicacy.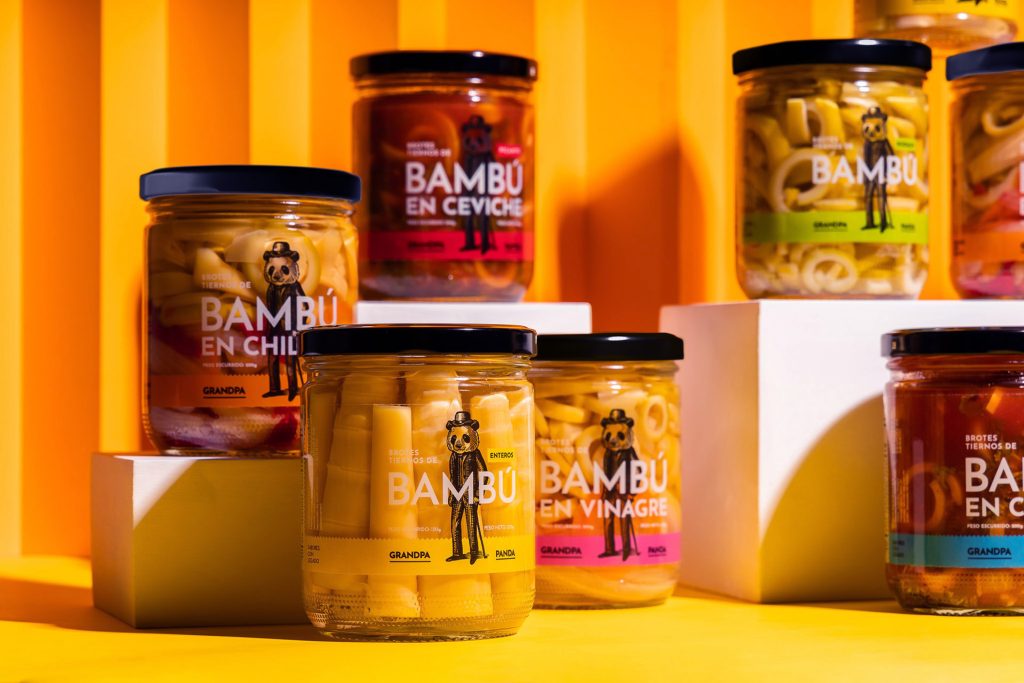 The future of gastronomy and bamboo
Bamboo is considered a superfood—yet it's little known and exploited in Costa Rica. Esteban Reyes, a native of Ciudad Puerto Cortés and grandson of Carlos Reyes, well known in Cortés, made the plant the focus of a project he did as a student at the Technological Institute of Costa Rica. He didn't imagine that this project would become a company with lots of potential.
"My grandfather raised me and my brother Diego. He made a delicious vinagreta bamboo that became very famous in Cortés… He and my uncles worked in a Chinese restaurant owned by the Chans, where they learned to cook and eat bamboo. My grandfather started with the idea of ​​making vinagreta, and it was a complete success." 
In college, Esteban used that product for his project. Five years ago, he and his brother Diego decided to start a company based on the university project called Grandpa Panda.
"Today, our company is a pioneer in Latin America in the commercialization of bamboo, with five product lines already positioned in the national market: Ceviche, Spicy Ceviche, Vinagreta, Chilera and Natural in water", says Esteban. "In addition, we are developing research to produce bamboo flour."
Grandpa Panda is distributed in almost all of Costa Rica, including the Auto Mercado chain. 
A culture that is here to stay
Ask Cortés residents about bamboo and they'll express a sense of pride. In general, this is a town that greatly respects the Chinese community, which has made so many important contributions to this place. Many of those contributions are reflected in the gastronomy of Cortés.  
The town will have to overcome many obstacles if more ventures like Granpa Panda's are to succeed, marketing a product with an original backstory. The raw material is there, but there's a need for more training to give it added value and, of course, to be able to successfully market the product. 
The success of ventures such as Grandpa Panda suggest that acceptance in the national and international market would be very good, but entrepreneurs will need to progress from more rudimentary, artisanal production to standardize the process and incorporate technology. With the few or almost no resources available, this is very difficult to achieve. 
"Bamboo is versatile, delicious and very nutritious," says Javier Barrantes, a resident of the area. "In Cortés, we are proud of this great legacy of Chinese culture. Now we have to take advantage of it and exploit it commercially."