Do you know what percentage of 15-year-olds from Costa Rica are advanced readers at the highest level?
According to an international test applied in 2018 to 63% of 15-year-olds in any category of public and private school, the answer is: not one.
Surprised?
Tests from the OECD Program for International Student Assessment, or PISA, showed that 74% of Costa Rican students that year had reading skills at levels one or two, the lowest of six. That means that after reading a text of moderate length, the most they could achieve was to identify the main idea, show partial understanding of the text, and follow specific directions to find information in the text.
To move up to PISA levels 4, 5 and 6, students must be able to understand longer texts and understand multiple main ideas. According to the 2021 State of Education report, they must also "develop causal or other reasoning based on a deep understanding of long texts, and assess neutrality and bias from explicit and implicit signals, related to both knowledge and source of information."
In other words: A reader with advanced abilities can not only understand, but also question, compare, and build upon a text of any length and source.
In Costa Rica, only 7% showed skills at this level (4 and 5), with none at level six. According to the 2018 PISA Results Report for all OECD countries around the world, approximately 28% of students achieved level 4 or higher on the reading test. Only 1.3% of students worldwide managed to reach level 6.
"Before, people said that the meaning was in the text. The priority was to give voice to silent letters," explains Isabel Román, General Research Coordinator of the State of Education Report, produced by the State of the Nation think tank. "That traditional approach left out the essential communicative function of language. It evolved from a more traditional approach to understanding the language from its relationship with human activity. Students are active agents of language: they acquires it, learn it, and develop it."
Worryingly, Costa RIca's reading deficiencies are nothing new. Between 2009, the first time that Costa Rica participated in PISA, and 2018, the country's reading results show zero progress.The tests were repeated during 2022, and although we requested information from the Ministry of Public Education (MEP) about testing dates and the number of participating schools, we had not yet received a response by our publication deadline.
The results of these latest tests should be known by the end of 2023, but we have to assume an effect of the COVID-19 pandemic—which, as reported by the State of Education 2021, forced the MEP to cut at least 50% of its Spanish instruction in elementary school because of the health emergency. The hardest hit: content related to expression and oral comprehension, the keys to helping basic readers become advanced.
"In the pandemic, we limited ourselves to the minimum. We stuck to what's traditional," says Isabel.
For her, in retrospect, Costa Rica lost a chance to achieve something important.
"It was a great opportunity for teachers to make use of expression and comprehension," she says. "Imagine a teacher who understands reading comprehension as a communicative ability. [The teacher] could have taken advantage during the pandemic for kids to talk and write about the experience they were living through."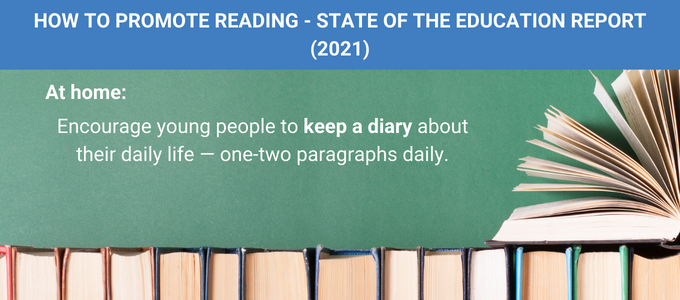 Not wanting to read: a complex problem
How do you develop reading skills?
According to the State of Education, it depends on people having good "reading habits, attitudes and strategies." How do we achieve that? The report says there are two main factors.
The first, and the most influential, is what is known as cultural capital. When applied to reading comprehension, this phrase refers to exposure to information. We might first think of access to books, but today that access to information also includes digital texts and resources—as well as access to television, audio, and face-to-face cultural expressions such as art and theater. A person's cultural capital also depends on his or her spaces for learning.
Increasing the cultural capital for readers in Costa Rican homes is a difficult task to achieve, and one that would take a long time. Even with good access to information, pedagogical support is important to encourage the enjoyment of reading.
"A family with high cultural capital is not the same as a home where the parents are focused on the basics. There, it's tough enough to make sure that kids will do their homework," says Isabel.
These inequalities show up clearly in the data. The average results of PISA 2018 for students in private schools are better than the country-wide results for Chile, which achieved the best performance in Latin America. Similarly, students from schools located in districts with a higher Social Development Index (SDI) performed better on tests than those with the worst SDIs.
Isabel says that in areas of low social development, the burden of promoting reading falls almost entirely on teachers, since parents are immersed in other challenges.
In those communities, "We cannot leave 50% of responsibility up to the family. That's a myth," she explains. "There, the full responsibility lies with the teacher. We can't expect miracles in those homes."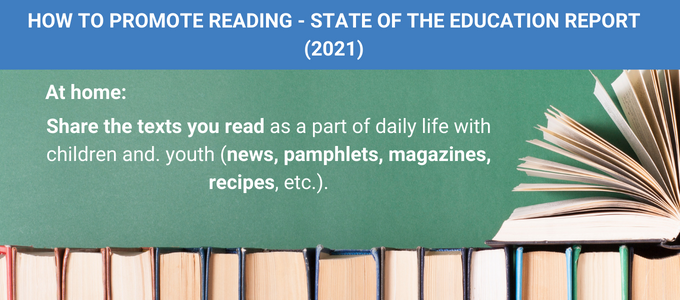 Teachers' classroom strategies are the second factor that influences people's reading abilities. And given the importance of the teacher in adding to children's cultural capital—in low-income areas in particular, but also in any school—it is worrisome for State of Education researchers that many teachers report little interest in reading for pleasure. If teachers do not have a taste for reading as part of their own cultural capital, it is much more difficult for them to create classrooms where reading is engaging.
According to the 2019 State of Education report, "75% of the teachers surveyed in the GAM [Greater Metropolitan Area] see reading as a mandatory practice with little connection to pleasure."
"Starting with the initial training of teachers, [you have to] instill in them the habit of reading… It is better to invest in having these teachers read all kinds of literature", says Isabel. "For teachers who are already in the classroom, you have to create reading clubs to support the teachers in that adventure of reading. That's the best investment you can make."
People improve their reading skills when they are surrounded by information, books, reading-related activities, and other people who love to read—at home, in communities and in classrooms. And if appropriate instruction is added to that, with activities and strategies that take students deeper into what they read and hear, their skills grow even more.
"It's a whole network of cultural development", says Isabel. "That's why it is very important that we promote reading from different angles and expose children to literacy-rich environments."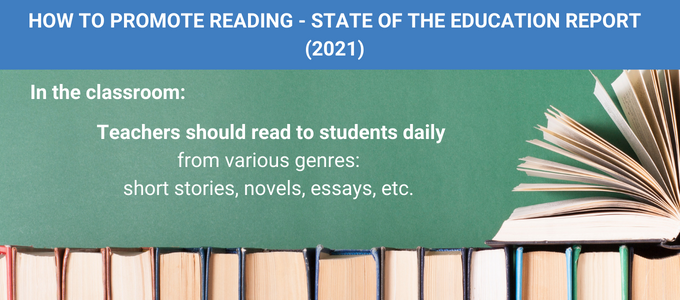 What can be done to improve the reading skills of Costa Rican youth?
Improving cultural capital is only part of this struggle. It is also important—and quicker—to equip teachers with better training and more tools so that they can promote literacy development.
"Professional practice must be supported by adequate instructional materials and bibliographical collections," says the State of Education, "as well as pedagogical leadership within schools."
The report details the many efforts to create such materials during the pandemic: the MEP with the digital platform Toolkit for Teachers; public universities such as the State Distance Learning University (UNED), which joined forces with the National Radio and Television System (SINART) and the MEP to create I Learn at Home; and "valuable initiatives and materials produced by [local] staff such as regional advisers and individual teachers… via YouTube or their own blogs" We reported about some of these in our July 2022 edition, "Bilingual by 2040."
However, according to the State of Education, the problem with all these resources is that although they are accessible, they have not been organized or categorized in such a way that teachers can make the best use of them. What's more, "very few refer directly to the teaching of literacy in the two critical moments of reading development." These are 1st and 2nd grade levels, where students "learn to read" and 3rd and 4th grade, where they begin to "read to learn."
"During the pandemic, a very important effort was made by the Ministry and the UNED to develop programs, but they don't tell teachers how to use the programs," says Isabel. "Imagine if we had more programs of this type, and if we as a society introduced the value of reading as a social value, as a public good."
In other words: once these resources are in the hands of teachers and public and private educational institutions, the next step is to create a culture of reading in all these schools. That means increasing access to reading materials—through school libraries, for example, because "you can't read if you don't have books," says Isabel—and establishing initiatives to promote reading.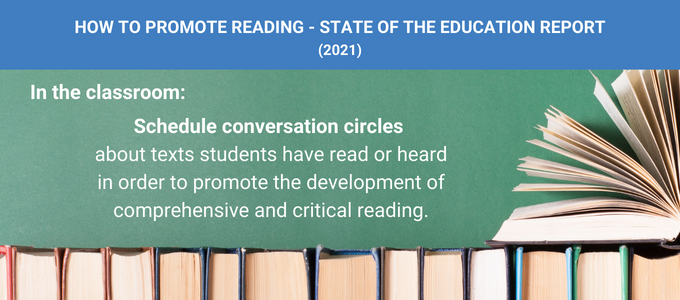 In other words: once these resources are in the hands of teachers and public and private educational institutions, the next step is to create a culture of reading in all these schools. That means increasing access to reading materials—through school libraries, for example, because "you can't read if you don't have books," says Isabel—and establishing initiatives to promote reading.
Finally, following the example of the countries that lead the highest results in the PISA evaluations, leaders in education should look at the results that Costa Rican youth have obtained in different macro tests, such as PISA, to figure out their focus areas. That's where the real shortcomings are documented that can help leaders generate public policy.
"The first time Germany participated in PISA, they did really badly. The magazines in Europe said, 'Are the Germans stupid?'" says Isabel. "But then they rebounded. They concentrated on translating the results in PISA into educational materials for teachers."
In the end, for Isabel Román and the State of Education team, the problem calls for a country-wide response.
"We need a nationwide campaign in favor of reading. [When the report came out] we were thinking that various sectors should step up on this subject: universities, civil society, NGOs," says Isabel. "That's why we talked about the idea of ​​a national campaign, like the one we celebrated on April 11. It is a matter of social conscience across all sectors. From whatever spaces and with whatever resources we have, let's raise awareness in favor of reading.
"It is a battle that must be fought."