One of three reports prepared by journalists from rural communities in Costa Rica as part of our current edition, "The Lineup." The goal: showcasing their perspectives on how three different cantons—La Cruz de Guanacaste, Pococí de Limón, and Osa, Puntarenas—experienced Costa Rica's Election Day.
In Uvita de Osa, at 5:30 a.m. on Sunday, February 6th, there's already movement in the streets around La Flor de Bahía School. Saúl Castro, Wilson Monge, Frankling Sequeira and Róger González are arriving early, as they have for many years, with their cars adorned with flags, their T-shirts proudly proclaiming each man's favorite candidate. They wait for the polling stations to open so they can be the first to cast their votes; they'll spend the rest of the day making sure friends, relatives and neighbors get to the polls so that they can exercise their right to vote, too.
At last, "E-Day" has arrived. It's time for Costa Rica's famed "fiesta democrática." As it does every four years, one of the most solid democracies in America prepares to receive thousands of voters at the polls.
The canton of Osa is the fifth in the province of Puntarenas, located in southeastern Costa Rica, in the heart of the Brunca Region. It is among the most biodiverse regions on the planet: a rich canton, but at the same time, poor. This contradiction is the reality for Osa residents, who have enormous socioeconomic problems, few employment opportunities, and a general disenchantment with state policies.
Citizens usually express that disillusionment every four years through low voter turnout rates. However, those who do go out to vote in Osa—and in particular, those who have been immersed in a culture of voting for years—find a warm and exciting atmosphere.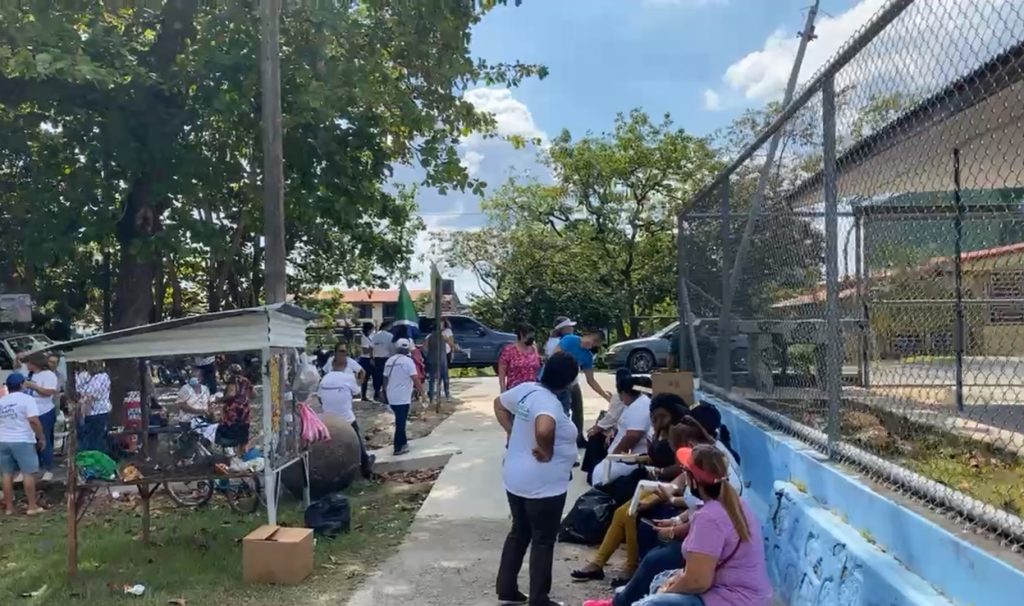 In front of the La Flor de Bahía School in the Bahía Ballena district, the first to arrive to cast their vote and start a long day of work amidst easygoing conversation. Saúl, Wilson, Frankling and Róger, who are there as volunteers for different political parties, remember past elections, and even dare to predict possible results for the night. They know that this is not a normal election: we're in the middle of a pandemic. Therefore, the atmosphere at the school is more subdued than usual. However, people start to show up little by little. For the volunteers, it's a good time to greet friends, joke around, and have a very pleasant day.
Frankling Sequeira, a community leader in Uvita de Osa, makes his two vehicles available to transport voters. He is clearly identified as a supporter of the Social Democratic Progress Party, but he's willing to transport anyone who wants to vote, regardless of political affiliation.
"I think we are privileged. In other countries, they do not enjoy the same rights. It is a beautiful thing to go out on the street and be able to freely express your political preference, and nobody is going to say anything to you," Frankling says in an interview with Ronald Badilla of Costa Ballena TV.
In the community of Dominicalito, Cristobal Mora is also hard at work early to open his voting center, or mesa. He serves as a fiscal, or voting supervisor. For this Osa resident, it's essential for voters to express themselves in the context of Costa Rica's complicated challenges. Asdrúbal Montoya expresses similar sentiments. He's been at the school in Dominicalito since before 6 am, ready to vote and to try to convince voters to support presidential candidate Fabricio Alvarado, of the New Republic Party.
"I came to fulfill the duty of every Costa Rican," Asdrúbal tells Costa Ballena TV. "The call is for everyone to come and cast their vote and fulfill a duty that we all share."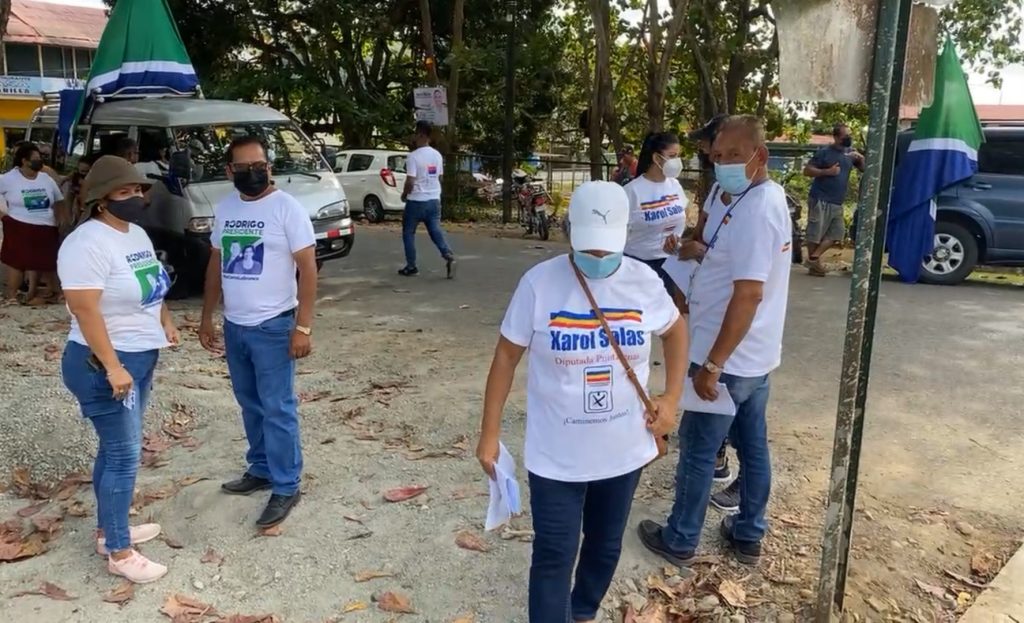 In the rest of the Canton of Osa, the atmosphere is similar—perhaps a little lackluster compared to previous elections, but very orderly. As the hours pass, things warm up little by little: more people start arriving at the polls. That's the case at the Eduardo Garnier Ugalde School in Palmar Norte, the largest voting center in the canton. The school is a happy and harmonious place to be that morning, with plenty of voters in attendance, while it drops off in the afternoon. The day passes by without incident and with plenty of patriotism. It's a Sunday shared by friends who haven't seen each other in a long time, and a day to spend with the family.
It's possible that this particular town has a more intense celebration than other locations, because there's a daughter of Palmar Norte on the ticket this year. Karol Salas Valerín heads the Social Christian Republican Party's legislative ballot for the province of Puntarenas. This has brought joy to this election, although supporters of National Liberation, Christian Social Unity, Democratic Social Progress and the New Republic don't want to be left behind. Thanks to their shirts, flags and support for their parties, Palmar Norte is probably Osa's most colorful voting center in 2022.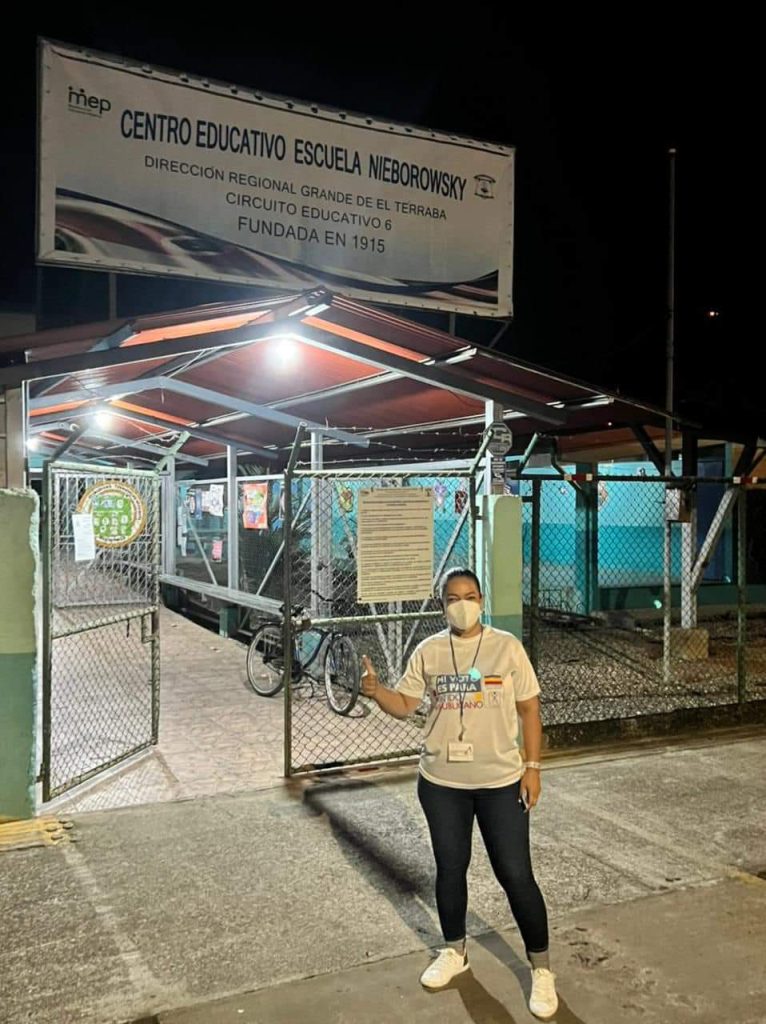 In Palmar Norte's central park, under the shade of a beautiful almond tree, two well-known characters from the canton have taken a seat for a chat: two community leaders, two political leaders, but above all, two great friends. Gerardo Carrera and Claudio Salas are here to shoot the breeze. They're telling stories, reminiscing about previous political campaigns, or simply having a good time, as usual. It goes almost unnoticed that on this occasion, Gerardo supports the candidate Rodrigo Cháves of the Social Democratic Progress Party, while Claudio supports the party in which his daughter Karol is a candidate, the Christian Social Republican Party.
For me, as a journalist and resident of the canton, to watch these gentlemen talk, laugh, and spend a great Sunday in the park is to witness Costa Rica's true democracy—the freedom that Costa Ricans have to choose our preferred candidate with total peace of mind every four years.
"We've had a very calm day, very beautiful. People have come out to vote and we are experiencing a beautiful fiesta," comments Gerardo. "It doesn't matter what political party we belong to: first and foremost, we are friends."
While Claudio Salas is clearly tired after a long campaign, his face reflects satisfaction and pride at seeing his daughter fight for her goals.
"I was telling Gerardo a moment ago that we are lifelong friends and we feel happy, because people are participating in such a joyful way," says Claudio. "I feel very proud—tired, yes, because we have had to travel with my daughter through the 12 cantons of Puntarenas—but the affection of the people towards my daughter, I will never forget that. Regardless of the outcome, you keep those things in your heart."
In the canton's First District, Ciudad Puerto Cortés, supporters of the National Liberation Party get a visit from Sonia Rojas Méndez, the second-place legislative candidate for the province of Puntarenas. This educator from Buenos Aires and the Bribri-Cabécar territory chats with her party's local leadership and provides a few words of motivation.
A few blocks away, at the century-old Nieborowski School—the second largest voting center in Osa—leaders from across the political spectrum try to convince undecided voters before they enter the precinct. Lidiet Sequeira is here to represent the party she loves, the Citizen Action Party (PAC); Roxana Caamaño, supports candidate Rolando Araya; Donald Cortés and José Naranjo wear shirts in support of Karol Salas from Palmar Norte; Jorge León and Isabel Cerdas support the Christian Social Unity Party; Féliz Nájera is using his bus to transport voters for Fabricio Alvarado; and Joseth Carrera is working for Rodrigo Chaves. Everyone has their own goals, but they get along with respect, even sharing their snacks and lunches.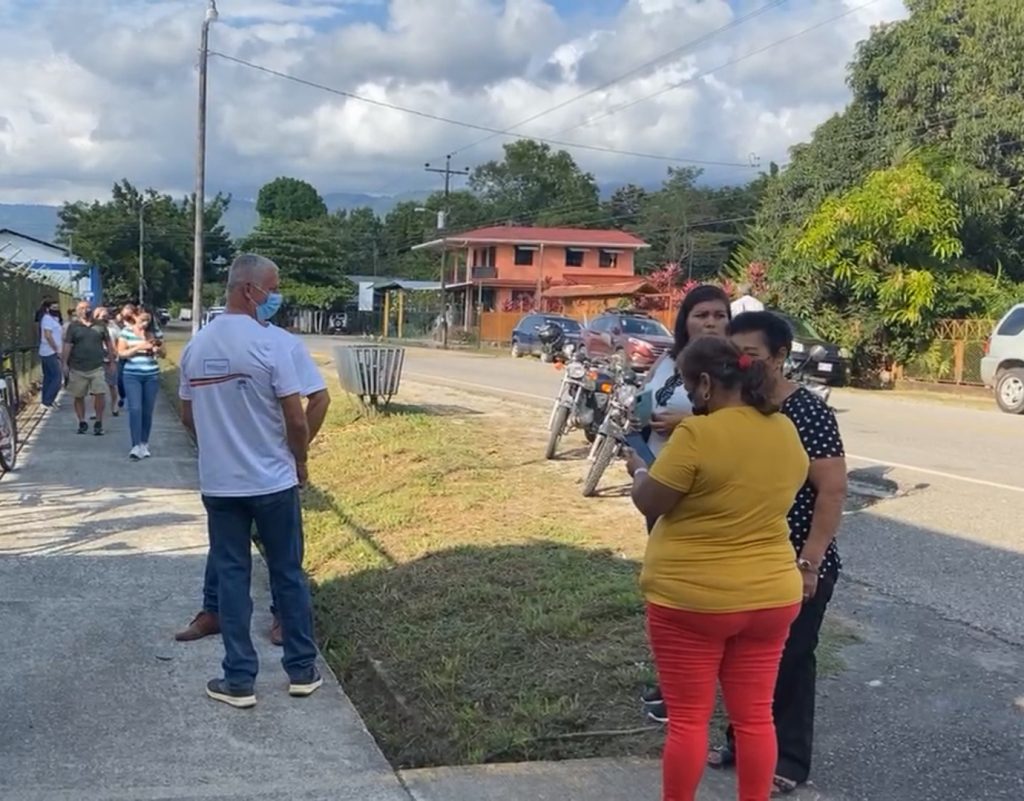 As the afternoon wears on and the voting deadline approaches, the influx of people increases, and the lines to enter this school grow again. In the midst of all these people, one person's arrival stands out. Everyone present stops to watch a blue bicycle that stops at the school fence. The man who descends from sports many gray hairs and a neat plaid shirt. Rodrigo Benavídes, one of the oldest and most consistent voters in Osa, has come to cast his vote, as he does every four years at the Nieborowski School. He is 82 years old and has lived in Cortés for 72 years, when he arrived from Alajuela.
"I've voted ever since I turned 18. I have not missed it even once", says Rodrigo. "Many people ignore the sacred right that we have because they think that democracy is a game—and it's not. We all have an obligation to vote."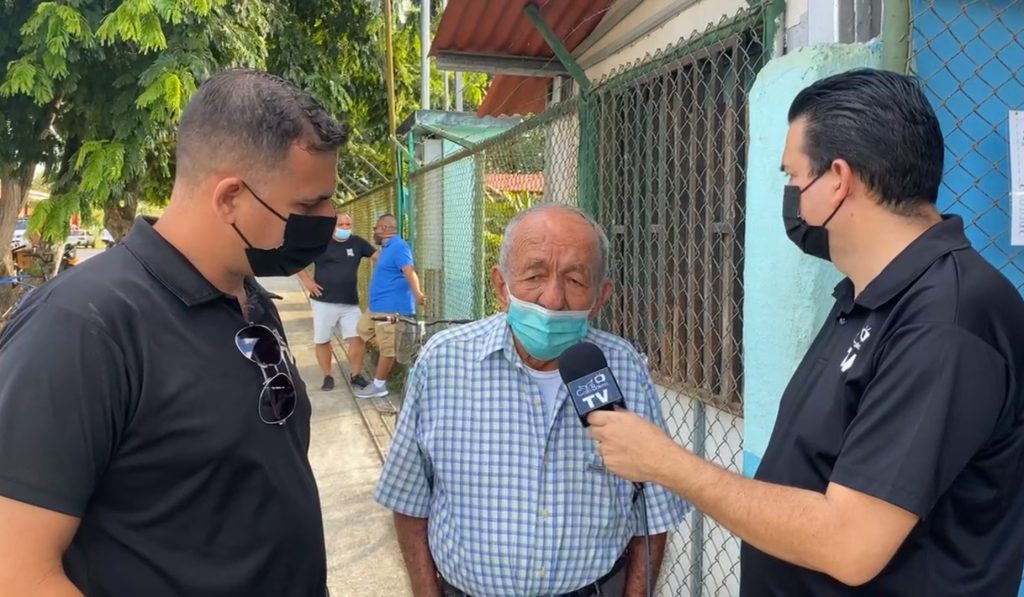 The bicycle has been Rodrigo's means of transportation since he arrived in Puerto Cortés in 1950, when only a few families lived there and bananas began to boost the local economy. That Cortés could barely have been considered a town; for many years, it had been called simply The Well.
Among memories and nostalgia, don Rodrigo enters the school to cast his vote.
Election Day in the canton of Osa comes to an end. Despite the pandemic, joy and respect have prevailed on a sunny Sunday. The polls close at 6 pm. While many return home, others begin the process of closing and counting votes.
Once votes at all 61 polling stations have been counted, the results are in. Sonia, from the PLN, has been elected: she's the first indigenous woman to reach the Assembly. Karol, from Palmar Norte, will not go to the Assembly, since her party did not receive enough votes in Puntarenas for a legislative seat. For president, the winner in Osa is Fabricio Alvarado, with 27.95% of the votes for the conservative New Republic party. The PLN takes second place with 22.73% support, very close to the 20% achieved by the Social Democratic Progress party.
But in Osa, as in many cantons in the country, the biggest winner is abstentionism. Here, it reaches 52.46%. Of 24,398 registered voters, just under 11,000 chose to heed the call.
Why didn't more people vote in Osa?
For PLN legislative advisor Ulises Ramírez, the political disillusionment of oseños is long-standing. The motivation to participate in electoral processes drops with each election.
"People have become disillusioned with politics and politicians, and they express this by not going to vote. Osa and the South Zone have experienced very difficult times in recent years, with a lot of poverty, lack of opportunities and unemployment, which has generated mistrust in politicians," Ulises tells Costa Ballena TV. When asked about the impact of the corruption scandals that have affected high-ranking political leaders in the canton, he replies: "Of course, that has a great impact—especially since it involves the National Liberation Party, which has traditionally won the canton. You can see that on this occasion, Liberation failed to win the canton [for president]. Probably many people who were going to vote for this party preferred to remain on the sidelines and stayed at home. This is a reality that can't be denied."
Attitudes in Osa reflect overall trends in the province of Puntarenas, which closed with 50.89% abstention. The province claimed a title that no one wants to win: the country's lowest voter turnout in February 2022, closely followed by Limón with 49.29% voter abstention, and Guanacaste with 47.51%.
The coastal provinces of our country are the poorest. They are home to the fewest opportunities and the lowest voter turnout. Undoubtedly, a huge challenge for Costa Rica's next leaders will be to turn their gaze to these provinces and try to win over their inhabitants once more.
Meanwhile, the people who maintain their enthusiasm and energy despite all these factors will remain vigilant, ready for 2026.
"It is important to go out and vote," says Frankling, one of the people who opened the day at Escuela La Flor de Bahía in Uvita. "It is vital for the destiny of the country."