Alvaro Otoya, 62, describes himself as "a hunter that has been hunted, because instead of me hunting the animals, they hunted me."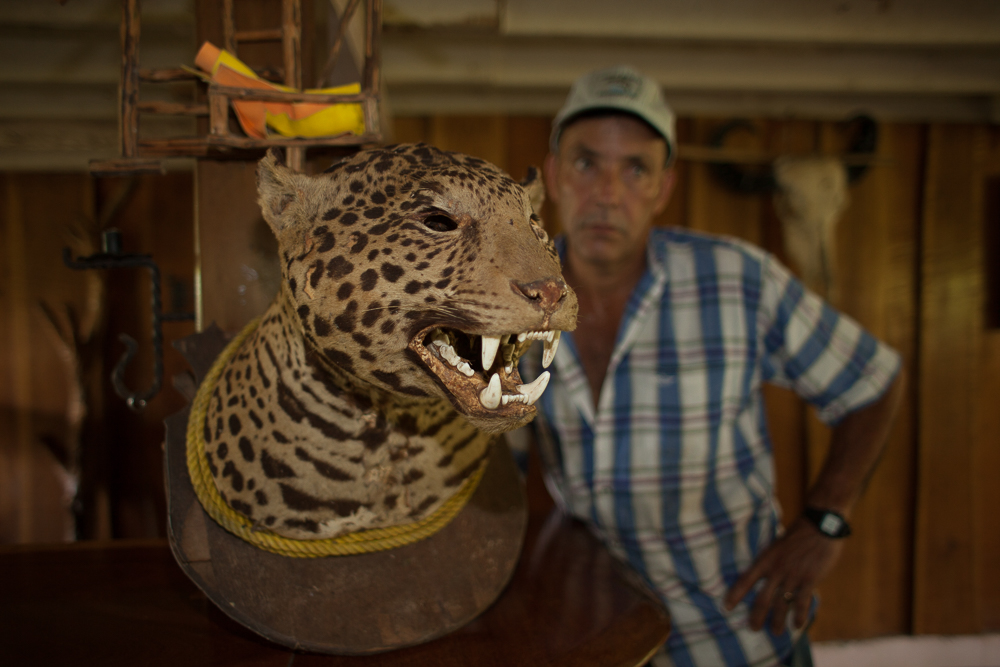 An animal lover since he can remember, Álvaro learned from his father about life on the farm and to appreciate wild animals. "Papá was a hunter but not a destructive hunter, he liked to hunt but he would only hunt to eat." When Álvaro's dad was out of poverty he started enjoying and taking care of wild animals, instead of killing them.
At his farm in Río Cuarto, Grecia called Dos Calavera, Don Álvaro hosts 30 macaws, a guan, several parrots and parakeets, and two jaguars, besides his dairy and beef cattle and his water buffalos. Don Álvaro inherited the farm from his father and when he moved there he brought four of his father's macaws with him, and he built them a "big cage." A little after that MINAET gave him six confiscated macaws for him to look after.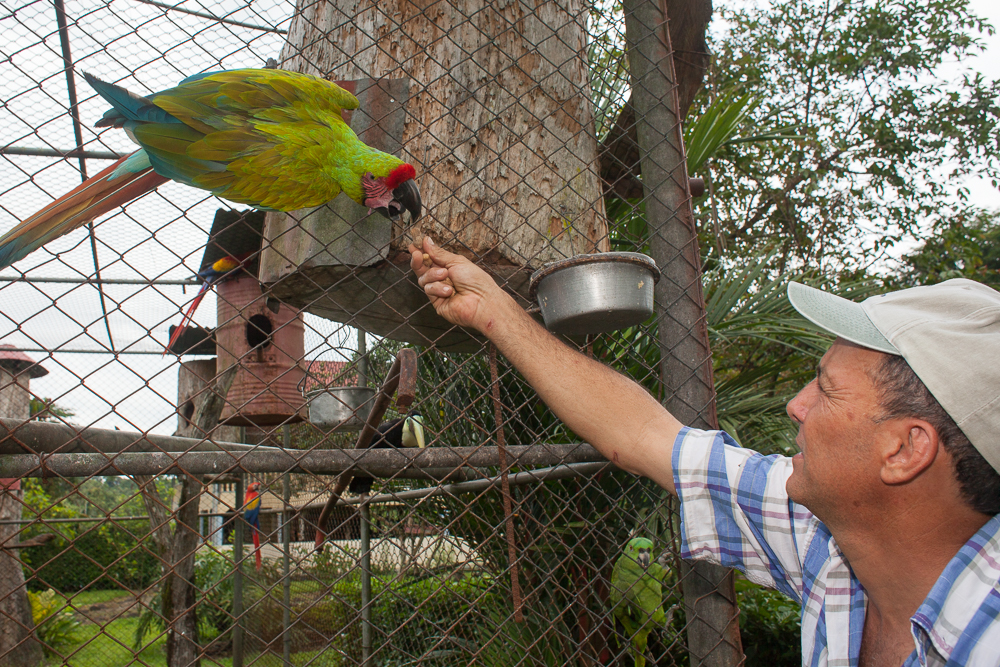 Little by little Don Álvaro starter releasing the macaws, and today that big cage is nothing but an old mesh structure with many big holes. Since then the macaws have reproduced in his property and refuse to leave, even strange love has developed in the farm culminating with the birth of hybrids between scarlet and green macaws. "Here they have their habitat, they have places to nest, they have food and they are safe," don Álvaro said. "In Costa Rica there aren't that many trees left for the macaws to nest, if more people help them like me, we will always have macaws in Costa Rica."
Many other wild animals, like toucans, parrots, monkeys, squirrels, and deer, have been guests at the Dos Calaveras farm, all given by owners that can't look after them anymore, or people that found them hurt. When those animals were healthy again, they were released and most of them decided to leave towards the forest that surrounds Don Álvaro's farm and beyond. Nevertheless, it is not strange to have casual visits from some of them, since they know their protector will always have peanuts and fruit to give away.
—
A previous version of this piece was published in Nature Landings, the in-flight magazine of Nature Air.