Everything has changed this year. My husband and I run a tourism business, Casitas Tenorio B&B, in rural northern Costa Rica. At the start of 2020, I was doing what a lot of parents do: switching my brain into entrepreneur mode when my two daughters went off to school every morning, and then juggling between the two modes as soon as they returned. Activities, classes, our team at the business, our community of Bijagua, the needs of our guests and the needs of the animals on our farm. A demanding routine, but one that filled my husband and me with joy and satisfaction.
With the pandemic, that juggling mode became a 24-hour affair. Costa Rica entered "Season Zero" — borders closed, no tourists of any kind, in a country where tourism is the leading source of income — and, of course, school was cancelled. Now my focus switches every few minutes, it seems like, between my daughters and the business and community we are trying to sustain and rebuild. We have no income between us, and it has been like this for five months. We have spent all our savings. And we are not alone: a whole country full of small enterprises like ours is in the same boat.
The whole thing has made me even more sensitive to how hard it is for moms who are doing this juggling act under even more stress than me. When I lie awake at night worrying about how we'll keep our family afloat, I know there are so many other mothers around me in my town, and beyond, doing the same. So when I saw that eight women from Bijagua had joined forces to create a Mother's Day gift box, each woman contributing something special that she makes — from homemade candy and bread to hand-crafted gifts — I wanted to do whatever I could to help them achieve their dream, sell some boxes, and have some income for their families.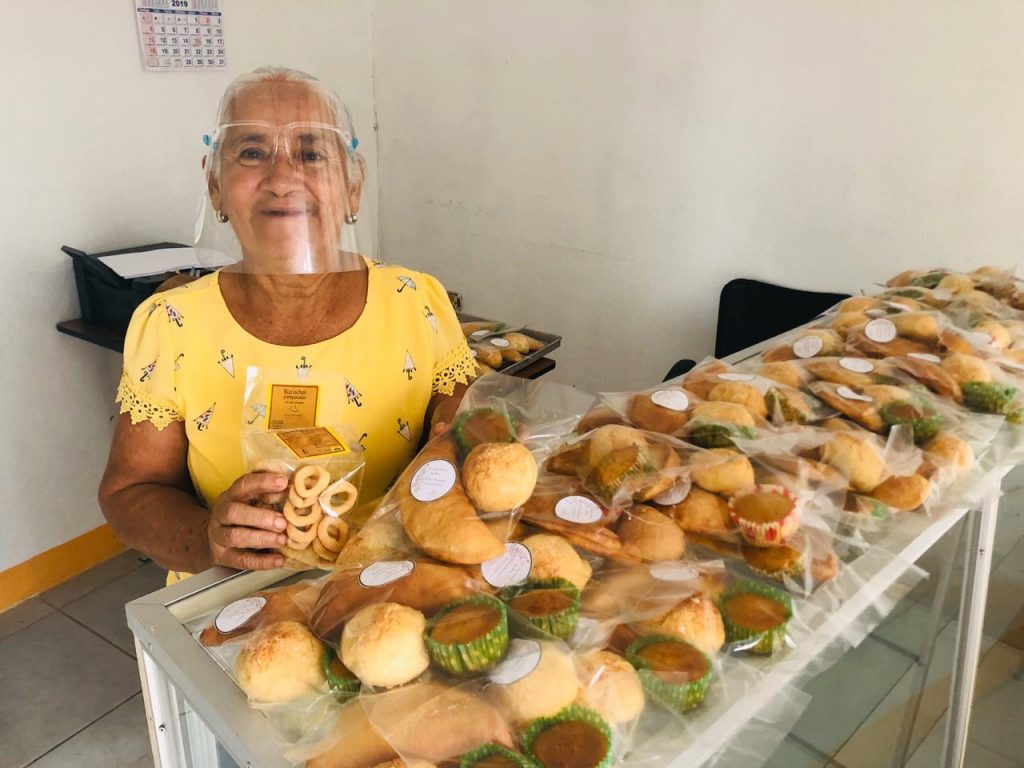 Through our B&B we've met so many people who love Costa Rica and Bijagua, but don't live here and wouldn't be able to receive a gift themselves. So I posted on our B&B's social media inviting people to "pay it forward" via PayPal, buying a box for $15 that we would then deliver to a mother in Bijagua.
When I posted this, there were only two days for people to order these in time for the boxes to be made by Mother's Day, which Costa Rica celebrates on August 15th. I hoped that the women might sell 10 or 20 boxes through this scheme.
They sold 80.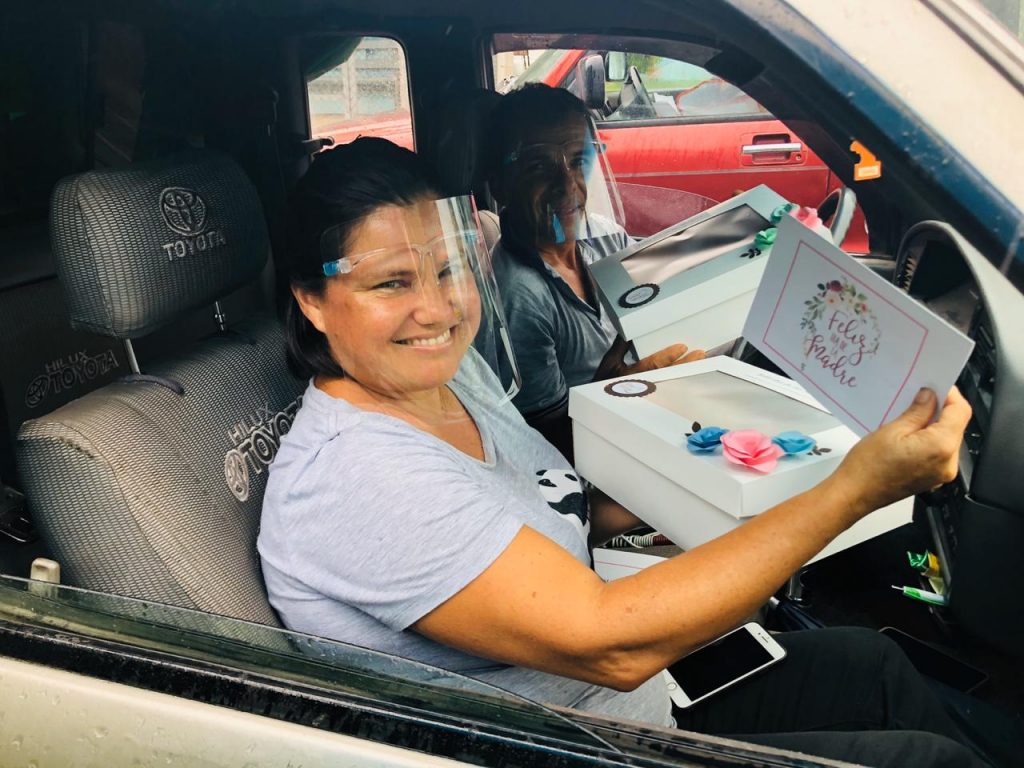 That's $1,200. I can barely explain the impact of that support on these families — support sent from around the world to a community that has lost almost all of its income during the suspension of tourism. It's enough to ease a lot of sleepless nights. Some of the women had to hire additional women to help meet the demand, thus generating income for even more families. Kids were enlisted to help out, too, including my own.
I spent the day before Mother's Day and part of Mother's Day itself helping deliver the gift boxes all over town. Imagine two days of torrential tropical rains, and tears almost as copious! We made videos of the women showing off their handmade gifts in their kitchens: Lilliam Alpizar, Miriam Barrantes, Maryuri Soto, Kathy Soto, Maria Luisa, Karina Vargas, Nelsy Rodriguez and Jessica Morera. We boxed and loaded and drove through puddles to house after house. We put these gifts, which were full of treats but really full of love from all around the world, into the hands of women who have faced all kinds of challenges over the past six months (and in many cases, throughout the years before 2020 even arrived). Pregnant women. Mothers of newborn babies. Great-grandmothers.
I saw tears of joy and shocked expressions when they realized that someone cared enough to do this for them. I met a lot of dogs. I encountered, as anyone who knows Costa Rica will understand, lots of funny directions: for example, "the second house after the hibiscus that's painted the same color as wine." (White or red?) We drove and delivered for 13 hours, down dirt roads aplenty and tiny lanes.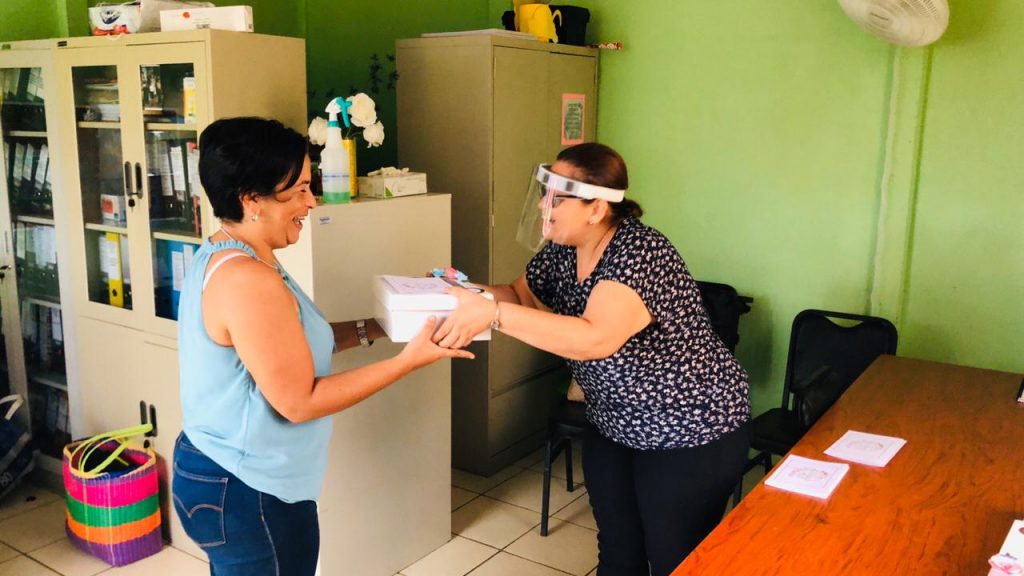 With each gift, we gave a certificate showing the recipient who had purchased the box for her. The grateful moms sent audios and WhatsApp messages to the women, often thousands of miles away, who had made their gift possible. Usually, the recipient didn't know the donor, and a new friendship was made. a smile on the faces of dozens and dozens of mothers. Sometimes, though, when I told them who'd sent the gift, I was met with a happy cry of recognition. For example, Peace Corps Volunteers who served in our town more than 10 years ago bought boxes as a surprise for the families they'd known.
I haven't cried so much in a long time. By the time we were done, our whole town was abuzz with excitement and love.
What I learned this Mother's Day in Bijagua, and want other people to know when they need help during this international crisis, is this: never underestimate the human spirit, or the need to feel part of a community. I would never have thought that in just two days, 80 people around the world would buy Mother's Day boxes for people who, in many cases, they may never meet. I think they did it because we all want to feel part of something bigger than we are, whether that's the town of Bijagua, or the country of Costa Rica, or a global community of mothers.
Sometimes, it's just about opening the door and letting all that goodwill come through.
Originally published on Aug. 15th, 2020. Since then, Bijagua has repeated this project with a Christmas box, and now a Valentine's Day box. Information here: