In 2020 I became a mother for the first time. I remember that one of the first people I wanted to call was doña Eugenia. It was something instinctive: she reminded me of my grandmother, who is no longer with me. She somehow recalled that important figure who guided me during my childhood and adolescence, warm, strong, brave, tenacious. Maybe that's why I wanted to call her, to feel that breath of inspiration that would accompany me throughout my pregnancy and the rest of my new life as a mother.
The story of Eugenia Juan Santiago transcends a title or an article. A whole book, at least, would be needed to convey the strength of this woman, but also new words in the dictionary to describe her—a woman of little conversation but of a lot of action.
Born in Bocas del Toro, Panama, she is an indigenous Ngöbe Buglé woman who has lived in Sixaola, Limón for more than 30 years. She is the matriarch of a household with 10 children, 43 grandchildren and seven great-grandchildren.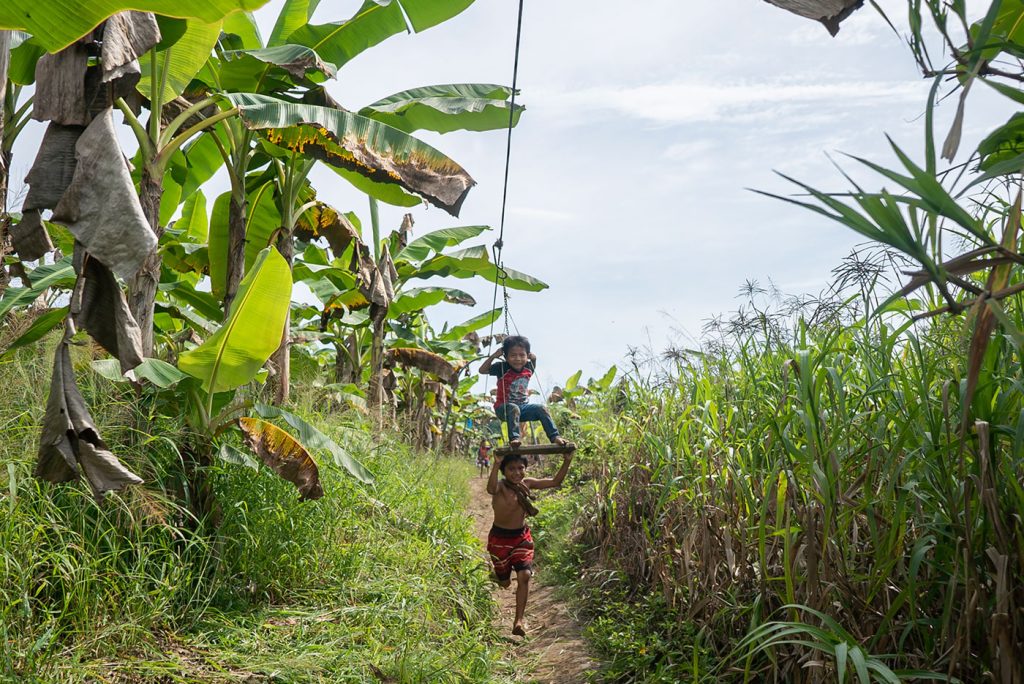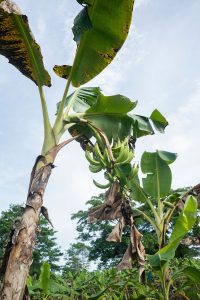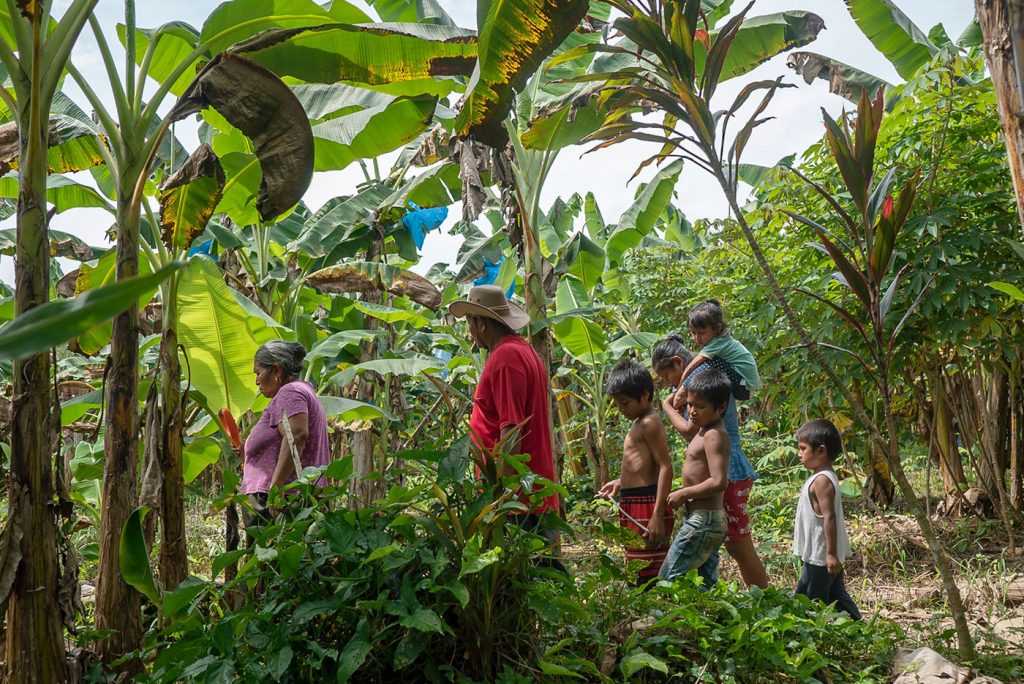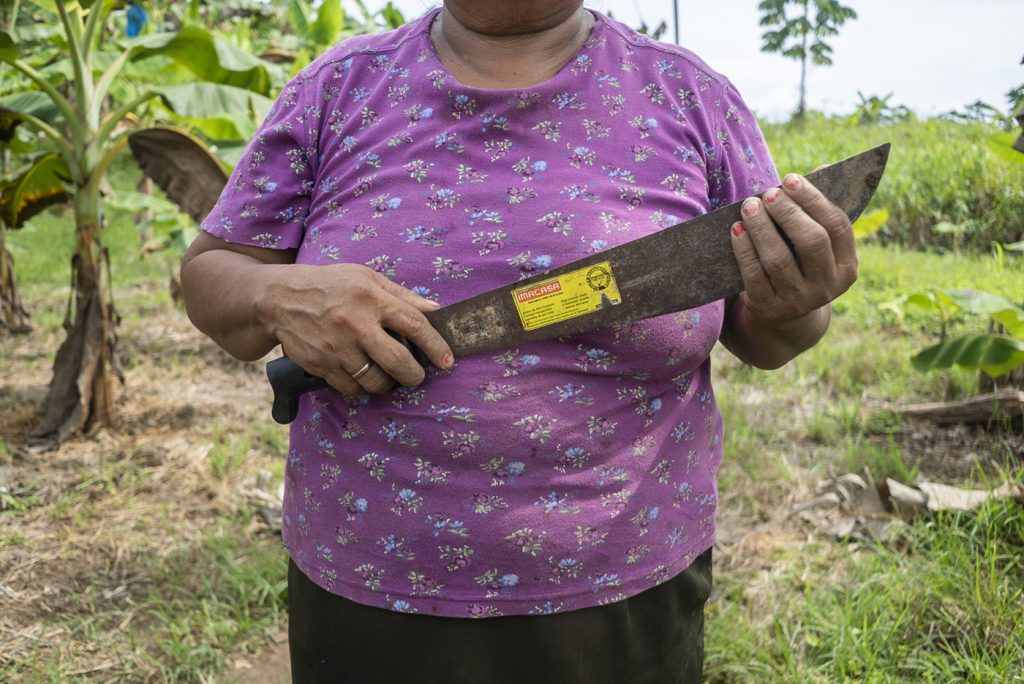 She has adopted four of her grandchildren, all minors, in order to raise them within her home. In addition to that, she shares the care of 27 of her other grandchildren when her daughters or sons need help. Her daily routine starts at 5:30 am with breakfast for her family and usually ends around 9:00 pm.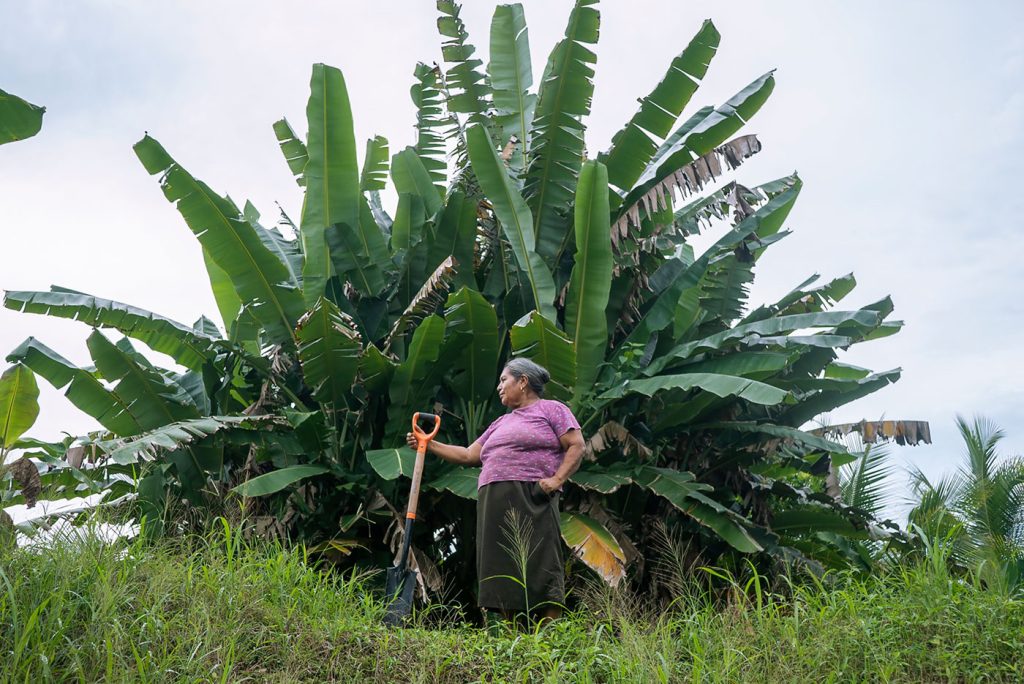 Eugenia was 14 when she had her first child. As a teenage mother, she had no idea what to do. Her mother was her role model and source of unconditional support, as well as her grandmother. She says those experiences marked her forever, shaping who she is today.
I remember the first time I met Eugenia when I was visiting the area doing photojournalism work. I walked through the door of her house: there she was, sitting in her rocking chair, rocking at a slow, almost sleepy rhythm, removing beans from a cacao fruit while a mob of children surrounded her, jumping and running around. From time to time, she could be heard admonishing her grandchildren in Ngabe when they ran too fast. I could immediately see in her a dedicated, loving grandmother; she was showing her affection for them, not through caresses, but through her dedication to caring for them. By watching them, cooking for them, and serving them.
I have known Eugenia for seven years and have seen during that time her devotion to her family and vice versa. She is a fundamental part for each family member. Without her, the life of this family would not be the same.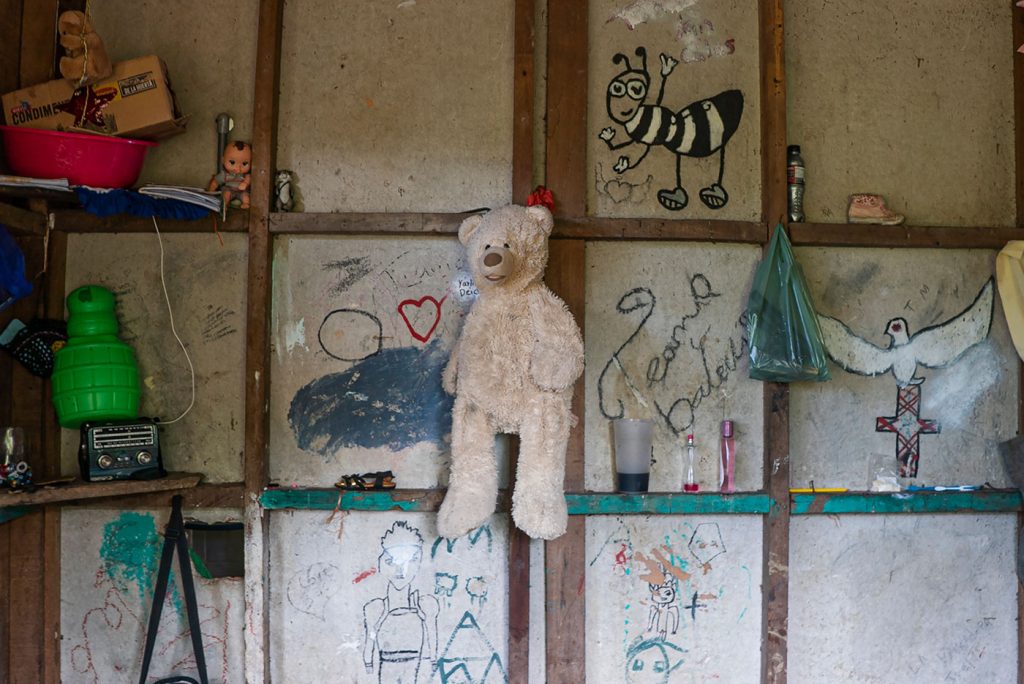 Two years ago I was able to witness the greatest pain that Eugenia has experienced in this phase of her life: the loss of one of her grandchildren at barely a few months of age. I saw her deep pain and how, at the same time, she was a strong mother and a great support to her daughter and family as they mourned. Eugenia has struggled for 16,060 days, non-stop, a motor for a machine as large and complex as only a family of 60 people can be—devoting her entire life to caring for her family, the land and her crops, something that fills her heart and soul.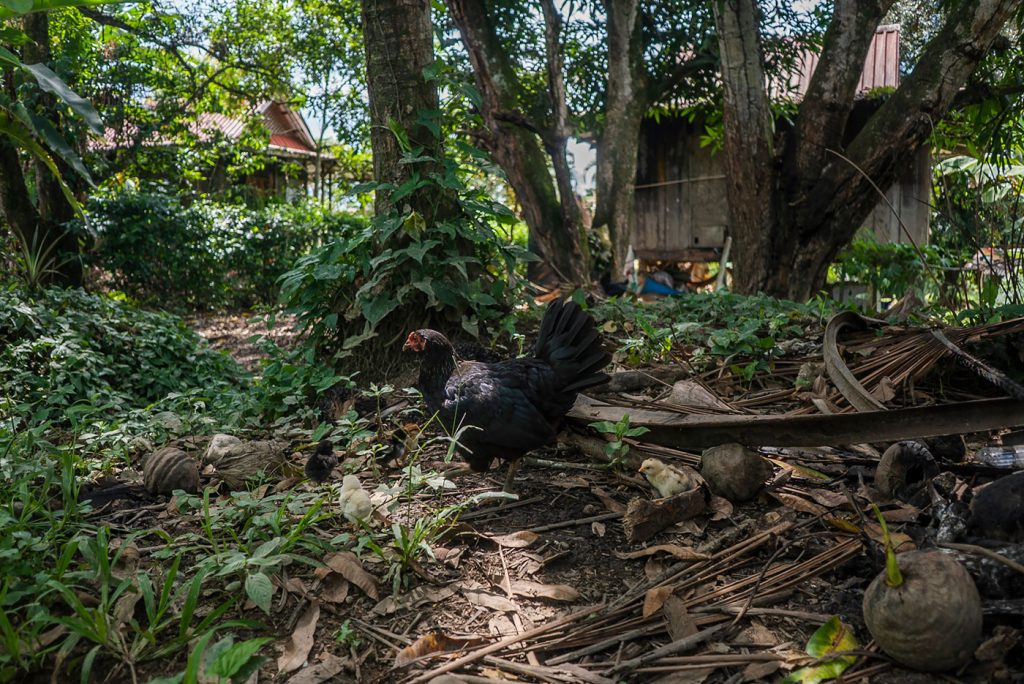 Despite her fatigue, a trick knee, and diabetes, she never stops working. Imagine a hot day, the ground moist and the air thick, with no breeze. We see Eugenia walking in her faded fuchsia-pink Crocs, her countless grandchildren behind her, along with her husband. She is the leader. She guides the family. They arrive at the field and, with her rusty machete, she is like the conductor of an orchestra. She sets the pace and everyone follows as they cut the grass, plow the land, harvest yuccas. In a coordinated and harmonious way, they reap what they have worked so hard to sow. That's how, later, with all her love, she is able to feed the more than 20 mouths that visit her house daily.
Her care also moves her in the fields where she raises her chickens and her pig. When I saw her call her chickens, I immediately saw it as a metaphor for her grandchildren. While she calls, the chickens respond immediately and stand in order behind her, her presence is so imposing that even the animals can feel it.
When I ask her husband, Saucedo Baker, how much Eugenia means to him, his eyes immediately fill with tears. His voice breaks.
"I couldn't have done it without her," he says. Eugenia has been her husband's right hand not only in the care of the family, but also as a breadwinner. Saucedo speaks fondly of the lunches that Eugenia makes for him to take with him when he goes to work at the banana plantation; he is grateful for the hot cacao with which she receives him in the afternoons, and says it makes him happy just to think about the delicious michelada (an indigenous drink) that she prepares for him daily. "I couldn't without this woman. What she does for us is beyond words."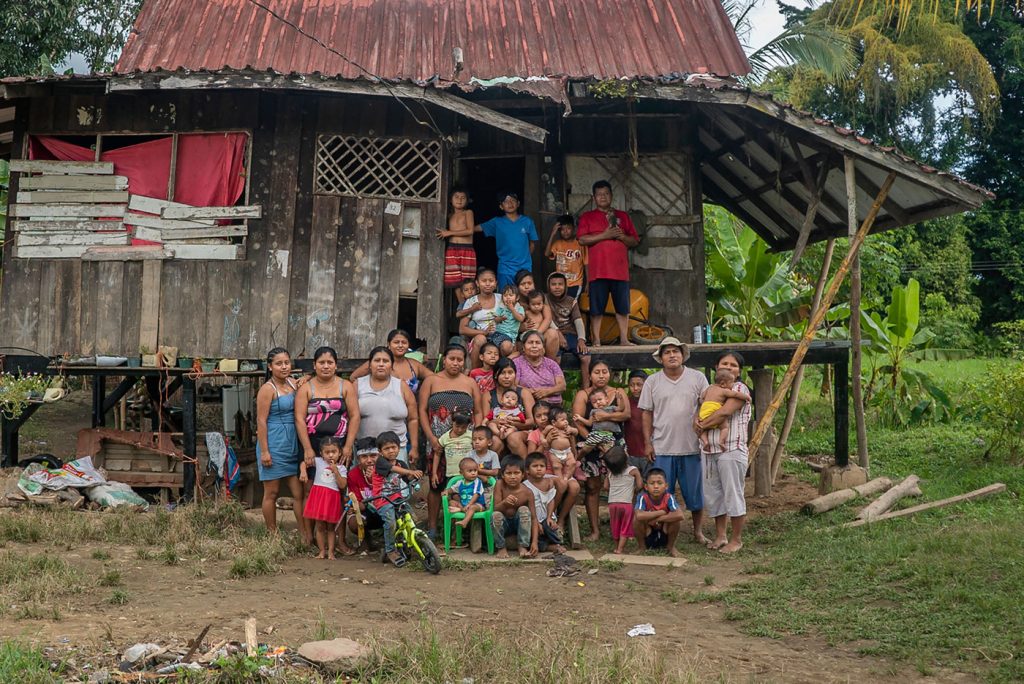 Eugenia considers herself a cautious woman. She likes to be one step ahead and uses a notebook to make notes, accounts and numbers, keeping the finances of the house and her family in order.
She is an entrepreneur and investor. She buys kitchen, cleaning and personal hygiene products in the grocery store to resell them within her own family. When I ask her why she doesn't sell to her neighbors, she tells me that she isn't interested, that she's more concerned about safeguarding her children's money for the good of her grandchildren. Money circulates within the family. With what they buy from her, she can set aside in an emergency fund for whatever needs arise.
In addition to this, she often manages to sell the products she grows within the community: "I feel powerful, independent," she tells me. "It makes me happy to be able to buy the gas cylinder so that my family can eat."
In her rare free time, Eugenia visits her sister to talk and reminisce about childhood stories. They think of their mother together, drawing inspiration from how she cared for them during her life.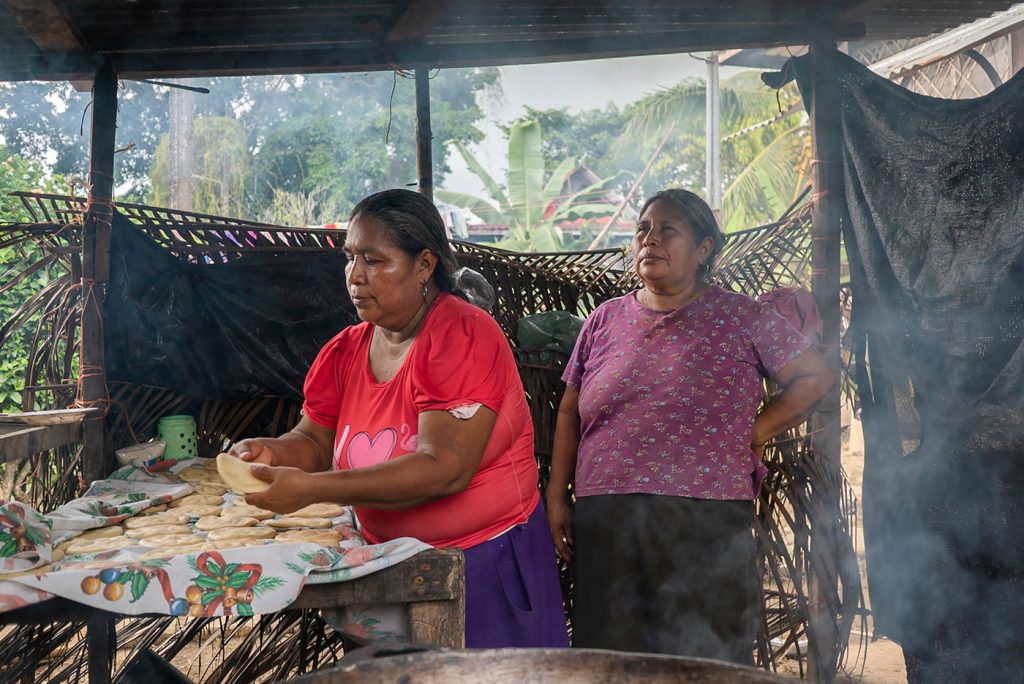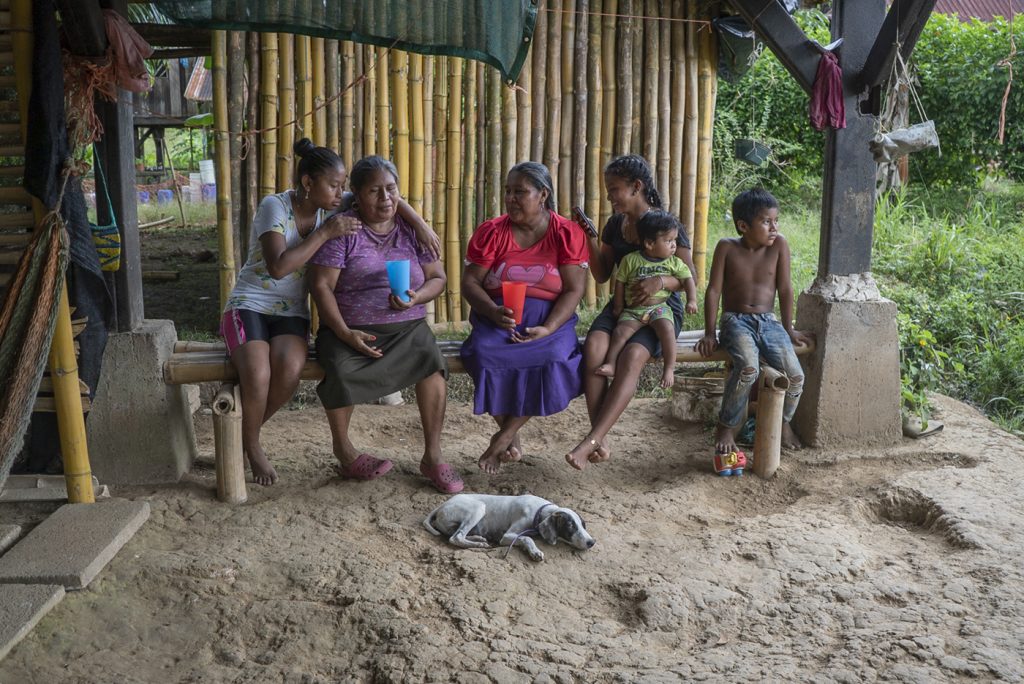 After 10 children, 42 grandchildren and seven great-grandchildren, I ask Eugenia what she feels every time she sees one of her children become a parent. She tells me that it's the same thing she felt with her first grandchild: a lot of happiness and the desire to be close by to give them love and care.
Just before my visit, Eugenia receives the news that she will soon welcome her 43rd grandchild. When I ask her how she feels, she just looks at me with a big smile.
Her entire family considers her the protective guardian of the home, with her rusty machete, her fluorescent orange neon nails, her flowery petticoats and blouses, and her hair touched with silver. She is a woman of few words, but you don't have to speak to feel her energy, strength and resilience.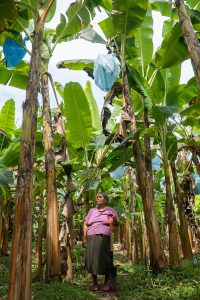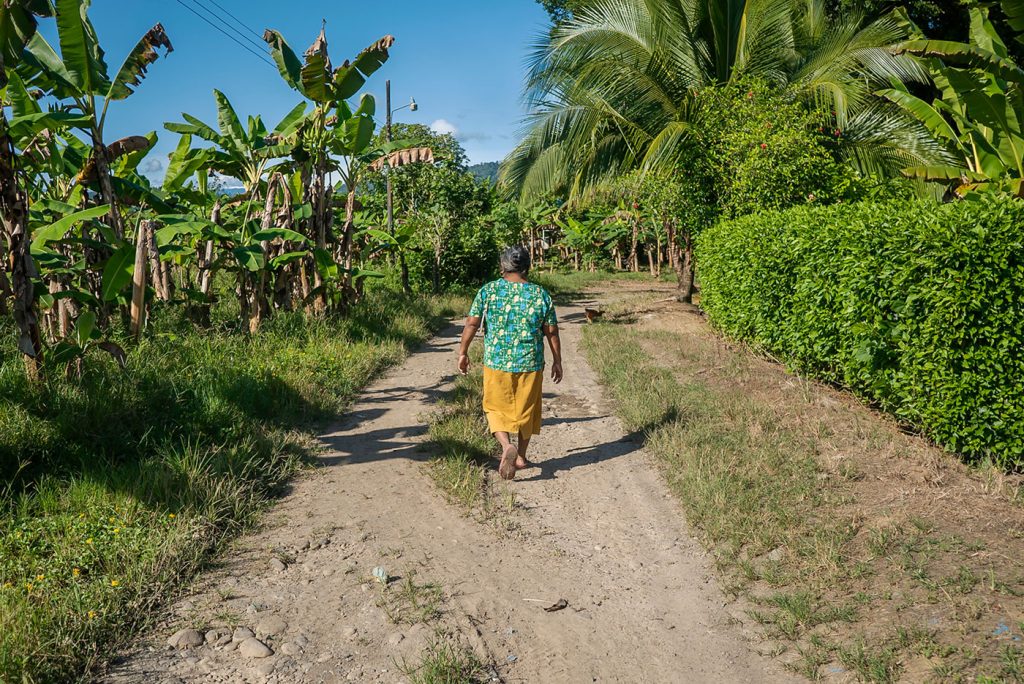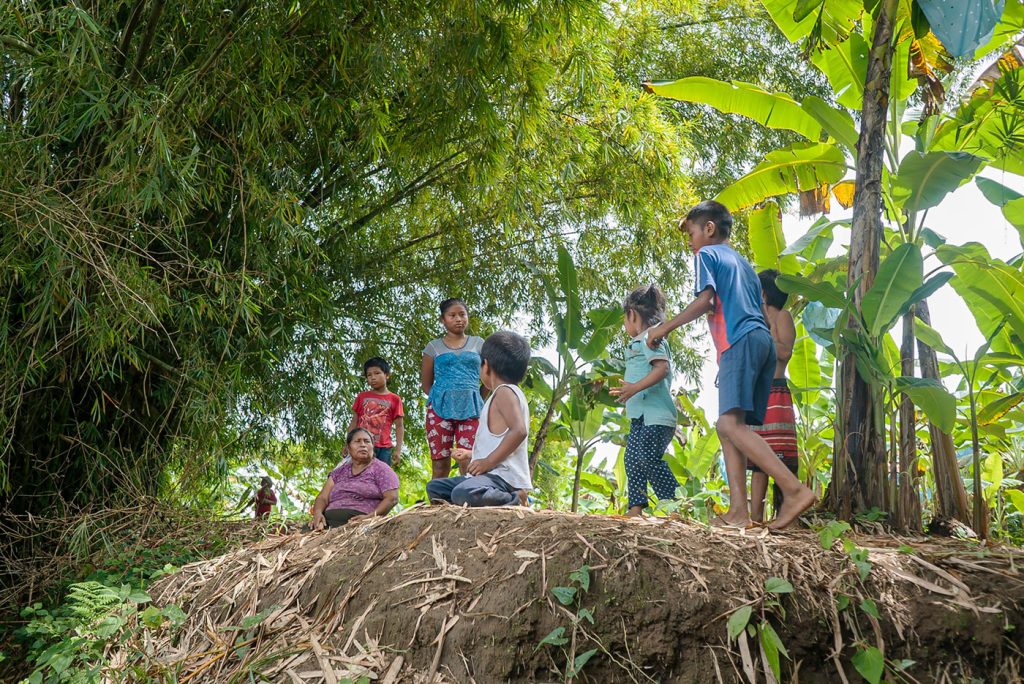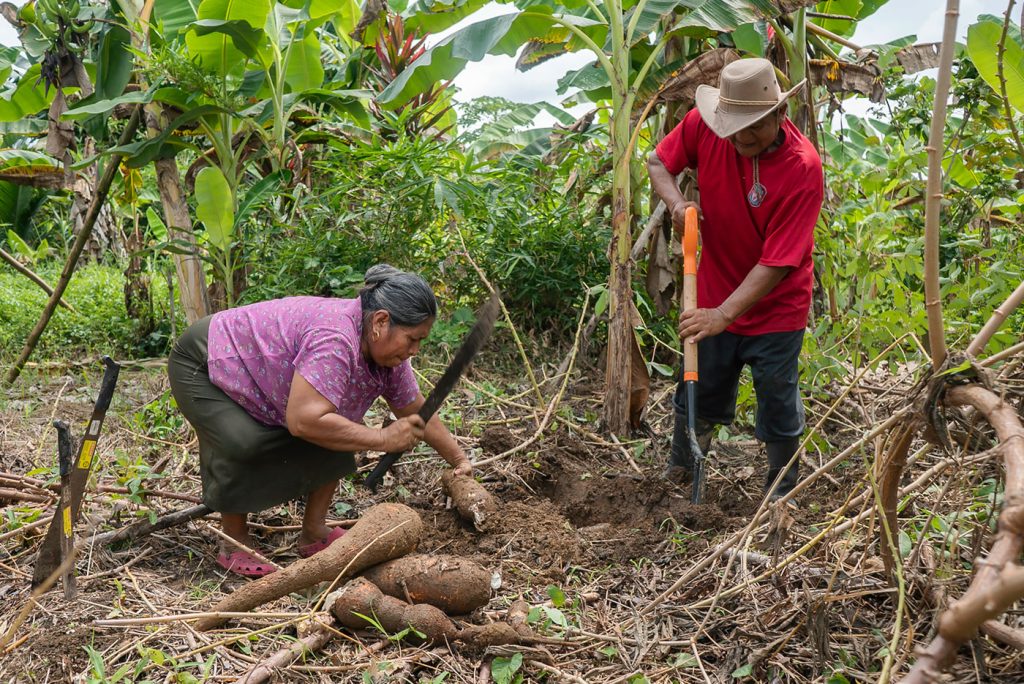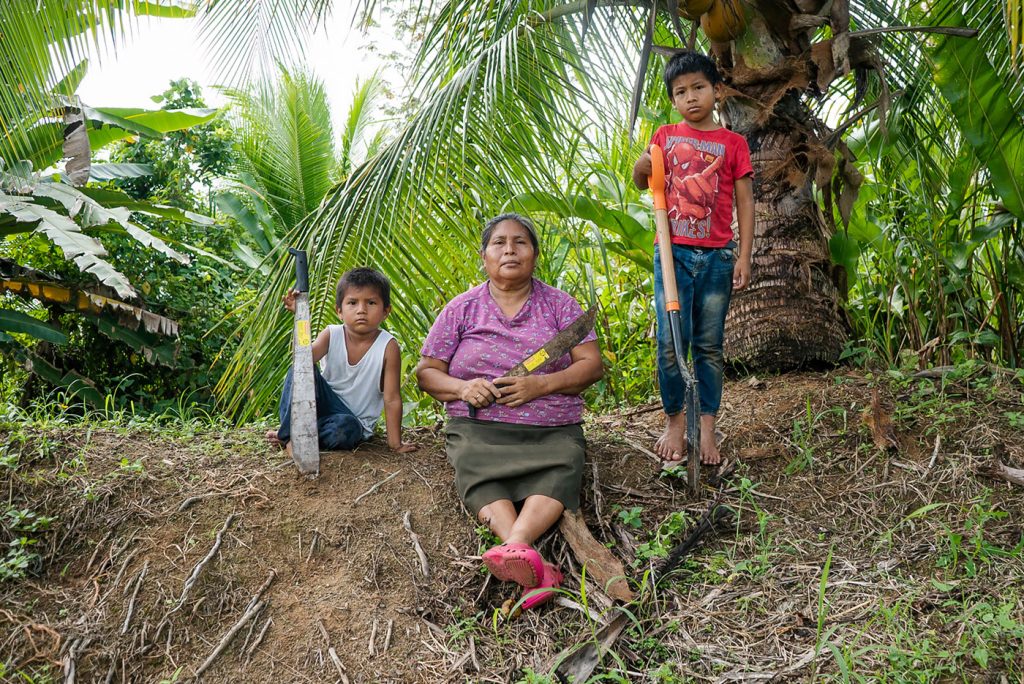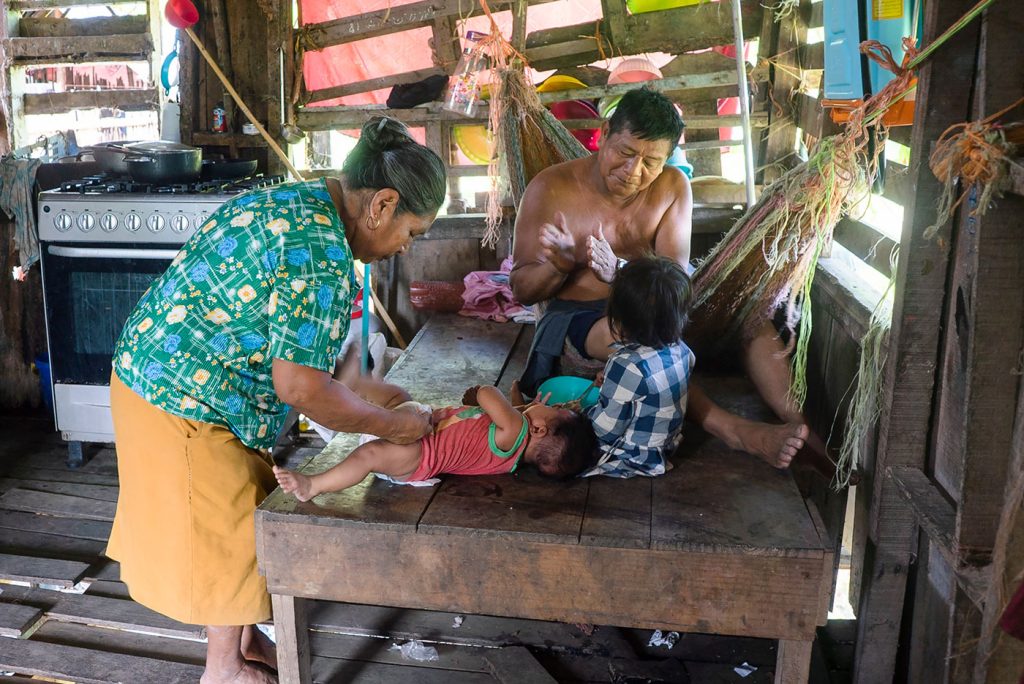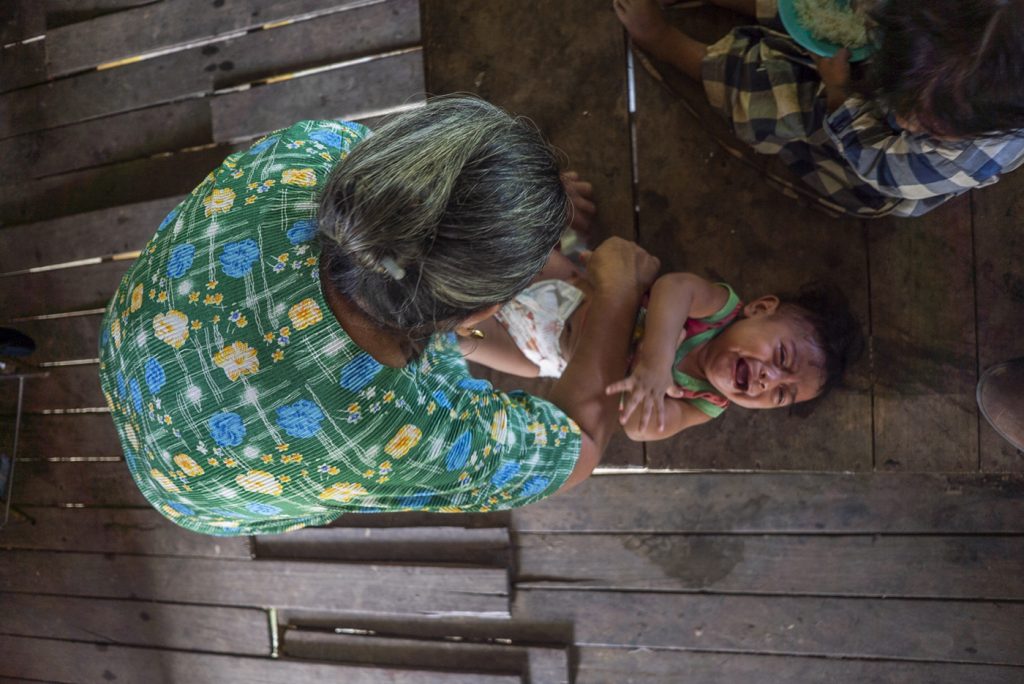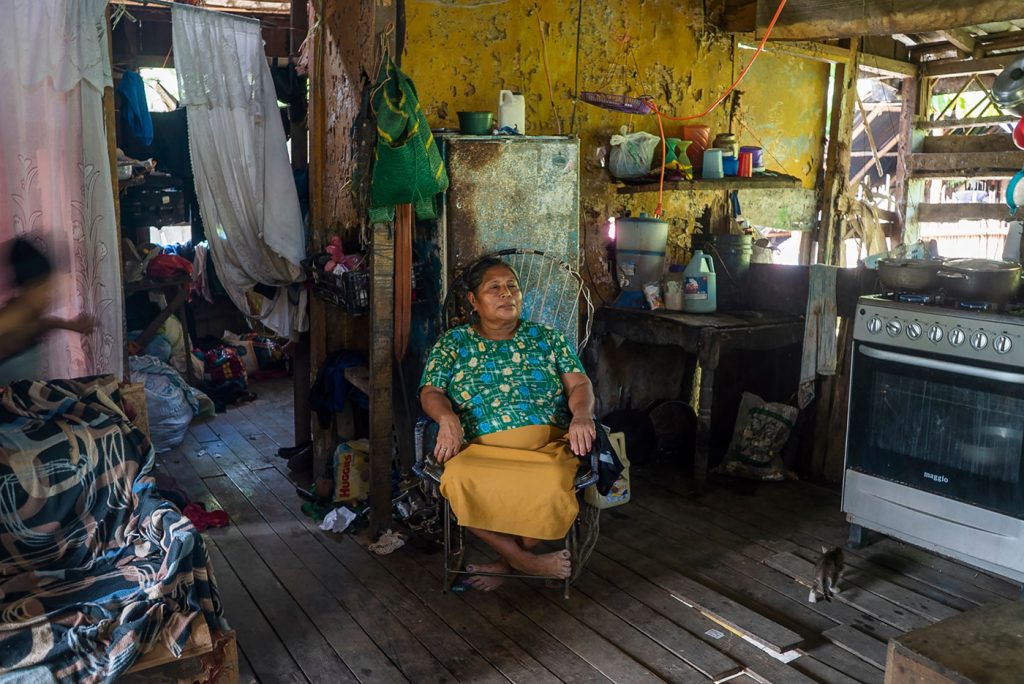 Our October 2022 edition, "Las Titas," explores the realities of caregiving for older adults in Costa Rica: how they do their jobs, what challenges they face, and who is working to support them. With the support of the Yamuni Tabush Foundation, we have also hired five photojournalists, all Costa Rican women and mothers, who have spread out across the country to capture a day in the life of older women and men who are caregivers. Gloria Calderón Bejarano is one of the five photojournalists. Explore the edition here.