We are proud to share this column in honor of Costa Rica's National Parks Day, which this year is dedicated to Isla del Coco National Park, located approximately 36 hours by boat from Costa Rica's Pacific coast. Thank you to María Gabriela Díaz Musmanni for this reflection and to Giancarlo Pucci for donating the use of his photos of the island.
My six-year-old daughter often asks what my favorite color is. And my answer is always blue. Turquoise blue. The exact hue of the color of the water on Chatham Bay on a sunny day. 
High above Chatham, on Isla del Coco, a marine protected area off the coast of Costa Rica, there's a lookout point known as El Aguacate. When I lived at the ranger station below, I often clambered up a steep hill to sit on a lone bench beneath the trees and look out at the glistening bay in front of me. At the water with its dark blue patches that gave way to bright green and my favored turquoise. At the flitting shadows of playful creatures, most likely juvenile sharks, that liked to approach the shore and swim between our legs, chafing them with their sandpapery skin. I'd watch the dive boats, no more than two or three anchored in the most tranquil waters this wild island has to offer. And at the terrifying face imprinted on the side of Manuelita, a rocky islet shaped like a lion—one of the island's most frequented dive spots.
If you're alone on Isla del Coco long enough, whether on land or under the water, the island starts to reveal her secrets. I was lucky enough to be alone there often during the more than two years that I lived on Chatham Bay, and I learned so much from her.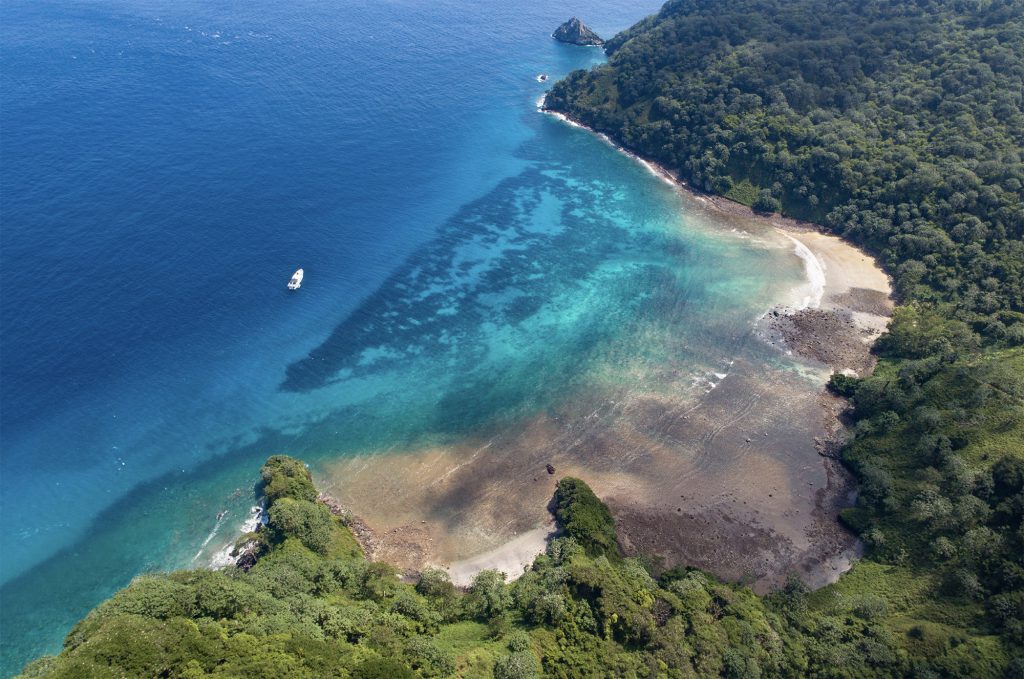 For one thing, I came to understand that she was alive. Just like most of our Earth is alive, except we've butchered it to build roads and high-rises. When I walk around the streets of the city that is my home now, Rotterdam, in the Netherlands, I have a really hard time tuning into the fact that beneath all the concrete, the Earth lives and breathes. 
But there, on the island, nature was untouched and sublime. I've never witnessed the power of the full moon on the tides and all living creatures with such dramatic intensity. Every month, the water would sweep back into the ocean, revealing the cracked, sandy nakedness of Chatham's shore. During the full moon, the animals that lived on Isla del Coco, species such as wild pigs and deformed cats introduced by pirates and visitors, howled and roared into the night in a frightening chorus.
I understood that the island was about as temperamental as I am. At her best, she was sunny and glorious, a green gem under a perfect blue sky in the middle of nowhere in the Pacific Ocean. At her worst, she terrorized the handful of park rangers, scientists and volunteers who lived there, pouring cold rain on us for days, trying to drown us as we drove our tiny dinghies from Chatham to Wafer Bay, where the main park ranger station was located, across open waters. Attempting to strike our boats and ranger stations with lightning bolts that always seemed to fall too close for comfort. Tragically, she's been known to claim a few lives, and the lack of medical care anywhere nearby does not increase anyone's chances of survival.
I was aware of the dangers that she posed, but I loved her so much that I hardly cared. In fact, I was certain that the feeling was mutual, that she protected me like a mother. Often, after I turned off my battery lantern—the ranger station at Chatham had no electricity back then—and crawled into my mosquito net cocoon, in between fantasizing about my bed in San José and hoping I might score a nice dessert at one of the dive boats next day, I'd dream that on the off chance that I'd ever reproduce and have a daughter (I was in my late twenties), I'd name her Isla. I knew that I'd love that child like I loved the island, and I'd protect her as the island had protected me.
Fast forward a couple of decades and Isla has materialized. Her enormous eyes pop out of her head when I tell her about the extraordinary creatures that frequent her namesake island. The gentle whale sharks that have no teeth, the bat fish that always look like they're ready for a night out on the town wearing bright red lipstick, and the timid hammerheads that abound there. I have a feeling that one day, she'll be drawn to that island. And if she ever gets to visit, l know that she will be safe there.