Rocío—a 48-year-old architect, wife, and mother of a daughter, 19, and a son, 18—is an open water ultramarathoner. In other words, she has participated in open water competitions with distances greater than 15 km.
In the last ten years, Rocío has swum at every Costa Rican beach she could get to. She has crossed the Golfo Dulce many times—including twice in a row, a 28-km journey that took seven hours 32 minutes! She knows Lake Arenal like the back of her hand. Added to that list is a prestigious list of international competitions, which you can learn about in the interview he gave to El Colectivo 506.
Here we separate his tips for those who want to practice open water sport.
What is your favorite place in the Costa Rican waters to swim?
I love Guanacaste, the beaches of Flamingo, Penca, Catalina, Danta. All those beaches are beautiful and the sea is always calm. A calm sea is important for swimming, especially for people who are not too experienced.
In Playa Penca there is a little island in front that we visit. We leave Penca, pass Catalina, swim to the Island and come back. It is a swim that, for me, is like a little stroll.
Mantas or Punta Leona are very pretty beaches and they are closer. They are good beaches to go for just the pleasure of swimming.
What is your favorite place in the Costa Rican waters to train?
It depends a lot on what one is training for.
For example, I did my [long trainings] for Arizona in Lake Arenal; I love swimming and training there. The conditions in Arenal are always challenging: a terrible wind, waves, rain, fog, or maybe the lake like a swimming pool. We have come across all those conditions, so it is very beautiful.
To train in a very rough sea, very strong, very heavy, we go from Mantas beach to Herradura, and we have to cross Caletas. That's always tough. Of course, we are always accompanied by a boat.
We really liked training in the Golfo Dulce because there are several routes that can be done, which keeps you entertained.
What place do you recommend for those who are starting out in open water?
The thing is to find places that are like a bay, that are safer, and not to leave the bay for the open sea—especially if you are alone. I say that in Costa Rica you can swim on practically all the beaches.
There are several people who do workshops, generally at Mantas or Herradura, due to their proximity or because they are very quiet beaches. The sea is very shallow there. But go with experienced people who can guide you.
The Caribbean is very beautiful, but you can only swim in September and October. The rest of the year in the Caribbean the sea is very rough, and there are very low parts for the corals where you can cut yourself. In the Caribbean you should always swim with a guide, with people who know where the corals are, the reef.
In Guanacaste and Golfo Dulce you can swim all year round and it is beautiful.
What competition do you recommend for those who want to start competing in open water in Costa Rica?
Nowadays, there are lots of them. Start with any short one. The open water circuit offers short distances: there is a 1500 and 750 m for beginners.
The Punta Leona swim is a perfect swim for beginners. They now have two swims, one in April, the gold, and the silver in September.
What tips do you have for those who want to practice this sport?
It is important to say that you should never swim alone, because there are several dangers: from getting hit by something, to a boat coming and not seeing you.
You should only swim parallel to the beach. On beaches with a lot of waves like Playa Hermosa or Santa Teresa, I go to where the wave starts and swim parallel to the beach. Ideally you always have someone walking on the beach following you, or people who are swimming with you.
Longer routes must be done with safety buoys so that they can see us, and in the company of other people, never alone.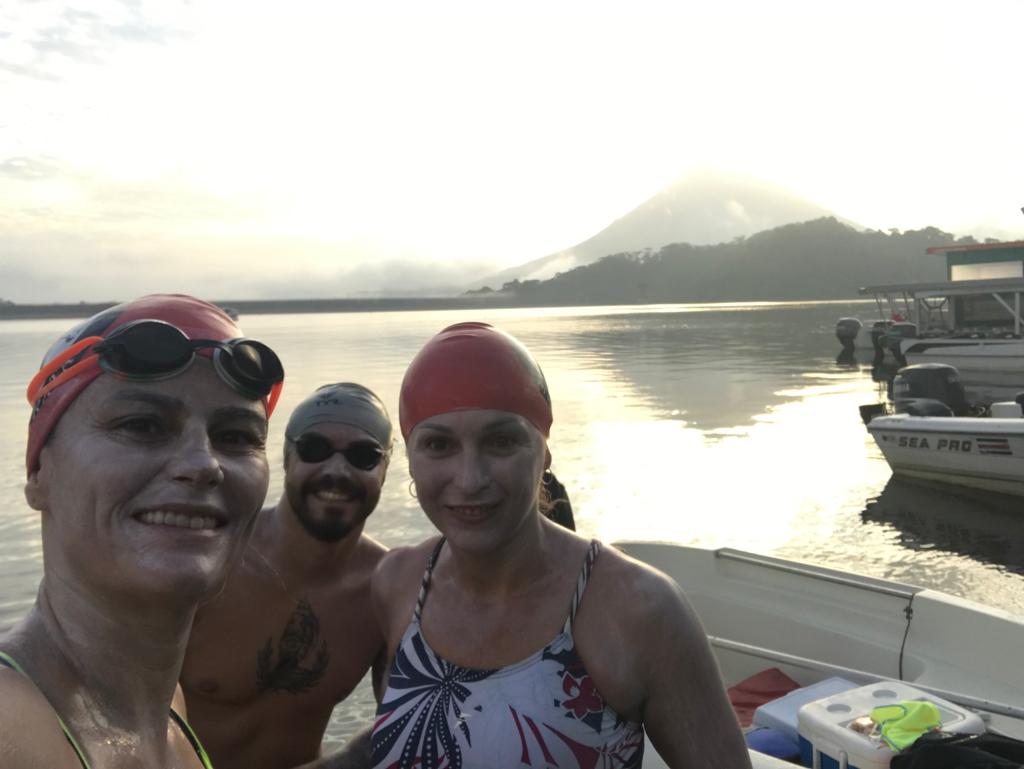 Follow Rocío Mora and her achievements on her Facebook page..