Sebastián Rodríguez Williams is a Brazilian jiu jitsu champion from Curridabat, Costa Rica. He's a four-time Panamerican Champion and is ranked 15th worldwide. He took some time to talk to El Colectivo 506 about the challenge athletes face when they balance training with the entrepreneurial work of managing sponsorships and finances. We took advantage of the chat to ask his advice for those who want to practice this sport. The following are excerpts from his comments.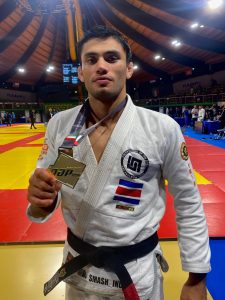 What is your favorite place in Costa Rica to practice jiu jitsu?
It inspires me to practice with my friends David and Rafael, and my dad, because it's fun. I do not have a specific place, but I'd love to be able to train in a place with a beach and an ocean view. That would be the ideal place: high up, overlooking the sea, with my friends and my dad.
I also really like training on the beach because I like the wind, and having the sea right there. When you finish training, you can get into the water.
What is your favorite place in Costa Rica to train?
I always try to mix it up the academies with the most people are good. They motivate me to train more because there are many different people to train with. I like challenges, and I like finding good people to train within various academies.
What place do you recommend for those who are just starting out?
If I could recommend a place it would be the academy where I train in New York. However, here in Costa Rica, there are many very good academies.
For people who want to get started in jiu jitsu, I recommend that they try to find a group that is healthy, an environment where they feel good. I like to train in a place where there are many people because there are more options to practice. The bigger the better, because it is a small country.
When people start to train jiu jitsu they should have a competitive spirit with themselves. This sport is a soft art because there are no hits: there are only completions.
I also recommend going every day, wanting to train hard, and arriving with a clear mind. You can always learn something new.
What competition do you recommend for those who want to start competing in jiu jitsu in Costa Rica?
Whatever competition there is, every one that exists, all of them. There aren't many in Costa Rica, so you have to take advantage of all of them because the more competitions you do, the better.
What would you say to someone who's thinking about trying your sport?
It's a beautiful sport. It helps you to improve your self-esteem, to know the body: you learn how the body's mechanisms work. I recommend that everyone to try the sport, because it's wonderful.