"Intergenerational travel" is a mouthful, but the concept behind it couldn't be simpler. 
One of the most transformative aspects of a family trip to Costa Rica these days might be something that, two years ago, many took for granted: the interaction between kids and parents of all ages, and, ideally, three or more generations at one go.
In a world recovering from the separation that has taken place between many grandparents and grandkids, trips that bring them back together are particularly meaningful—but travel organizers such as seasoned tourguide Jimmy Trejos has been seeing families reconnect in Costa Rica for many years.
Oftentimes, Jimmy recalls, "the intergenerational groups are families that, because of the way of life in the United States, don't see each other. You have kids who haven't seen their grandparents in months, sometimes in years, or have never traveled with their grandparents. It's nice to see, for example, a rafting trip with grandparents and grandkids—to see them having fun and interacting. It's wonderful, that part of watching them find each other."
Based on Jimmy's input and some of our own experiences traveling with our kids and parents in Costa Rica, here are some recommendations to get you started on your own intergenerational travel plans.
1. Think through each trip member's specific needs.
Parents generally know our kids' likes, dislikes, needs and whims inside and out—but it's still worth stopping to think through which ones could be a determining factor in choosing a destination or how to get there. And when bringing grandparents into the mix, it's essential to think through what they'll need in terms of accessibility. As we reported last week in our piece on accessible travel, travelers who'll need basic accessibility accommodations such as ramps and nonslip flooring should look for—or ask about—compliance with Costa Rica's accessibility law, Law 7600. However, travelers who need additional accommodations should research further (our story below is one place to start).
Accessible travel in Costa Rica: what tourists (and travel providers) should know
2. Don't be afraid to leave the beaten path—just budget enough time.
At El Colectivo 506, we're all about seeking out the unique experiences that only rural tourism, the heart and soul of Costa Rica, can provide. Costa Rica's family-centered culture means that the country's small hotels or rural lodges and close-knit rural communities can be the perfect place for an intergenerational visit. However, this can only take its full effect if the family in question isn't rushing through on a jam-packed itinerary.
The perfect hiking trail that isn't too long for the toddler, has the birdwatching Grandma wants, and has the swimming access Dad wants—it exists, but it probably won't be mapped on a brochure when you walk into town as it might be in a larger resort. To find the experiences in each rural community that have something to offer each person in the family, you'll need some down time to talk with your hosts or hotel owners (preferably over a cafecito), and the ability to be spontaneous.
And, as we've reported before, don't cram too many destinations into your visit. Plan three to four nights at each destination, and keep in mind that while Costa Rica might be small in size, driving here can be tiring and full of surprises. especially with kids. If your visit is between one and two weeks, choosing a region of the country to focus on to reduce driving time between destinations is wise. (Read more about how many destinations to choose for your Costa Rica trip below.)
Tips 506: How many places should I visit on my trip to Costa Rica?
3. Include everyone, even the littles, in travel planning.
Jimmy says that on an intergenerational trip, it's important for parents and grandparents not to forget to take their younger travel partners' ideas and preferences into account.
"You should always include kids or teens in planning so that they can opine and contribute," he says. When part of the goal of a trip is for multiple generations to connect, the planning is part of that process—and a group effort on the planning side will make it easier to meet everyone's needs and expectations when the trip begins.
4. Balance the strengths of each group member.
According to Jimmy, one of the biggest challenges of intergenerational travel is selecting activities. 
"The grandparents are really good at paying attention, and the grandkids are the opposite: they have more energy, they can walk further, but their attention span… is shorter," he says.
He recommends choosing hikes whose duration hits a happy medium, but also adding in games and other activities to the trip. 
"We do guessing games, memory games, and bingos," he said.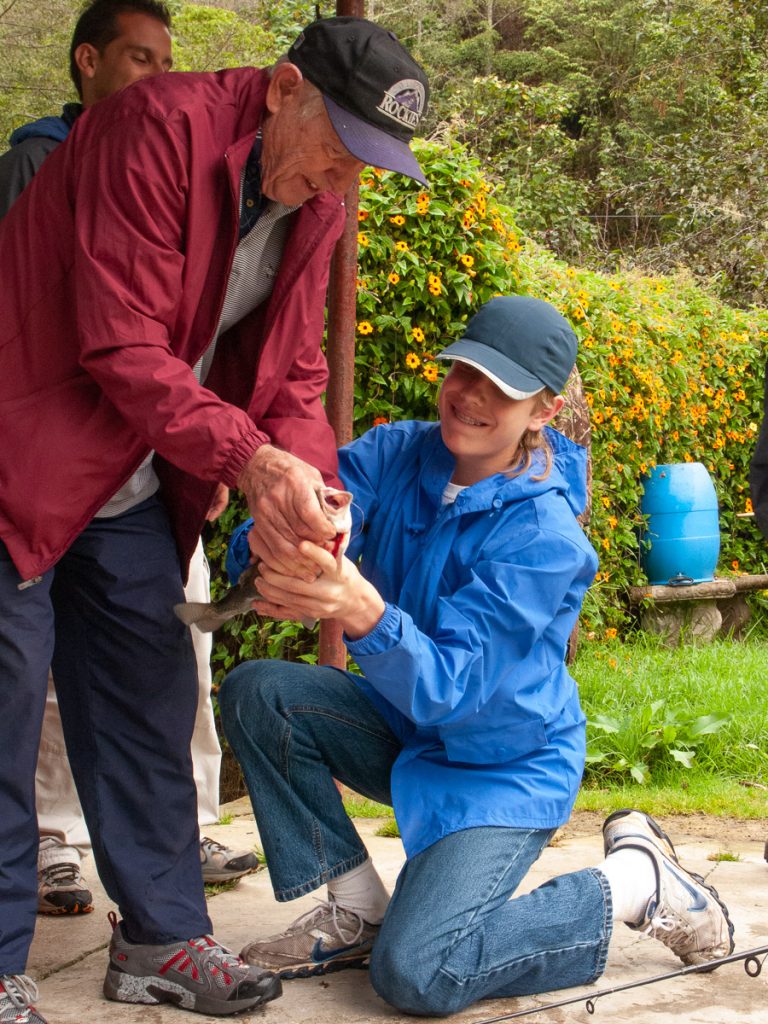 5. Plan for comfort—then leave your comfort zone.
As parents, grandparents, and travel planners, we want to do our best to make sure the group has what it needs at each step of the trip. However, it's also important to remember why you're bothering to reconnect in Costa Rica rather than on your front porch. The reason is probably that by opening up to the new experiences this country offers by the hundreds—including things you didn't think your small child or your elderly parent was up for—you can appreciate each other in new ways.
Jimmy says this is what has allowed some of the families he's hosted to move from a situation at the start of a trip where grandkids treat their grandparents "like strangers" to a brand-new connection.
"Be conscious of how marvelous it is to get to know and experience a new culture, and the implications of spending a few days out of your comfort zone."
Travelers can contact Jimmy Trejos Camacho at +011.506.8817.8165 or  [email protected].

We are grateful for the support of Travel with Ann Experiential for the travel content in our January and February editions. Ann Becker has been a small business owner throughout her career. With more than three decades of experience in meeting/event management and strategy consulting combined with a passion for travel rooted in deep, mutually beneficial human encounters, in 2005 she began Travel with Ann Costa Rica. For 15 years she created and led more than 40 small group experiential trips in Costa Rica, neighboring countries, and Chile. Today, through Travel with Ann Experiential , Ann is dedicated to supporting and strengthening responsible travel small businesses, nonprofit organizations and industry leaders by forging strategic connections; contributing fresh perspectives; engaging and elevating diverse voices; and strengthening organizational capacity.