Series by Katherine Stanley Obando and Mónica Quesada Cordero, with additional reporting by Mayela López and Thomas Enderlin. Seventh part in our series on rural tourism in Costa Rica. Read the entire edition, "The Trailblazers," here.
"A campaign like 'Vamos a Turistear' is useless if, in the end, you arrive and the business is closed."
"We entrepreneurs need immediate solutions."
"We have no other option to survive in rural communities."
In the end, the sensation one gets after a month talking with rural tourism entrepreneurs in Costa Rica—through comments like these from Luis Diego Madrigal, Margarita Bottazzi, and Donald Varela, respectively—is that of a weary push that just can't stop. Bills are unpaid, loans have come due, stress is mounting, and government responses such as those we detailed in yesterday's piece are just too slow and partial, they say. But even a year of a global pandemic can't induce them to walk away from years and decades they've invested in what, in many cases, is the only economic path towards staying in the small communities they love.
So when push came to shove in March 2020, these entrepreneurs got creative. Facing lost income, hunger, and environmental threats to their bread-and-butter ecosystems thanks to a return to extractive practices such as hunting and logging, they had to figure it out for themselves.
How did they do it? And will the benefits of the solutions they've implemented continue to be of value when COVID-19 is just a terrible memory?
New ways to earn
In interview after interview, rural tourism entrepreneurs—as well as other tourism-dependent entities, such as many of the country's nonprofits and community organizations—report that they found ways to diversify their income during the pandemic. This took a variety of forms. For some, it was as simple as returning to their roots.
Eida Fletes, owner of Jacana Rey Tours, runs the Palmito Tour and Night Insects Tour within the Caminos de Osa project. She brings up something mentioned by several entrepreneurs: a return to, or increased dependence on, agricultural roots during the pandemic.
"We're producers. That's what we were before we became business owners," Eida told journalist Mayela López. "We were born producers. They taught us to grow rice, beans, to cut yucca. Now we produce more than we eat: before we bought some things, but now, we sell things. We've become very innovative. We make condiments, garlic paste, chileras to sell. I also make bread, cookies, cajetas."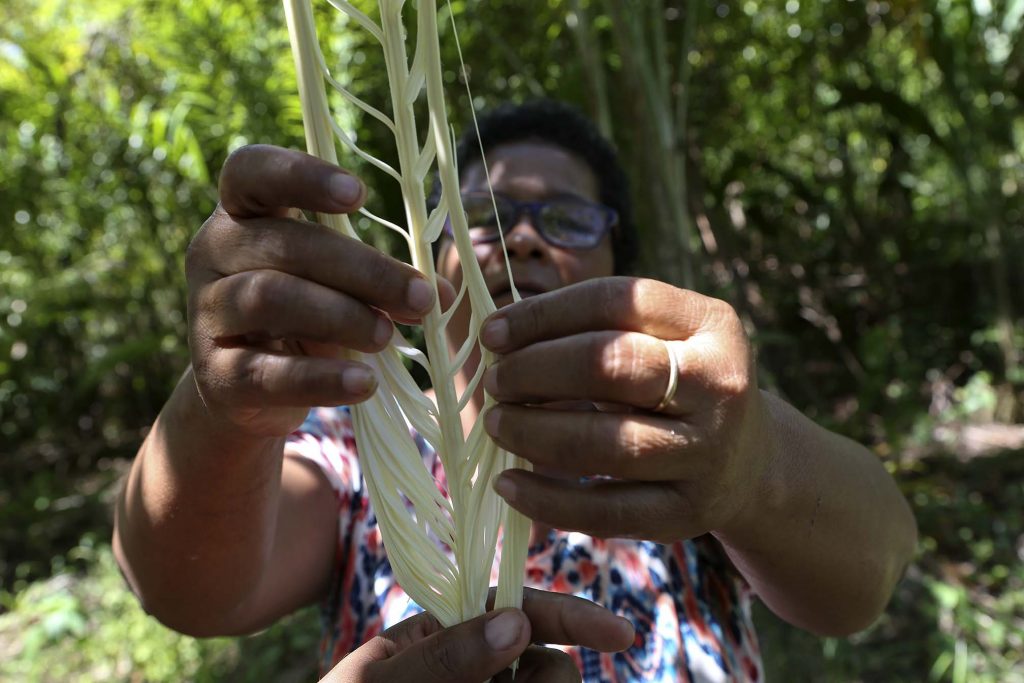 Other communities also returned to their roots through a revival of the trueque, or barter, that used to be common in Costa Rica. This ranged from informal exchanges among neighbors to more formal programs, such as one that sprang up in the famed rainforest-tourism community of Monteverde.
"We continue to pay our volunteers with coupons that they can use at a variety of pulperías to either buy products or pay their utility bills," Sue Gabrielson of the Monteverde Friends School tells us; as we reported during our education issue in March, MFS implemented various ways for tourism-dependent families whose kids are enrolled in the school to earn their tuition payments and also food and other necessities. Through partnerships with nonprofit organizations such as CORCLIMA or the Monteverde Institute, parents could earn through tree planting and other conservation work. She mentions that the community of Monteverde even created Verdes, an alternate currency that allows community members to bank time on community products and spend it on services and goods.
The communities surrounding the Río Celeste, in northern Costa Rica, came together to generate income for tourism businesses affiliated with the Río Celeste Chamber of Tourism, or CATURI. The chamber's Forest Stewards program, launched in October 2020, has raised $4,800 to provide emergency supplementary income to its affiliates, but it offers various pathways to access those stipends: protection of forests on a property, work to monitor wildlife in the area, or even participating in community projects.
In both Monteverde and the Río Celeste region, the focus was clear: in times of extremely limited resources, every dollar must go farther. If community members who are out of work or out of visitors can earn food for their families through conservation projects, the environment that fuels rural tourism can be protected, and hunger can be staved off.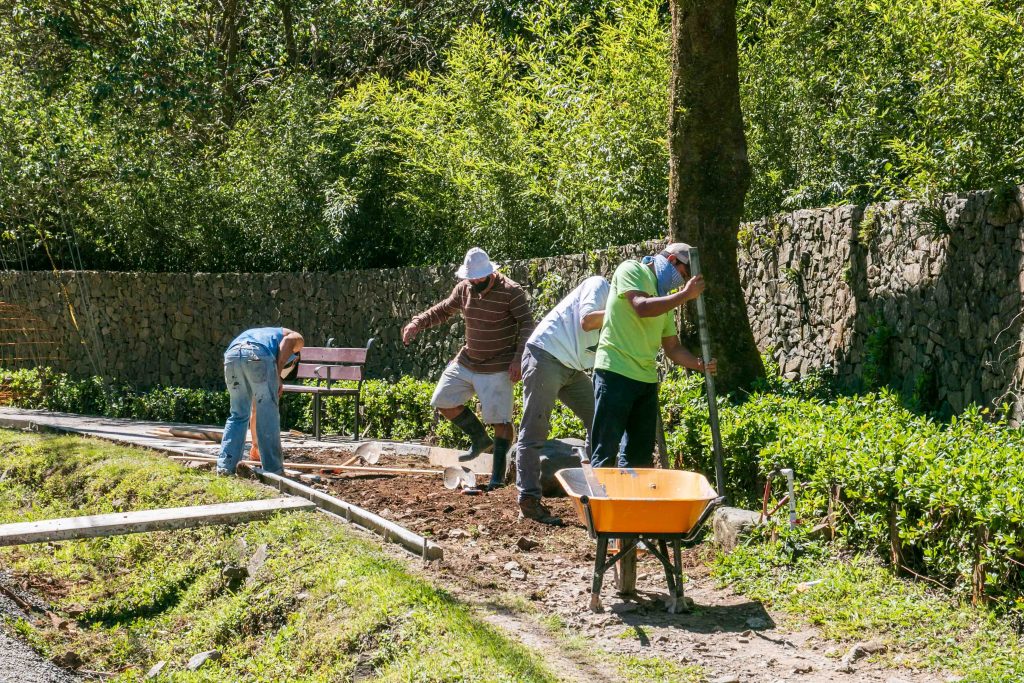 Finding ways to keep guides going
Two other similar efforts focused on tour guides, a particularly vulnerable group . Carlos Víquez—who says he prefers to be called by his nickname, "Pika"—runs Herencia Verde,a tourism business that specializes in taking groups to participate in social and environmental projects. At the start of the pandemic, he faced projects without funding or volunteers, and freelance tourguides who approached the business with urgent needs.
"There were some guides who reached a point where they couldn't even buy rice," he remembers. "From the fund we had saved to help all of the projects, we decided to create a subsidiary fund, the COVID Fund… After a few weeks when COVID got out of control, we started providing giving help to the guides. Some had kids, some no, others had debts. We had to sit down with each one" to evaluate their needs.
As the months wore on, Herencia Verde began developing projects and tasks that guides could complete in exchange for their stipend: creating field videos for the company's new website, for example.
"It was kind of an excuse, just another reason" to provide funding to the guides, says Pika. "We did that twice so that they could earn, so they wouldn't feel that they were just putting their hand out."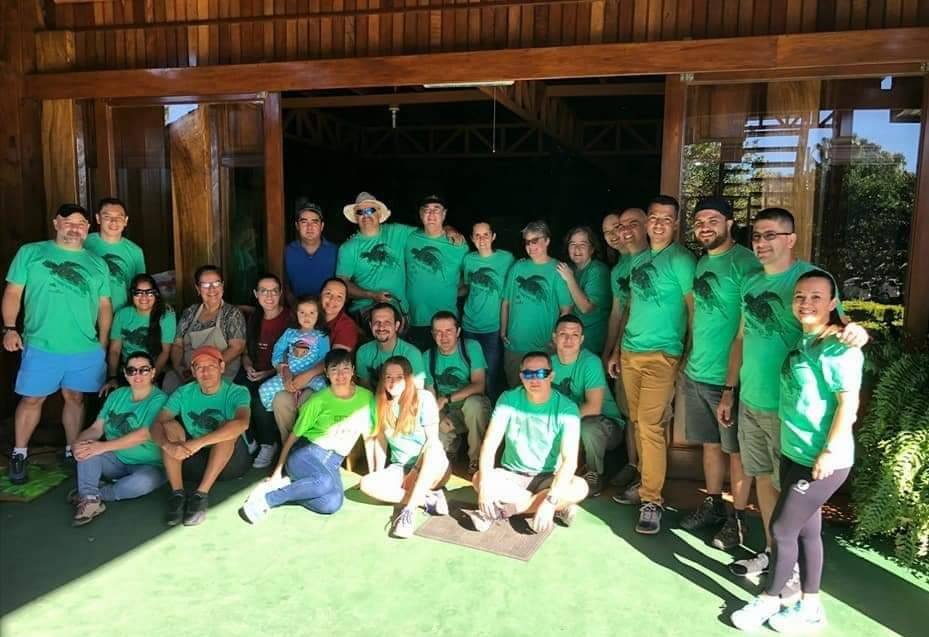 In total, he calculates that Herencia Verde spent approximately $10,000 to support 18 guides over the past year. He says that, while the future of his own company is nowhere near certain—he thinks he may have to close for a few months in late 2021 in hopes of reopening strong in early 2022—he absolutely wants to continue promoting this kind of camaraderie and support among tourism workers, whether he draws a paycheck or not; while the pandemic has been an extreme example, income instability is nothing new for the rural tourism sector, particularly for independent workers such as guides. Like other leaders in this story who have generated alternative income streams during the crisis, Pika says that somehow, he must find a way to continue this program into the future.
While the monetary support was critical, Pika argues that the social support generated among the group of guides, who not only received help but also pitched in to help each other when crises emerged, was just as valuable.
"It's been hard to see them so sad, but it's also been great to see them laugh cvery time we get together on Zoom and they start to mess with each other, to joke around," he says. "That little while that we're together, that love and affection they have for each other comes to the surface. That fills us up. They're supporting each other, amongst themselves."
In what is certainly Costa Rica's most prestigious ecotourism destination, the wild Osa Peninsula, nature guide Rebeca Quirós found herself scrambling for resources for the nature guide community for an even more dramatic reason. An environmental emergency in April, when locals began to organize groups to go into the famed Corcovado National Park to hunt wildlife, caused Rebeca to spring into action. As mentioned in Friday's story, she suddenly found men on motorcycles carrying sacks full of dead animals outside her home in the community of Drake Bay, a popular base for Corcovado explorations.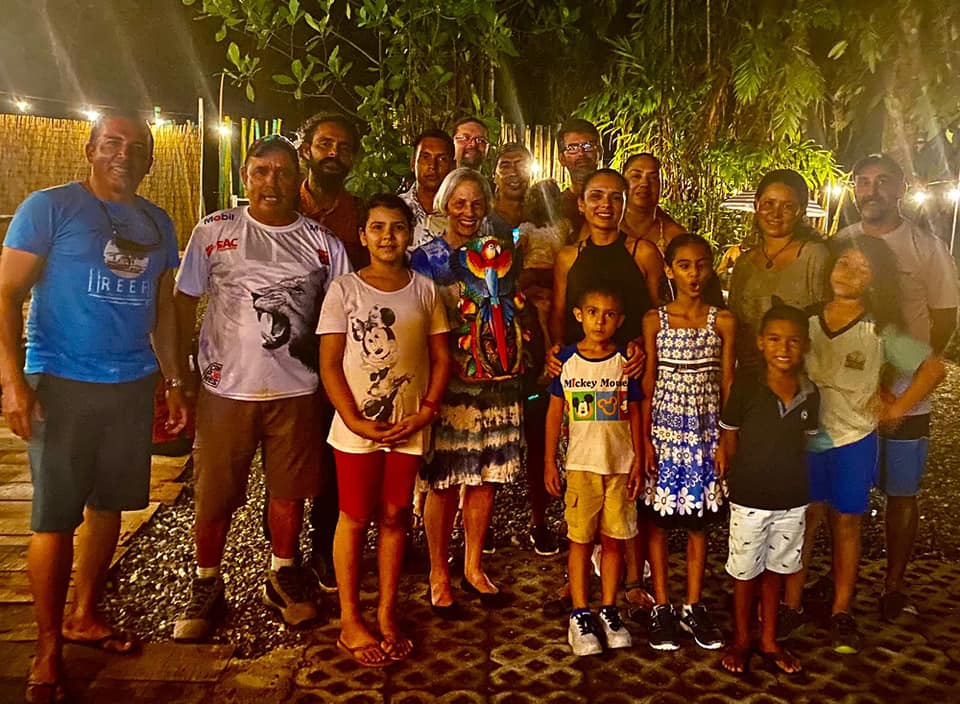 At that time, Rebeca and AGUINADRA had already been raising emergency funds to feed Drake Bay families in partnership with Travel with Ann Experiential, the initiative of Chicago resident Ann Becker, a longtime organizer of international trips to Costa Rican communities including Drake Bay. Like Pika Víquez at Herencia Verde, she'd found ways to engage community members in earning the support they received through beach cleanups and other projects. But the environmental crisis caused her to create a more permanent path to income for community members.
Rebeca and AGUINADRA created the Natural Resource Vigilance Committee, or COVIRENAS, which offers a monthly stipend to volunteers to patrol and protect the park. She raised funds for those stipends plus the supplies and transportation the volunteer guides would need, and continued offering food to families in hopes of reducing poaching. To date, AGUINADRA's campaigns have raised more than $16,000 to run COVIRENAS and distribute more than 300 food baskets during the pandemic.
"I told my colleagues: life isn't like that. It isn't just, put out your hand and that's it. People have to earn it. People have to give something to the community," Rebeca remembers. "And actually, various colleagues on my board of directors said, 'That's not going to work.' But I said… it won't do us any harm to try.
"And it was a success!" she says. "We achieved so many things."
International connections
These emergency measures, designed and implemented on the fly during the pandemic by entrepreneurs and nonprofits, have something in common: strong, preexisting relationships among the entrepreneurs in a given community, and between those communities and national or international networks. Tight-knit local organization by groups such as the Caminos de Osa Association, AGUINADRA or CATURI, and links with a national tour operator or donors, often made the difference between survival and closure.
"Thanks be to God and to Horizontes who sent us visitors this year," says Eida Fletes, of Osa, referring to Horizontes Nature Tours and its philanthropic arm, the Horizontes Foundation. Both have been an essential part of the Caminos de Osa tourism project, connecting it with the international market and helping local entrepreneurs maintain the standards that its target market requires. Entrepreneurs in the Camino de Costa Rica project, supported by the nonprofit Mar a Mar Association, reported similar benefits and promotional support.
Herencia Verde, the business directed by Carlos "Pika" Víquez that helped 18 guides survive the pandemic, is a sister company to Seattle-based EcoTeach. Pika tells us that while Herencia Verde's own savings were key to sustaining the social and environmental projects it supports, the support of EcoTeach's sister foundation was also essential.
Meanwhile, CATURI, home of the Forest Stewards, and AGUINADRA, creator of the COVIRENAS project, both raised funds from donors in Costa Rica and abroad through Amigos of Costa RIca, a U.S. nonprofit that receives donations on behalf of more than 100 nonprofit organizations in Costa Rica. CATURI, AGUINADRA, and many other tourism-based organizations drew on their connections with former visitors and other friends of their communities near and far in order to make their stipend programs work.
Emily Arnold is the executive director of the organization, and says that she thinks the new connections forged during the pandemic between philanthropic support and rural tourism are here to stay.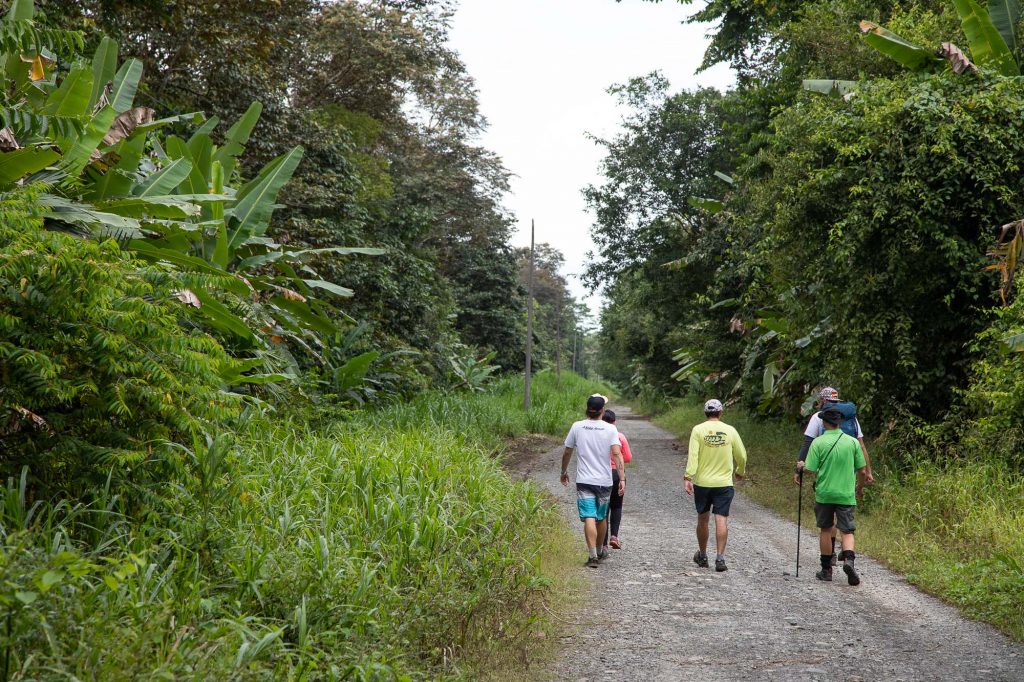 "Philanthropy is the tourism product that we're not offering," she says. "What's special about philanthropy is that it gives the tourist an opportunity to give back and be a part of the team, a part of the community. When we open up a relationship where they're not just a client—where they're part of building solutions on a community level—that changes the relationship. It takes the tourist from an outsider to an insider… So many people want to be able to cross that line."
Amigos affiliates raised $4.2 million in 2020, including more than $1 million for COVID-related efforts including the campaigns created by AGUINADRA and the Forest Stewards—Amigos affiliates who found that people who had visited them as tourguide clients or hotel guests were eager to support entrepreneurs during "Season Zero."
"To me, that's really the enduring lesson learned" in the pandemic, Emily adds. "The interactions we're having with people who are coming and exploring Costa Rica: yes, they're [turísticos]clients. But because of the friendliness of Ticos, because of the incredible beauty of the nature and the culture, people want to be more than a visitor in a country that's not their own. They want to become Costa Rican a little bit, even if just for a day, or through a contribution to a project. Philanthropy is the way that we can take that step to deepen the relationship."
Forward hard
We've published a lot of words this month about rural tourism, but we started with only two: a phrase shouted on a river, with urgency, in the heat of the moment. A phrase that, on a whitewater raft, causes adventurers for a day to dig deep and row with all their might in order not to capsize and go under, however briefly.
"Forward hard!" they call.
From the banks of the Pacuare River where the Obando family is beginning its own new adventure as an independent business after decades working with Rafa Gallo's Ríos Tropicales; to the Limón beach, Talamanca mountains, and Central Pacific trails where the coast-to-coast fellowship of Camino de Costa Rica entrepreneurs seeks to draw hikers into rural life; to the rainforests of the Río Celeste, and Monteverde; to Caminos de Osa in the South, a survey of rural tourism shows one entrepreneur after another, resolved to continue despite the odds.
In the end, only they understand how it is that they summon the grit to keep going, day after day. That's why we're turning our May issue over to them entirely, publishing a full month of columns, photo essays, personal pieces and more, created jointly with members of Costa RIca's rural communities. For the next four weeks, our new media organization belongs to them.
"The most beautiful things are the ones we've experienced at the saddest moments," says Pika Víquez. "That's when we've seen the real humanity of people. I don't think of Herencia Verde or EcoTeach. I think about the profession. I see colleagues who are suffering terribly, who haven't received help from other businesses… It's very sad that some companies have—well, I don't know if they have abandoned [their workers] or not, but you hear all sorts of things."
Like many of his colleagues, he says that the question is not whether to continue on the path of rural tourism, which is simply in their blood.
"The question is always, 'How do we do it?'"