Nervous? No question. Alonso* fidgets, both physically and verbally, as he shares the story of his life. He peppers his language over and over with a favorite slang word, "legal." Whenever he says his real name—for example, when quoting his mother, who he describes as his biggest advocate—he apologizes and asks again for reassurance that it will not be included. And when my colleague, the photojournalist Mónica Quesada, tries to convince Alonso to let her take a photo just of his feet as he stands beside his wheelchair, he is dubious.
The photo would be a visual symbol of Alonso's almost unbelievable triumph: just months after arriving at the HIV Home Nuestra Señora de la Esperanza in Cartago, Costa Rica, as a "death with dignity" patient who had lost all feeling below his waist, he has learned to stand again on his own, and is now working on regaining his ability to walk. He considers Mónica's request for a while, but finally shakes his head. He's just barely willing to share his story, but not his image. Not even the backs of his sneakers. (The photo above is of a fellow resident with his own story of resilience.)
Alonso sits alongside his fellow residents Sofía* and Miguel in the administrative office of the home,  as he talks about his experience living with human immunodeficiency virus, or HIV. He is 35 with two teenage kids. Unlike his fellow residents at this table, Alonso appears to have had steadfast family support, particularly from his mother, throughout his life. However, like Miguel, sitting to his left, Alonso has a history of addiction and of living on the streets; he says that he thinks he probably took drugs for 20 years, right up until his diagnosis with HIV about three years ago—and continuing, off and on, after that point.
"It was September when I decided I wanted to have a sober Christmas," he says. "Sometimes, for me, Christmas and New Year's were just puf, puf, puf [one dose after another], to avoid, to not feel anything, legal. One day I said to my mom, 'Mami, the thing is, I don't want to use drugs anymore. I just want to enjoy this with you, with my kids.' She said, 'That's good, but know that what you've destroyed for so long, you can't build back in a day, ok?'"
As the days passed, he started to feel terrible, and assumed that all of his symptoms were caused by withdrawal. He couldn't tolerate any food or liquid; he lost weight. One day, while trying to take a shower, he found that he couldn't see, and called out for his mom.
"She pulled this strength out from inside herself—that strength every mom has—and got me out of there, and sat me down. She said, 'It's ok, pa. Your blood pressure probably dropped. Here, have a glass of hot milk with sugar.'"
But his symptoms continued to worsen. He was finally taken to the Hospital Calderón Guardia, where he was told he had AIDS. His symptoms improved drastically with medication, but like Miguel, he decided to go off his medication, repeatedly: "I said to myself, 'the thing is, I know how to live on the street. I'll take my chances again.' Mistake… One day I said to my mom, 'I feel bad.' She said, 'See? That's because you stopped your treatment.' They took me to the Calderón and my viral load was puf, super high. They said, 'You're not leaving here. We're admitting you.'"
He would be there for three months. His condition quickly deteriorated once he was admitted, leading to a 22-day coma. When he awoke, he found that a tracheotomy had been performed, and he couldn't speak. But the worse news came when he tried to get up.
"I tried to stand, and I couldn't feel anything from the waist down," he says. "From that moment I didn't want to live anymore. I gave up… Karma got me. Karma exists. What you do, comes back to you."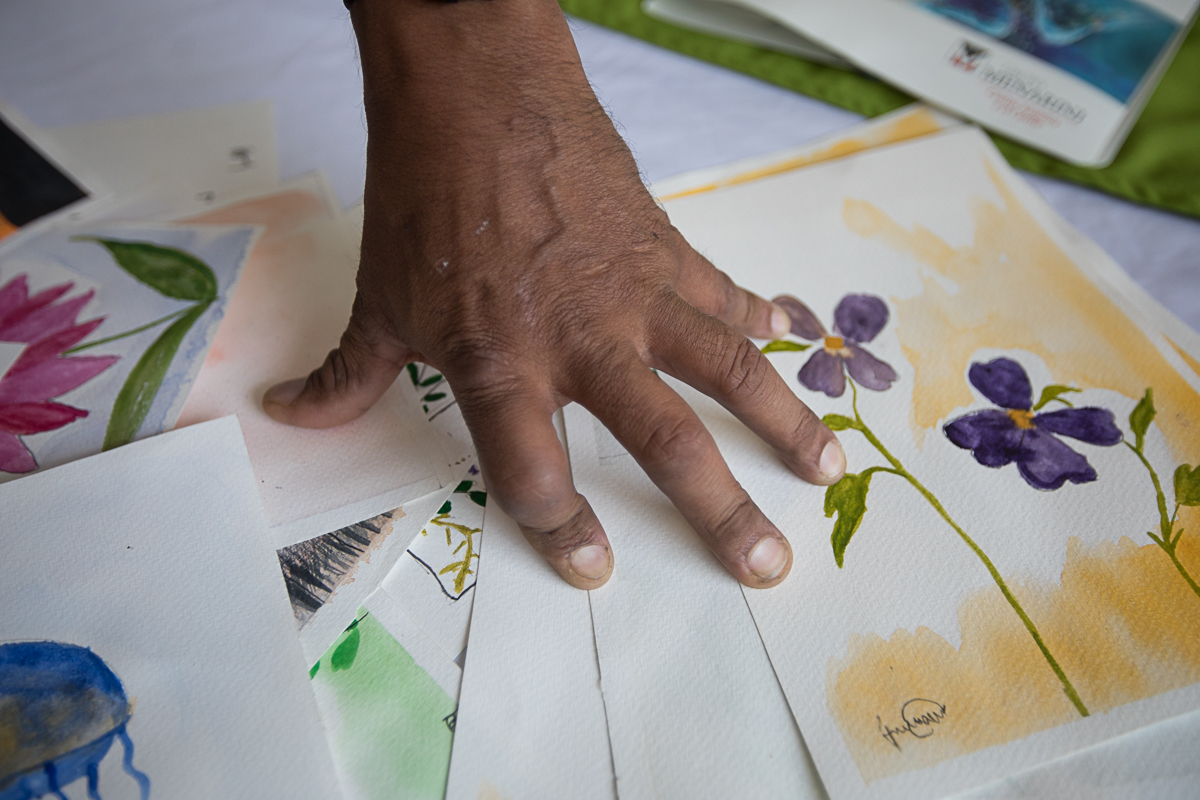 "Bathed in bed, everything in bed—horrible," he says, still looking incredulous, the memories clearly vivid. "I wanted to lie face down, and I couldn't. I wanted to eat, and I couldn't. They even put a tube up my nose. Oh, God! For real, these past two years have been the bitterest of my life."
Eventually, Alonso was transferred to the Hogar Nuestra Señora de la Esperanza—a private, nonprofit facility founded more than 20 years ago that provides everything from treatment and physical therapy to psychological support and vocational training for up to 30 beneficiaries. In Alonso's case, the staff at the hospital contacted the home because of a specific service that Nuestra Señora is equipped to carry out: death with dignity. Alonso says he didn't know it at the time, but he was brought to the home as a lost cause.
Instead, he surpassed all expectations.
"Here, I learned all about what [HIV] actually is," he says. "I learned that HIV and AIDS aren't the same thing. I also learned that I can't abandon my treatment. I'm about to finish 10 months in the home. I can move my feet now, and stand up… I've learned that I don't need a substance in order to laugh or enjoy."
Asked what his goals are now, he says that before planning for anything else, he just wants to walk again: "One step at a time. I'm not in a hurry, because, legal, for real, I don't want to run before I crawl."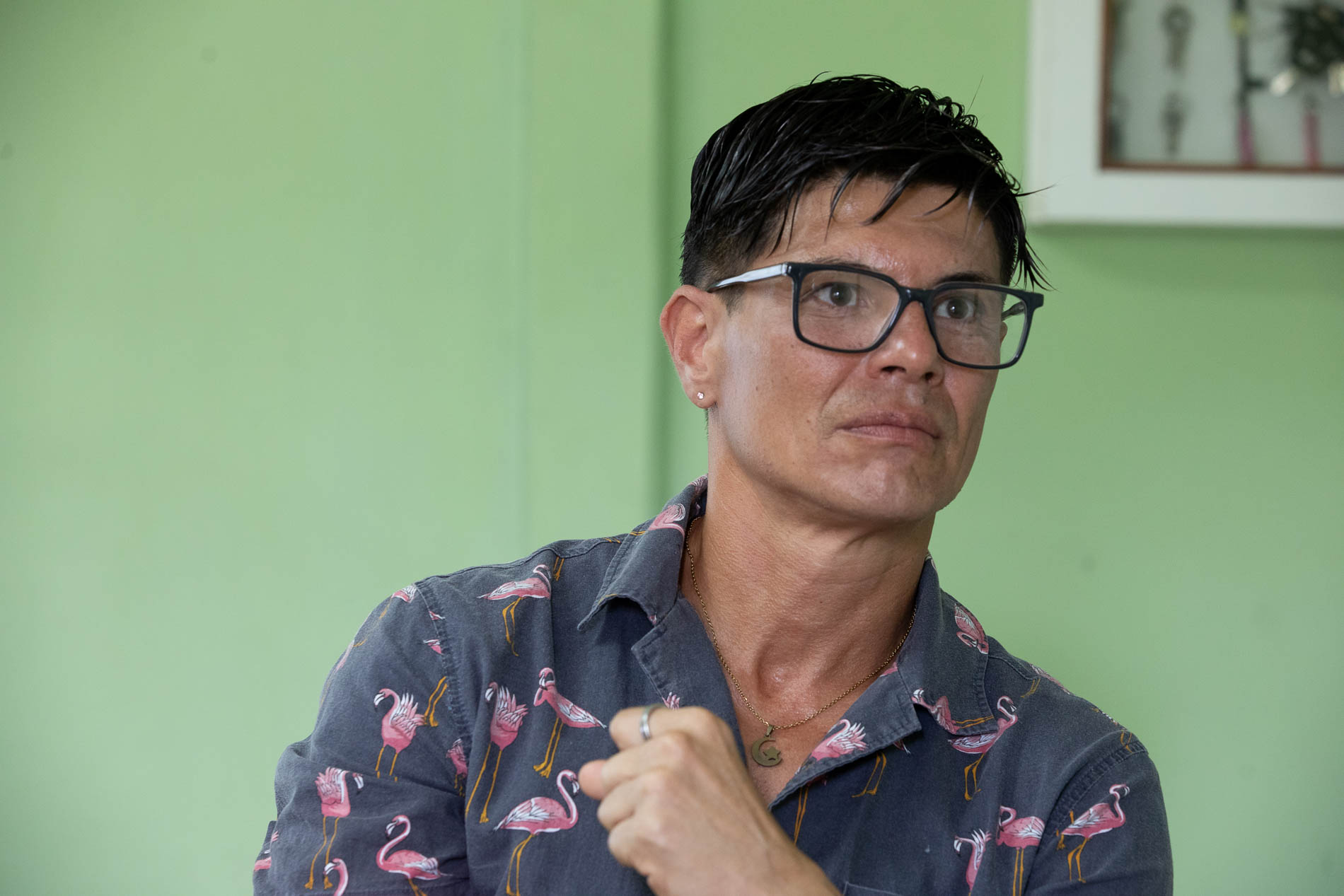 Alonso's is an extraordinary individual achievement, but also demonstrates the powerful role that nonprofits play in the struggle to provide intensive mental health support for people with HIV. Just like his housemates, Alonso speaks to the fact that even smooth interdisciplinary coordination at the public hospital HIV clinics can't provide the intensive support that people with other challenges beyond the medical—such as deep fear of opening up in Sofía's case, or addiction in Alonso and Miguel's cases—may need to come to terms with their diagnosis adhere to treatment. Nuestra Señora de la Esperanza and other nonprofit homes, such as the Hogar de la Esperanza in southern San José and the Hogar El Carmen to the west, play in assisting public institutions that need more support for patients.
Dr. David Reyna, who has provided insight throughout our series, is a specialist in palliative care and HIV. He is also the founder of the Care with Love Foundation, where he offers lectures and resources on HIV and palliative care, with the ultimate goal of raising funds to build a hospice. The doctor says that from his perspective as a part of the team at the Hospital México's interdisciplinary HIV clinic, which has sent multiple patients to Nuestra Señora de la Esperanza and other nonprofit HIV homes, the role of these facilities is essential.
"It's noble work, and the support they provide to the Caja is enormous," he says. "These are people who, when we finish treating them, we can't just put them on the sidewalk out front and say, 'Good luck!' That's inhuman. Thank God these kinds of organizations exist; we need tons more of them… There are people who don't have the education, the financial means, or the family support for their care, and that's where these homes are incredibly useful for all of society."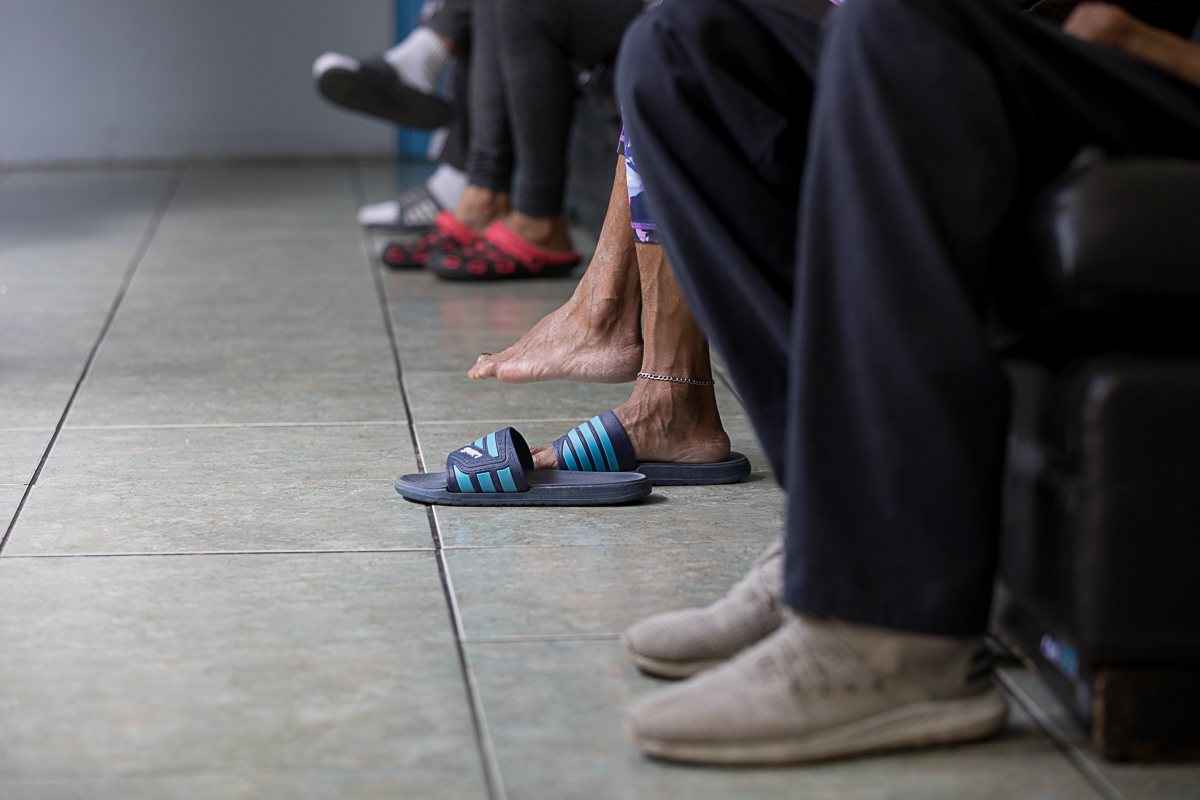 So what does this mental health support look like at Nuestra Señora? Noelia Solano and Nelson Chacón, who together lead the mental health care support for Nuestra Señora's residents, explain that while the home has long provided one-on-one psychological support, the overall mental health program looks quite different this year than last. The change is thanks to the mindfulness program that Nelson and Noelia implemented starting just last year.
After reading international research on the powerful impact of mindfulness training on HIV patients' CD4 counts, Noelia explains, she and Nelson decided to develop and implement a program at the home. Every morning after breakfast, all residents who are able gather in one of the common areas for activities that range from mindfulness exercises to what Noelia describes as group therapy, taking a deep dive into an issue such as grief.
The impact has been drastic. To wit: the number of "psychological emergencies" experienced at the home has decreased from six or seven per day before the program began, to just one in the month of July 2023, and zero the month before. (I ask for an example of a "psychological emergency," and Nelson replies matter-of-factly that it might have consisted, say, of a patient who has been cutting himself running down the hallway, screaming, "Help me! Help me!".)
"It's a different place now," Noelia says.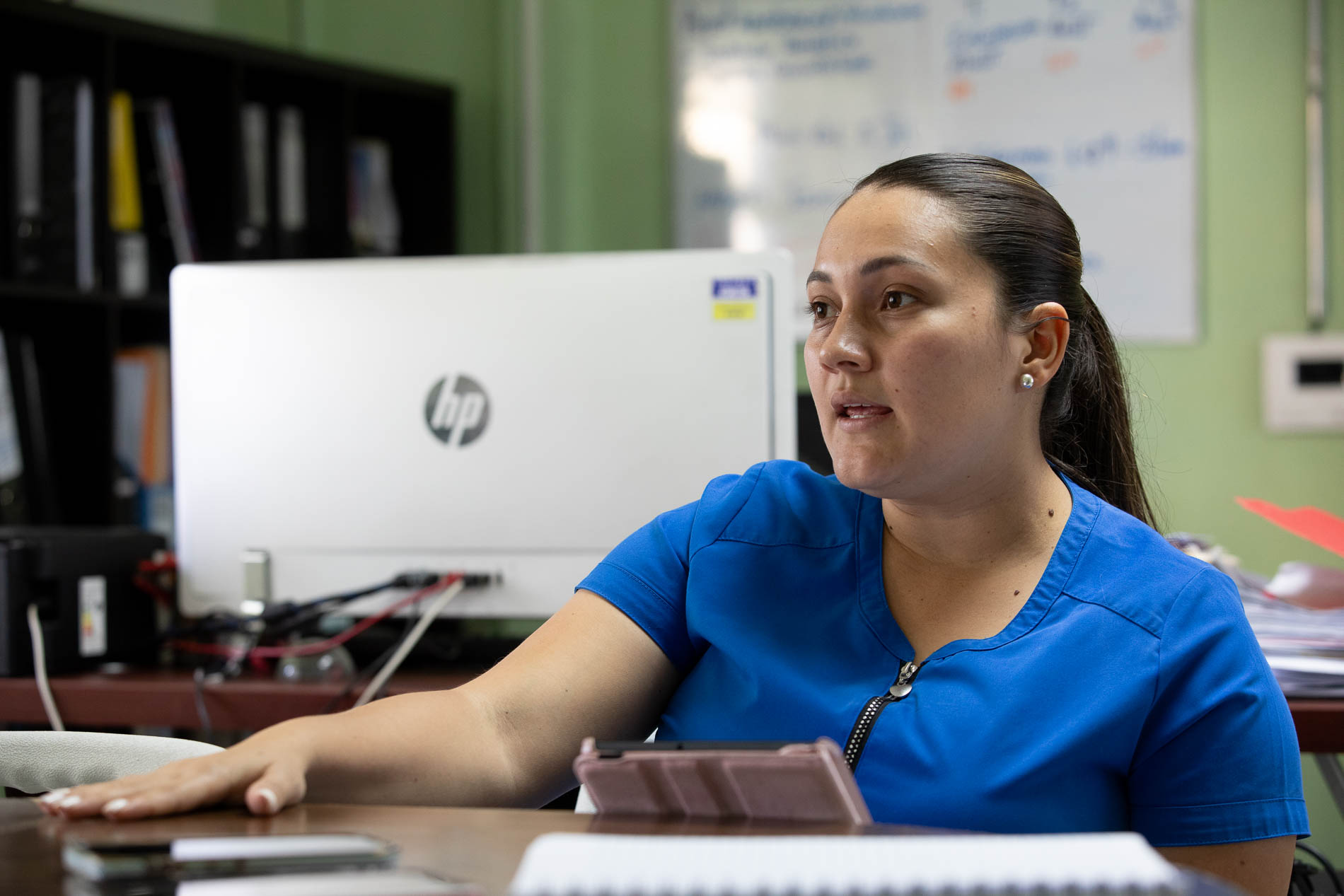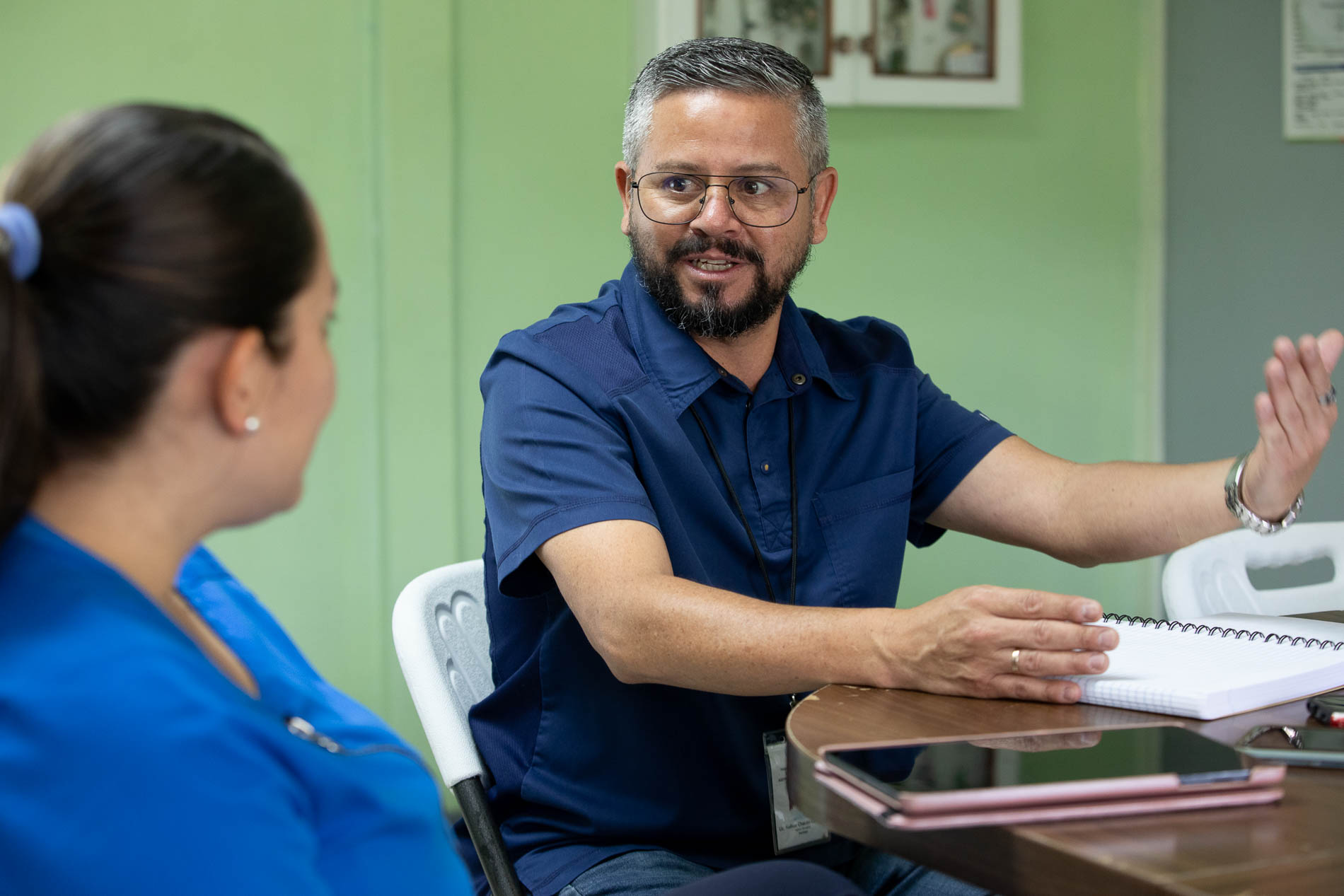 It's an illustration of the intensity of resources—an hour of group support per day, plus psychological support with a ratio of two to, at most, 25—that are needed to make a real difference in the mental and physical health of the most vulnerable populations. And those resources are fragile. Home administrator Vanessa Coto, who has stayed in the background of these conversations but is very much at the foreground of Nuestra Señora de la Esperanza's fight for financial sustainability, says that keeping the home funded and thriving is a massive concern. It's still reeling from the drop in funding that took place during the pandemic when when its largest single benefactor, the Social Protection Board or Junta de Protección Social (JPS), saw its income plummet during the pandemic because of drastically decreased lottery sales.
Far from the dream of "tons more" homes expressed by David Reyna, the reality is that the existing nonprofit structures that fill gaps for the overburdened public system are struggling to keep their doors open.
This has implications far beyond this room, this home, this city, and this virus. As Sofía, Alonso, and Miguel make their way out of the office and into the home's common room to continue their day, perhaps the most disquieting thought they leave behind them is that the so much of what these three have had to overcome—so much of what those intensive resources have had to address—has nothing to do with their medical condition. HIV may still affect only a small percentage of Costa Rica's population, but the problems that they have needed so much mental health support to confront affect the vast majority. Sofía's grief and isolation; the family rejection she shares with Miguel; the struggles with addiction that Miguel and Alonso have in common. These are conditions that touch all of us in one way or another.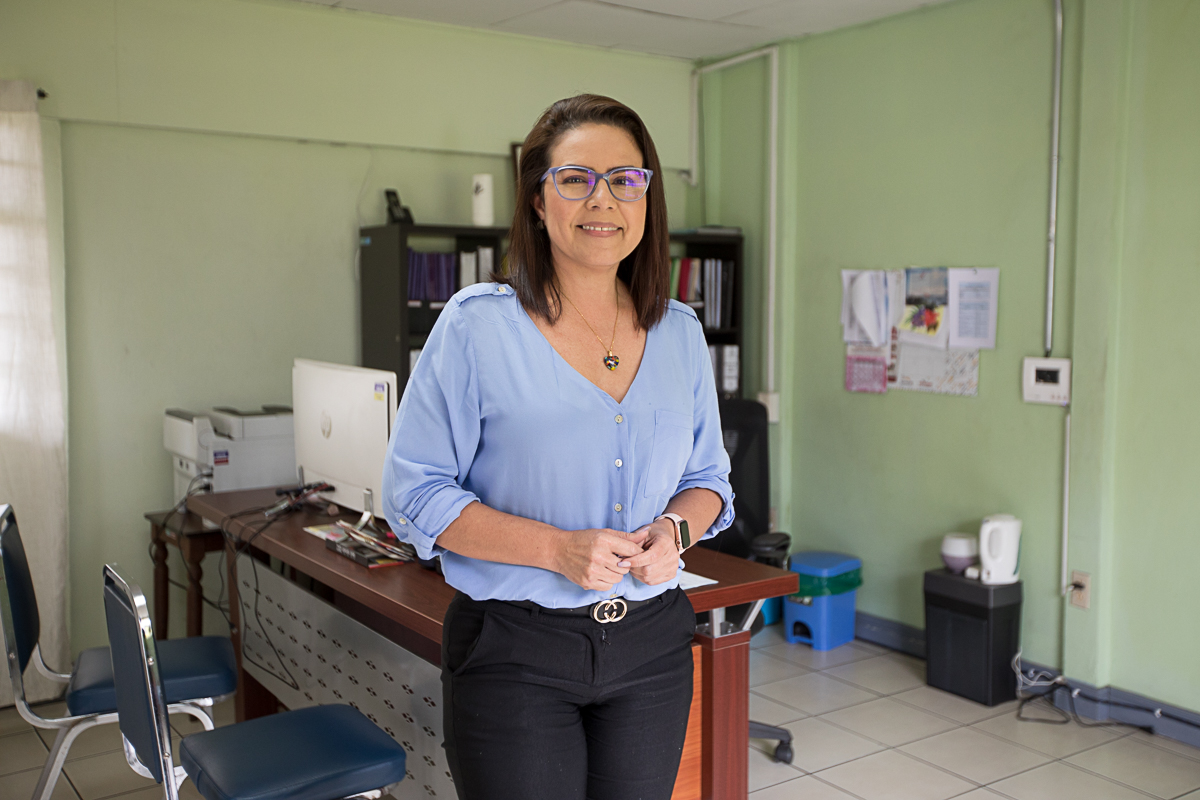 All three of them have said today that misinformation about HIV is what they would most like to change in Costa Rica. The other thing all three of them say, practically in chorus, is that HIV is not just a virus. It is a differentiating factor that moved them into a new lane where they could attract much more support. Their success is a reminder how much more attention, support, and alliances are needed if Costa Rica is to move the needle not just those with HIV, but for all those who struggle.
"I never in my life thought I'd say that I'm grateful to be HIV positive," Sofía says. "But for me, it has opened lots of doors that, if I were a normal person—well, what I think is normal—I wouldn't have the possibilities or the comfort that I have here. It's all about self-empowerment and knowing yourself, because mental health is so influential."
"HIV was maybe the only option for me to say no to drugs for once and for all," says Alonso. "I used to ask myself, '¿Why, papá?' But here I changed the question: 'What are you here to do?'"
"Having HIV has actually helped me in certain circumstances," agrees Miguel. "When I first came to the Nuestra Señora de la Esperanza Home, I showed up only with the clothes on my back, with my pants full of shit and smelly shoes. Here, they gave me shoes. They took me to have my teeth fixed. They took me to get eyeglasses so I could read, so I love to read. Now I'm looking for work… If it hadn't been for [HIV], I never would have made it here. I would have been just another addict. Just another person on the street. In some ways, it's like saying, 'Good thing I have HIV.'"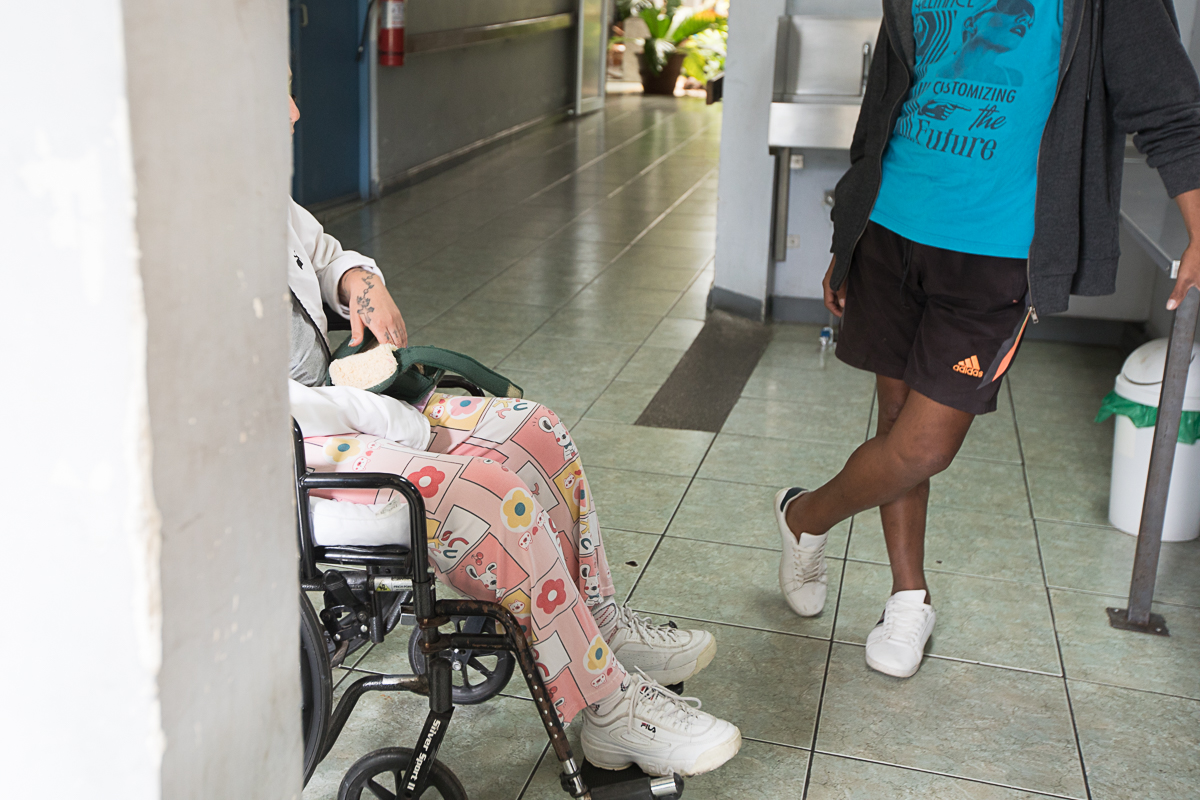 This longform piece, published in four parts, was supported by the Internews Health Journalism Network. Learn more about the Nuestra Señora de la Esperanza HIV Home on their Facebook page or donate via SINPE Móvil at 8507-7676. Learn more about Dr. David Reyna's Care with Love Foundation here. 
*The real names of Sofía and Alonso have been withheld at their request, to protect their privacy and in consideration of the discrimination that is faced by people with HIV in Costa Rica. 
Read the full series:
HIV in Costa Rica, part 1: Forty years on, still battling misinformation