At a time when the pet market is booming, our grandparents' saying that "all that glitters is not gold" makes a lot of sense.
First, it is worth clarifying why it is so important to pay special attention to the food we give our dogs or cats. We must not forget that they eat the same thing every day—that is, the food that we offer them—and if this food contains ingredients that are not good for them, then they're ingesting those ingredients daily throughout their lives. Also, just as in humans, a good diet is always the best preventive medicine, which can save us a lot of money on visits to the vet.
But what should we keep in mind when selecting pet food? There are so many different options on the market. How can we get the best bang for our buck?
What to look for on the package
The first thing to do is to read about the brands available to us in order to make an informed decision. Where to start? Use the information available on the packaging: the list of ingredients and the guaranteed analysis.
In the guaranteed analysis, you can find the percentage of raw protein, fat and fiber of the food. This allows you to make an initial evaluation of the food: if it's high in carbohydrates, it will be lower in protein than those with a greater quantity of ingredients of animal origin. The same thing happens with the percentage of fat. Higher percentages of fiber are an advantage if we're looking for food for weight loss, since higher percentages of fiber give the animal greater satiety.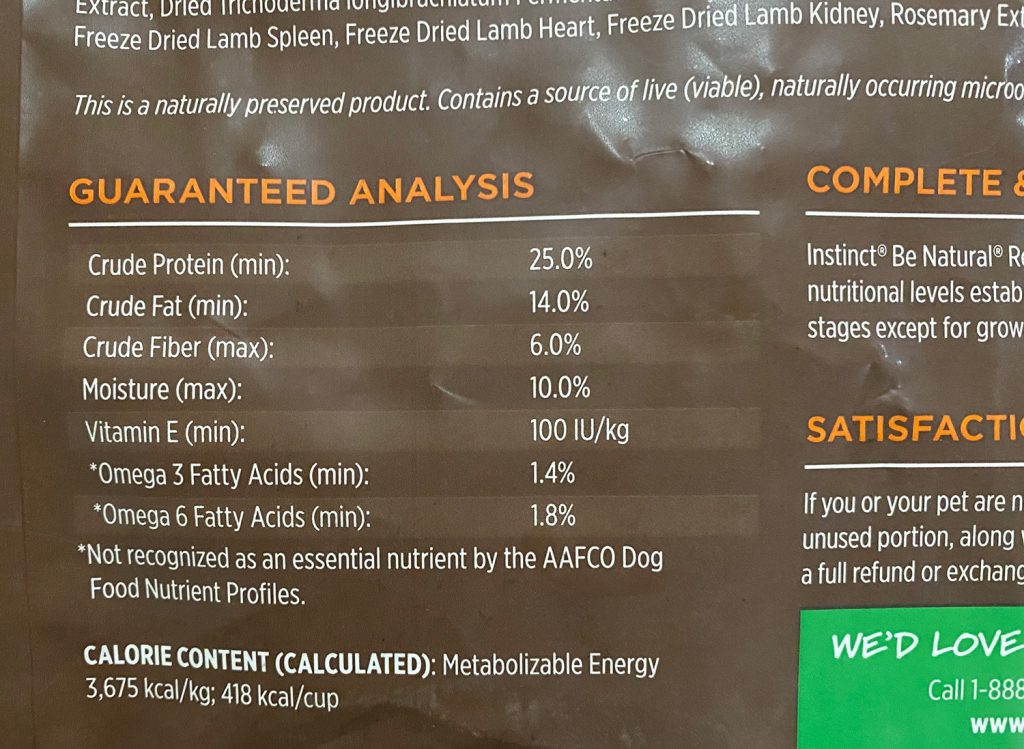 On the list of ingredients, our job is to identify the main ingredients, which are all those listed before the first source of fat (a vegetable oil or an animal fat).
What else should we look for on the ingredient list? It depends on the type of food we are evaluating: whether it is grain-free, holistic, for a dog, or for a cat.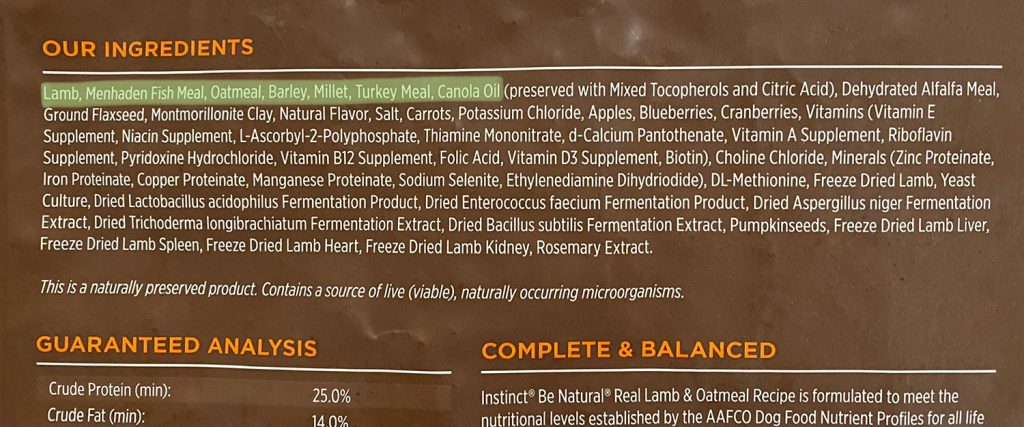 Considerations for dogs
With dog food, the goal is to ensure that most of the main ingredients are proteins of animal origin, since these are easier to digest and have more biological value. This means the dog will better be able to use the nutrients. If it is a grain-free food, it is important to verify that the main ingredients don't include an abundance of alternative carbohydrate sources such as potatoes, sweet potatoes, lentils, or chickpeas. That is, there should always be a predominance of animal proteins, such as raw meat or meat meal.
Steer clear of meat byproducts, which usually mean organs, feathers, skin, nails, and everything that is usually discarded from the processing of the animal. These are not the best sources of protein and should be avoided.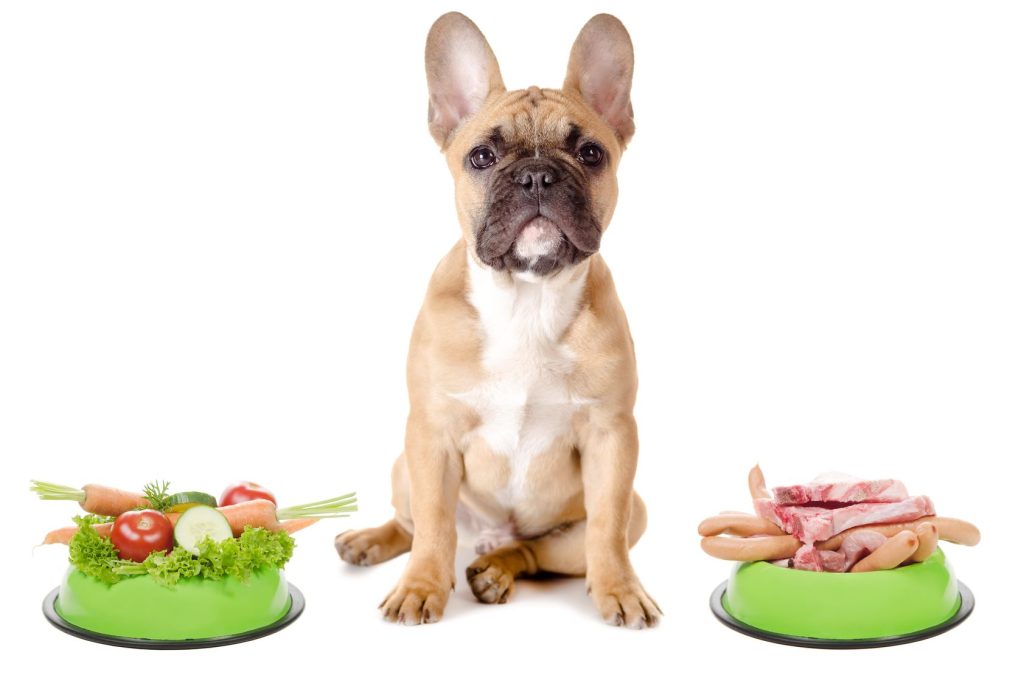 In the case of those foods that include grains, those that contain corn, soy and wheat, and corn gluten should be avoided. These are lower-quality ingredients that can be harmful to a pet's health in some cases. These grains are commonly present in low-quality commercial foods. Instead, look for grains such as oats, barley, or brown rice, which have greater benefits for pets' digestion.
Considerations for cats
For cats, animal protein becomes even more important, since cats are strict carnivores. The main ingredients must be composed of meats and fats. Foods that are high in carbohydrates should be avoided. If you can't find a food composed exclusively of meat and fat, choose the option that uses the best quality grains, as mentioned above: brown rice, oats, or barley, always in low proportions.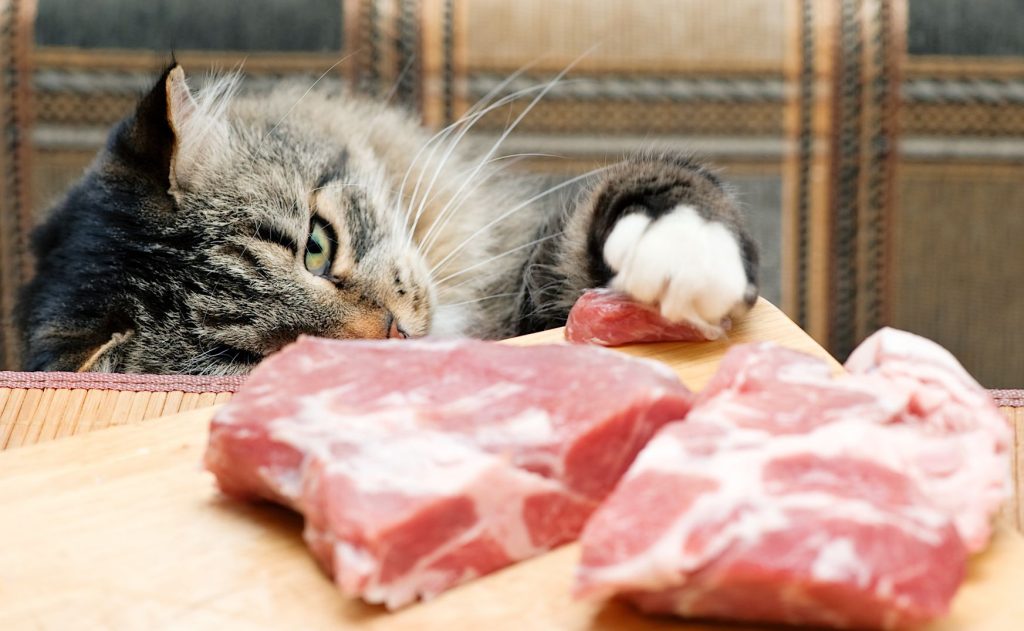 Preservatives and supplements
For both dogs and cats, another ingredient that is important to pay close attention to is preservatives. Avoid foods that use artificial preservatives, which, although they give the food a longer shelf life, in many cases have already been banned in the human food industry. Always look for natural preservatives such as mixed tocopherols or rosemary extract.
Many pet foods are also supplemented with fruits and vegetables in lower percentages, which is good since it adds variety to the diet. However, you must not forget that the quality of the main ingredients should be the most important selection criteria: the quality of the proteins, fats, carbohydrates and preservatives. Healthy additives can be useful, but a diet with adequate raw materials of good quality will meet pets' needs.
Balanced food, as pelletized pet food is known, is formulated to meet all the daily requirements of our pets in their different stages (growth, pregnancy, lactation, maintenance, weight loss, etc.). Instead of spending our money on vitamin or mineral supplements, it is better to invest the extra money in better quality food, which will have a positive effect in the long term.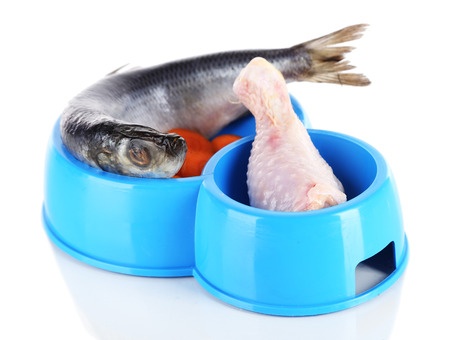 Introduce changes gradually
If you are going to change your pet's food, always remember to allow for a transition period so the animal's digestive system can adapt to the new food. During this period, you should introduce the new food little by little and decrease the old food, in order not to cause a disorder that can trigger diarrhea or constipation. After all, don't forget that our pet eats the same thing every day, so any changes you make—even if it's for the better—will be a surprise to the body.
Better food that fits your budget
It's worth taking the time to analyze and compare the various brands within the Costa Rican market that are within your budget. Do not be surprised if, in some cases, you can even access higher quality food while paying a little less.

Support for this story was provided by Instinct, a dog and cat food produced in the United States and imported to Costa Rica since 2014 by PROVETCRE, a MyPYME that cares about Costa Rican pets and what they eat. Instinct's mission is to transform the lives of pets: "We believe that all pets deserve the best life possible. And if you ask us — it starts with food."
You can find Instinct in every province of Costa Rica. Find your closest point of sale on Instagram, @Instinct.CostaRica
Follow the brand in Costa Rica on Facebook at @Instinct.CostaRica.
If you are a veterinarian interested in providing Instinct as an option for customers, call PROVETCRE at 2215-4399.