Extremely sociable, Namu is a Dachshund-Shih Tzu mix, which is reflected in her energetic and affectionate personality. She loves dogs and humans alike and is immensely curious about cats, chickens and other creatures. Namu is decidedly stubborn. Her personality is diluted amidst the noisy ambiance of an airplane.
Namu began traveling in early 2019, when she was approximately nine months old. This first adventure consisted of a short trip of 3.5 hours to Houston, Texas. A few years later, she joined me on the long trip from Costa Rica to South Korea, with a 12-hour layover and overall flying time of more than 15 hours.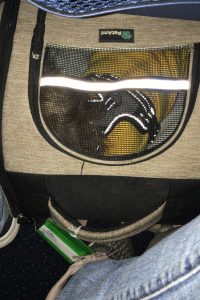 At the start of her first trip, Namu was happy and curious about the new experience, sniffing around the Juan Santamaría Airport, then sitting comfortably in her travel bag as we entered the boarding area. But once the plane rolled onto the runway to take off, Namu, who's highly sensitive to loud noises, became anxious and panted gently for the rest of the trip. Once we arrived at our destination, curiosity about her new stimuli took over. A few days late,r she had identified her favorite routes and developed a new passion for Houston's many dog parks.
In the months leading up to that first trip to Houston, I discovered that traveling with a dog abroad is relatively easy, depending on where you're going and the size of your pet. As Namu is a small dog (7 kilos, about 15 pounds), she can travel in the cabin, which simplifies the process. Traveling to the United States with your pet requires only proof of up-to-date vaccines—including a rabies vaccine received more than 30 days in advance—and a health certificate prepared by a veterinary professional, signed and stamped by Costa Rica's National Animal Health Service (SENASA).
A few years later, when I decided to live in South Korea, I discovered that these entry requirements vary widely depending on the destination. Although I'd done my paperwork on my own to take Namu to travel to the United States, one look at the list of Korean requirements led me to turn to the Pet Lounge company for help with the requirements. Pet Lounge is a sponsor of this article, but I got to know them first as a customer, when I needed some help with this complex process.
Among the things that I discovered with the help of Pet Lounge is that it's important to start thinking about these travel procedures for our pets well in advance.
Before traveling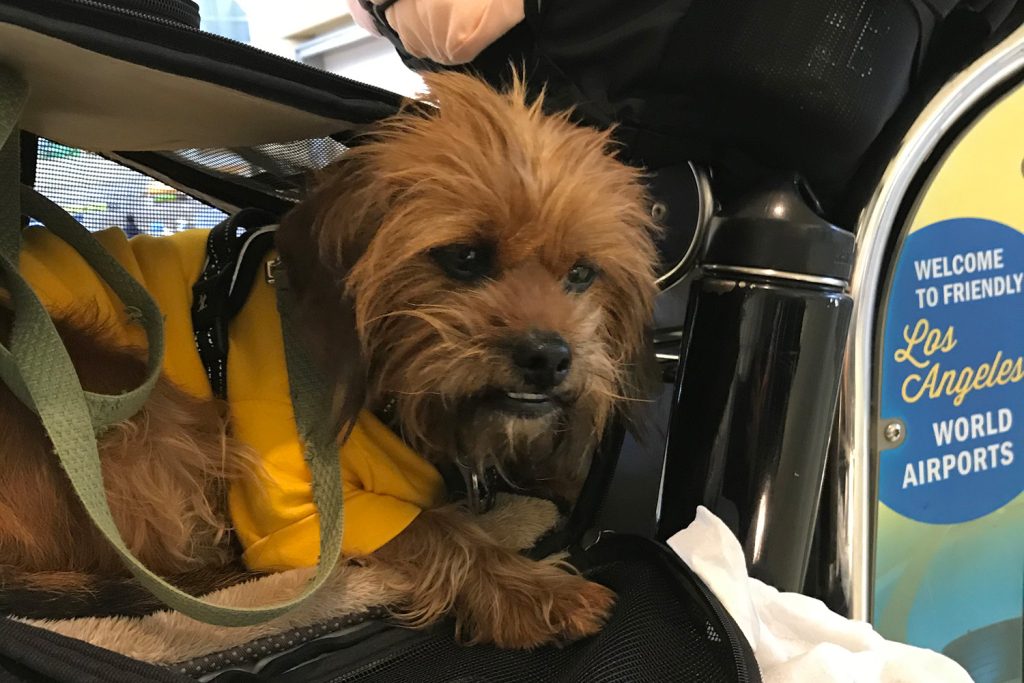 "The lead time needed for the procedures depends on the complexity of the health requirements requested by the destination country," says José Daniel Seco, who—along with his brother César, a veterinarian—founded Pet Lounge and is now in charge of logistics coordination. José recommends that people who want to travel or move with their pets find out about the regulations of destination right away. Some countries in Europe, Asia and Oceania require lab exams that can take weeks or even months.
In the case of Namu, Korea required a rabies antigen test that takes four weeks to process. She also needed an up-to-date vaccination card, a veterinary health certificate, and a chip with contact information. It's best to start these processes three months before travel.
José says that airlines' restrictions and regulations must also be taken into account. For example, some airlines do not allow pet transport at all, and some destinations do not allow the transport of animals in the cabin (for example, South Africa and Australia). Others do not transport pets less than four months old.
Whether the pet is traveling in the cabin or as cargo, it is necessary to make a reservation for the pet prior to travel. This process varies between airlines, too. This reservation cost also varies depending on the destination and the airline.
Namu traveled to South Korea in the cabin, the same way she traveled to the United States. I made the reservation through the airline's customer service line. It is important to take into account that airlines have a maximum number of pets that can travel in the cabin, so it's essential to make the reservation well in advance. I recommend checking with the airline prior to purchasing the ticket about the regulations for transporting pets and the space allowed. Both factors can affect your travel plans.
To ship a pet as cargo, a reservation must be made with the airline's cargo office. In Costa Rica, all airlines ask that the reservation be made by a company such as Pet Lounge, because an animal that travels as cargo is governed by international trade rules. That's why each pet needs an air waybill (the document necessary for shipment), and upon arrival in the country of destination, pets must go through the customs clearance process. In some countries, animals traveling as cargo are required to pay taxes. Although pets were allowed to travel as checked baggage in the past, few airlines currently allow this type of transportation. Today, pets that travel as cargo are transported in a more controlled environment, with personnel trained for this task, that takes care of the well-being of your pet during the trip.
Protecting your pet's peace of mind
Before the trip, it is important to find out about the availability of dog areas in the different airports you'll visit so that your pet has the option to walk and do her business during the trip. Some airports allow pets to walk on leashes. If this is possible, it is important to take advantage of this option so that your pet can relieve stress. In the case of pets traveling as cargo, the airline is responsible for taking the pet to the animal area.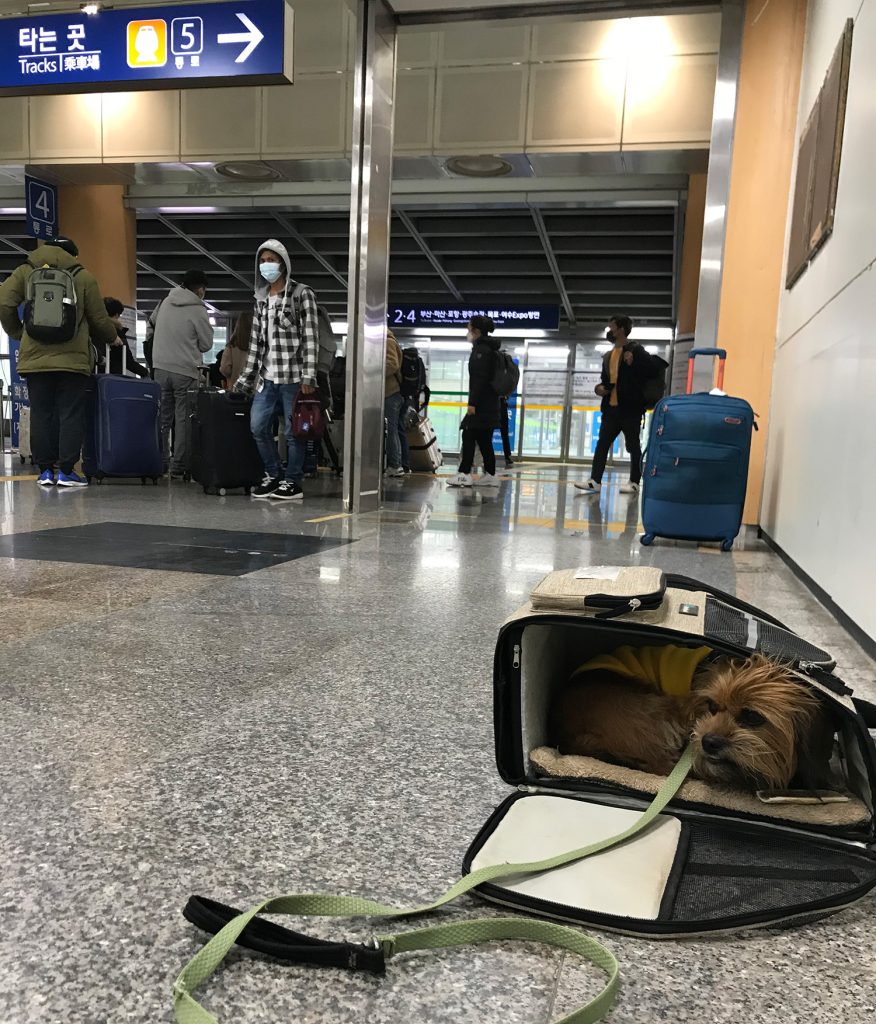 Regardless of whether your pet travels in the cabin or as cargo, it is important to accustom the pet to the bag or cage in which it will travel a few weeks before the trip. In the case of cabin transport cases, find out the dimensions of the space under the seat in front of you, since these dimensions may vary slightly depending on the plane in which you travel. The case must have ventilation on at least three of its sides. In the case of pets that travel as cargo, the cage must be made of plastic with screws; it must be big enough so that the animal can stand up without touching the roof of the cage, turn around, and lie down.
In the case of some breeds, such as Boxers or English bulldogs (brachycephalic breeds), the cage must be even larger, so that the pet has good ventilation and does not get too hot.
To get your pet used to the crate, the pet must be encouraged to sleep in it so that he or she comes to recognize it as a safe place. Namu has a great attachment to her travel bag: it is not only her home during trips abroad, but also serves as a bed when we go on an excursion. It's even one of her favorite spots to sleep at home.
If, like Namu, your pet is anxious and sensitive to noise, natural medications such as linden pills, administered starting a few weeks before the trip, can help control anxiety. Taking a short walk before boarding the plane is also a good practice so that the pet can pee, poop and release stress.
On the plane, it is important to make sure your pet is comfortable, not too hot or too chilly. During the flight, you can give your pet water or ice. On our flight from Los Angeles to Incheon, I took Namu to the bathroom several times so she could stretch and so I could offer her water. Placing disposable urine and feces collection pads for dogs in the cage or briefcase is a good idea.
Traveling to Costa Rica with your pet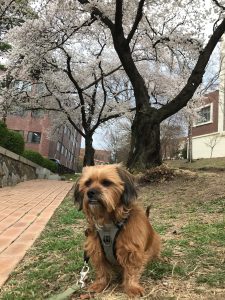 When you return to Costa Rica— or if you decide to move to Costa Rica with your pet—you'll have some requirements to meet. According to José, for pets entering Costa Rica by land or air need proof of vaccination. Cats and dogs must be dewormed and have a certification signed by the quarantine office of the country of origin. Other pets, such as birds and rabbits, require more complex procedures. Pet Lounge offers support for the entry of all pets to Costa Rica. If you carry out the process on your own, remember that you'll need the support of a veterinarian.
José says that air travel is safe for pets. Many pets are transported this way every day; while there are risks, they are minimal. In Pet Lounge's 10 years of existence, José and César have coordinated the travel of approximately 5,000 dogs and cats to a large number of destinations, including South Africa, Malaysia, the United Kingdom and the United States. They have also organized the transport of birds, fish, mice, rabbits, and other animals that are subject to more complex health restrictions. They've also coordinated the transport of pets to Costa Rica from various destinations, and have moved animals by land to Nicaragua or Panama. Their oldest traveler was a 16-year-old dog who flew to Manchester, England, and arrived in perfect condition.
So did Namu, during her travels. She did have some anxiety, but finished all her journeys in good spirits, ready to explore and enjoy all that the new destination has to offer.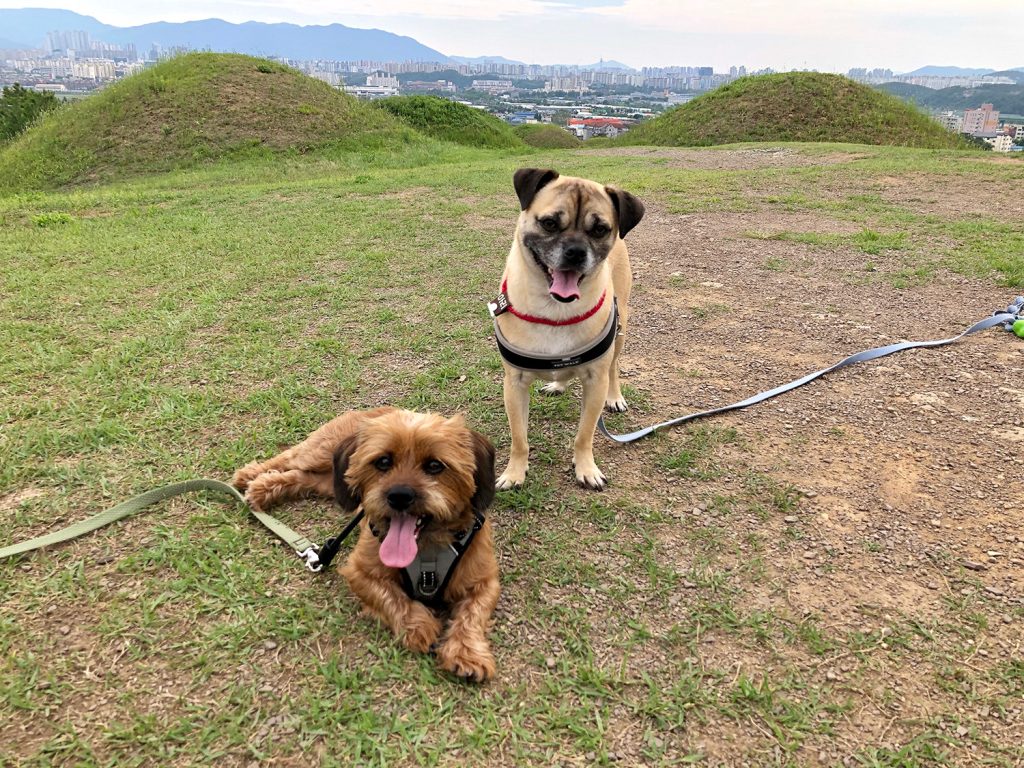 Pet Lounge was created to help people who are moving to another country and need to transport their pets internationally. The company has pursued that mission for 10 years and transported more than 5,000 pets safely and efficiently.
Our company is committed to the happiness of your pet and your family. That's why our team is experienced in logistics and veterinary procedures to guarantee a safe trip for animals and reunite them with their families.
For more information, visit our website here.