​​Beatriz Lizano Alvarado will soon turn 65, but she has a full-time job. In fact, she has two. She is responsible for her mother, 86, who has Alzheimer's; in addition, from 7 am to 3 pm, she takes care of her two granddaughters. They are six years old and one year nine months. There is a baby on the way in two months who will also be cared for by Beatrice.
On top of all this, she is also a Madre Maestra, or Mother-Teacher. She has founded two kindergartens for young children not old enough for school. With other mothers in the community, Beatriz organizes activities one day a week. In this way, isolation is reduced; caregivers and kids come together for fun, learning, and a shared lunch. She describes this additional work with the group's motto: "Every mother is a teacher."
For Beatriz—a resident of Las Quebradas, Rincón de Zaragoza, Palmares, west of San José—caregiving is her way of giving back what was given to her. At the same time, it is a way of trying to create a better child-rearing experience for her daughters than she had herself.
"I am taking care of my mom, giving back what she did for me, and then it will be my daughters' turn," she says. But also, "back when I had little ones—and I had many—I had a terrible time. I was so alone. That's why I like to help my daughter. It was awful because I was left alone with the children when [the youngest] was seven years old and the others, imagine, right in the thick of adolescence… I lived in San Carlos and was very far from the family. As soon as I could, I moved back to Palmares, because your family supports you".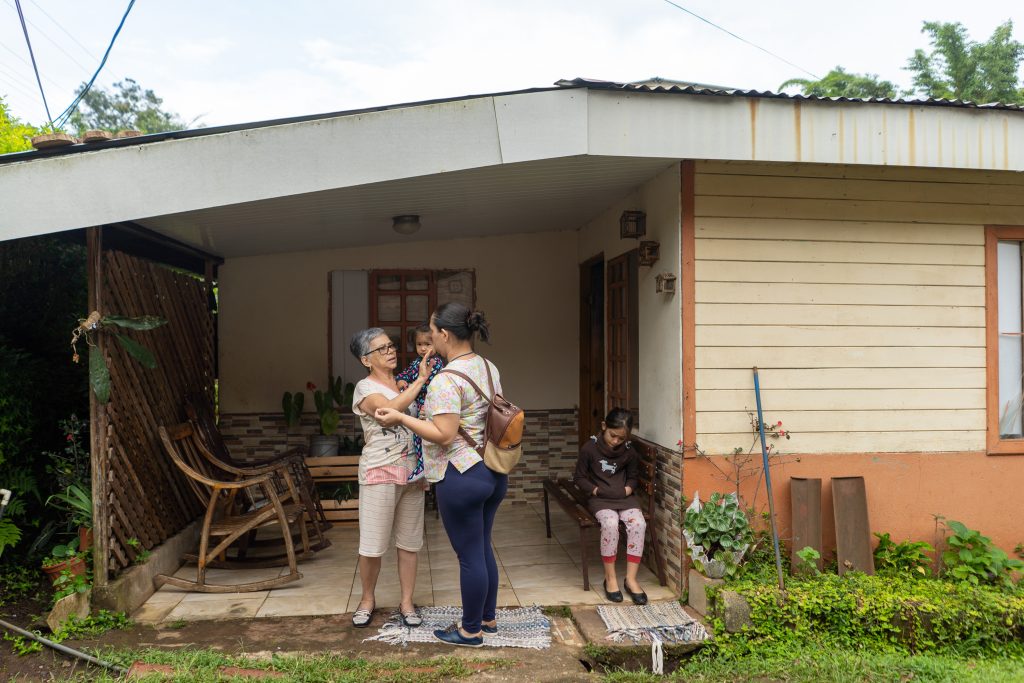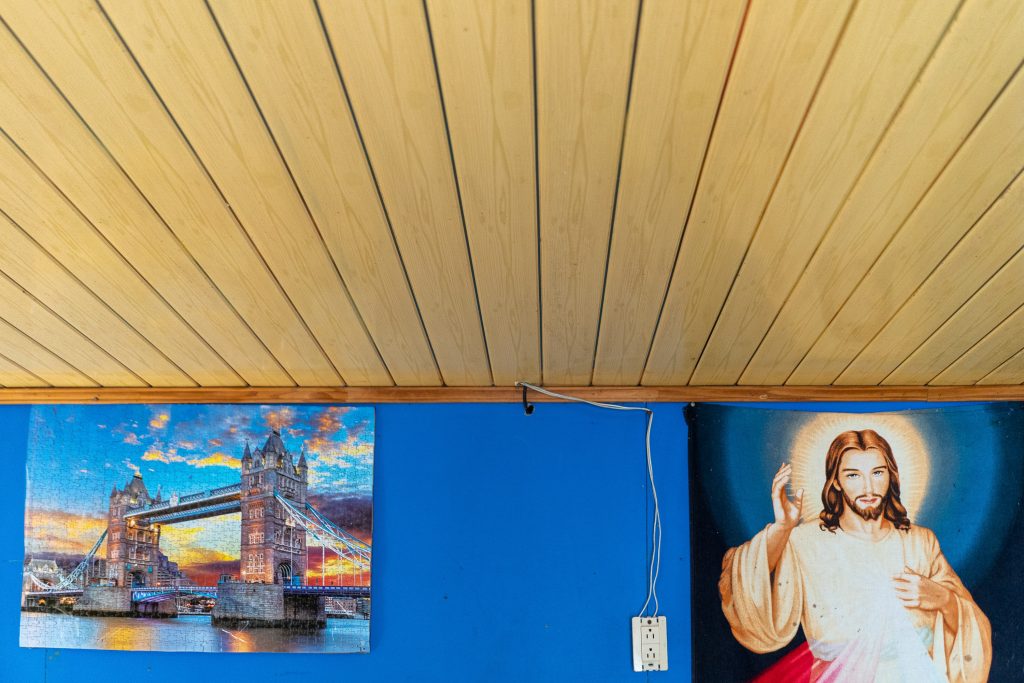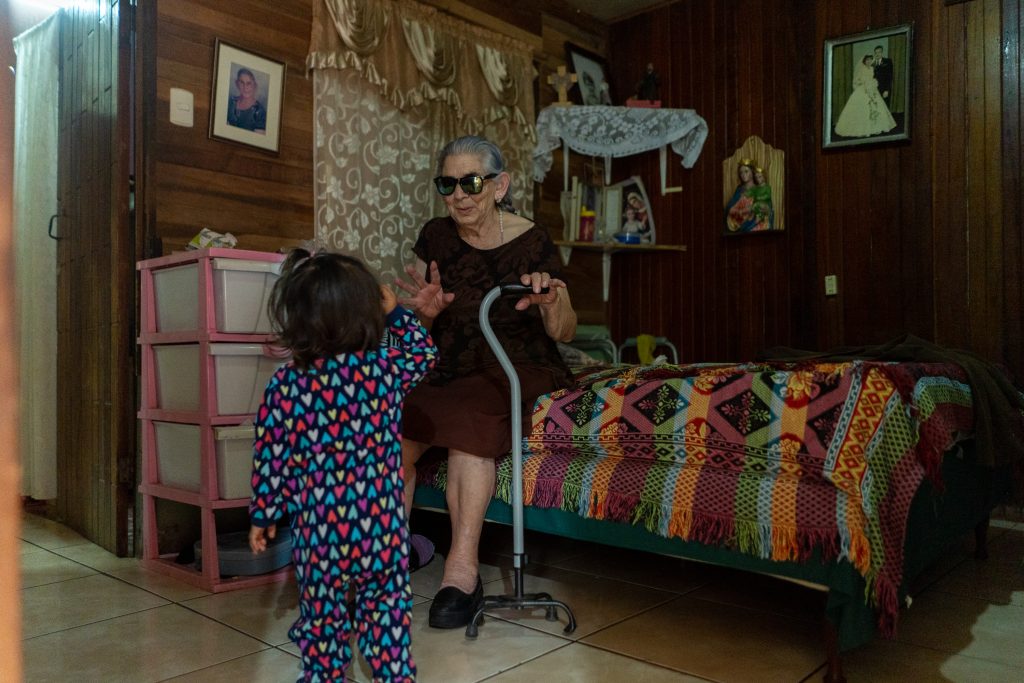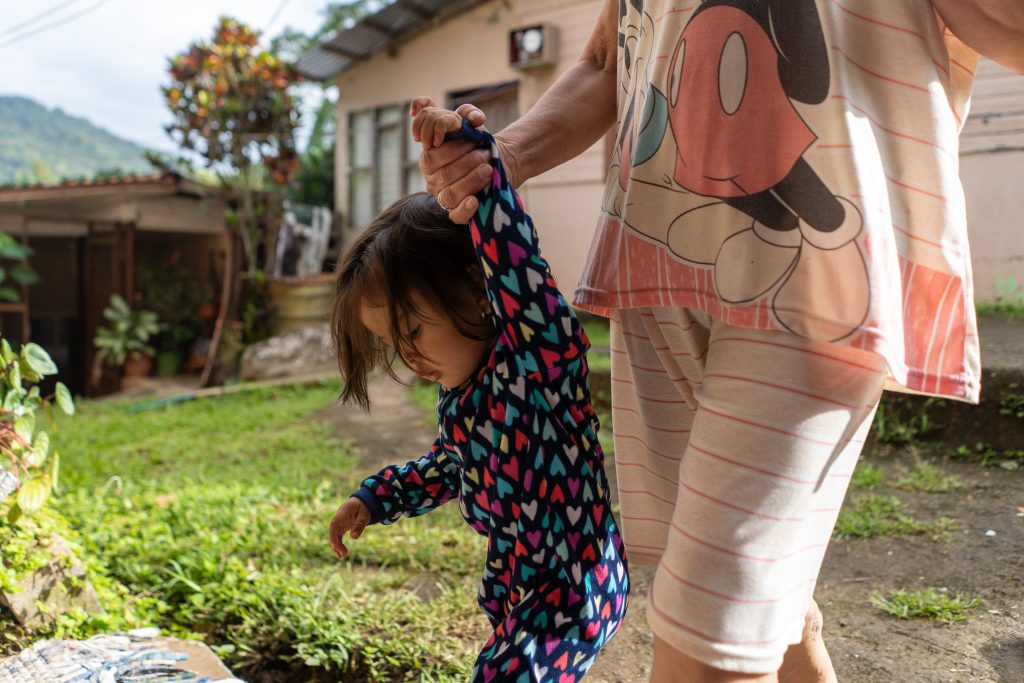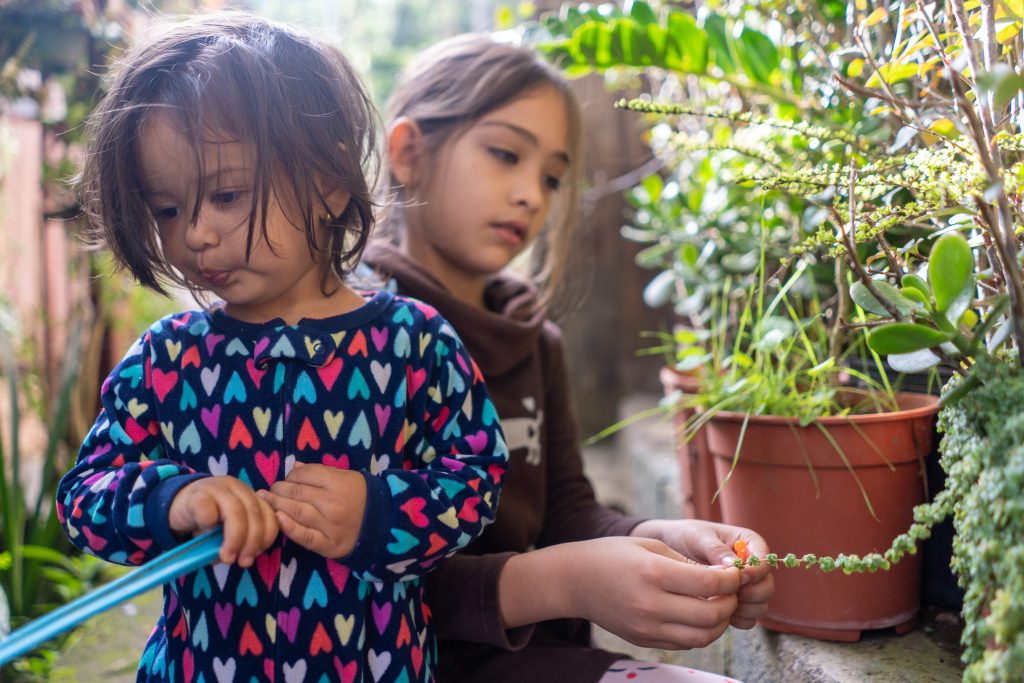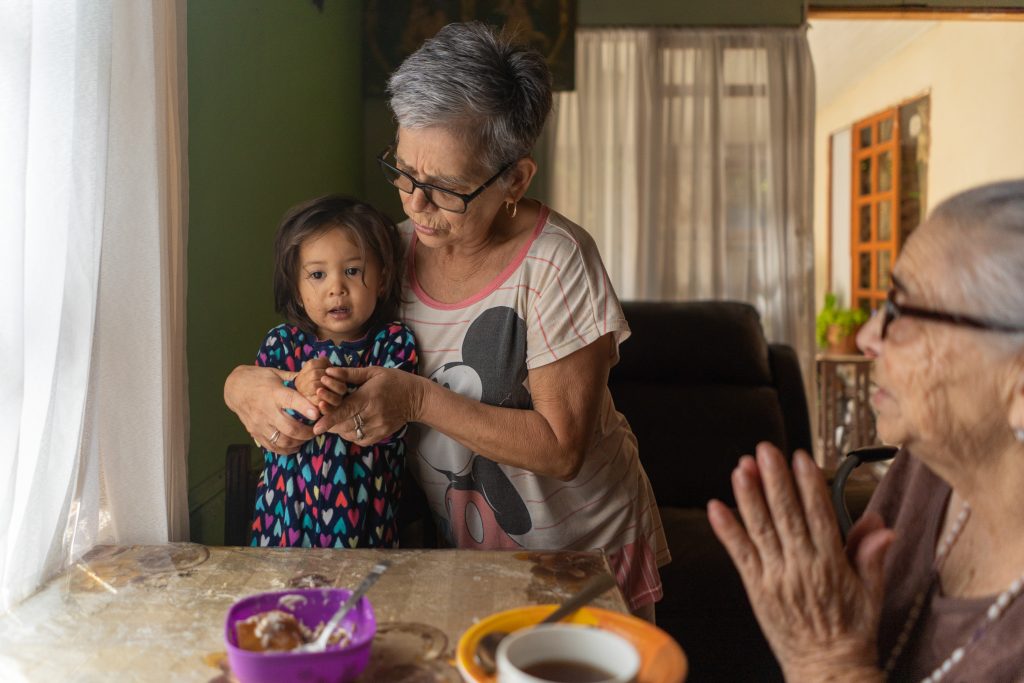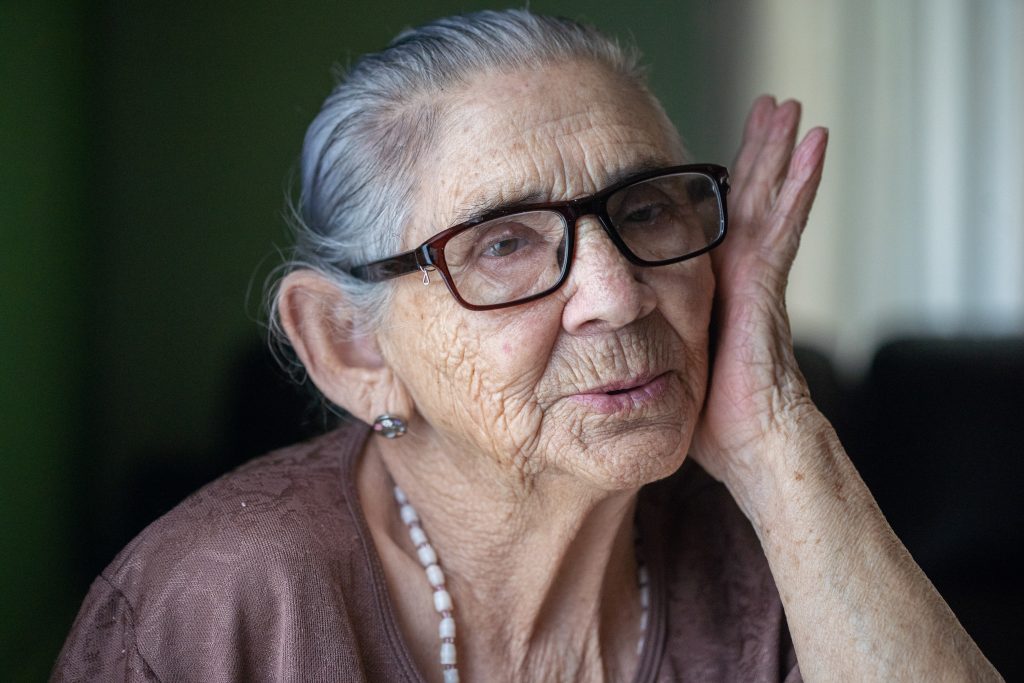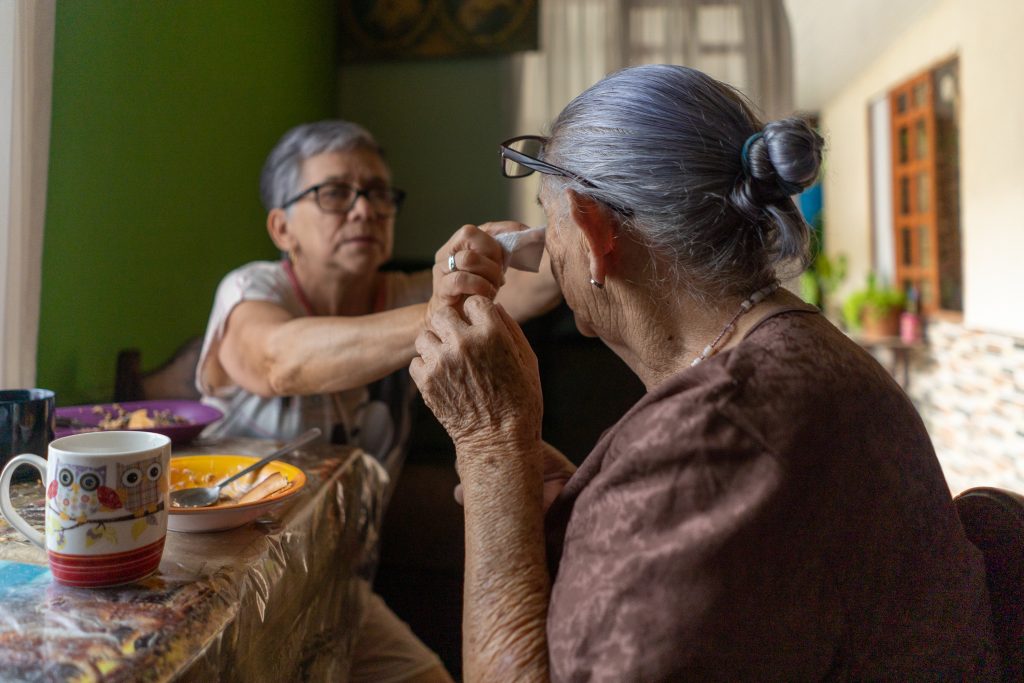 She has six children, three boys and three girls. Two of her sons are in the United States; another son is nearby in Palmares; and her three daughters all live nearby. At the home she shares with her mother, Bellanira, Beatriz does it all. After saying goodbye to her daughter in the morning, Beatriz cleans, cooks, carries, cleans, walks, plays. She bathes her mother, her youngest granddaughter in a bucket. She styles the hair of both her granddaughters and her mother, leaving brown and white tresses neatly arranged in braids and buns. She supervises homework; she walks the older granddaughter to school while she pushes the younger in her stroller; she entertains the little girl while she makes lunch.
"The biggest challenge for me is to end the day calmly. To have a good day, without difficulties," she says. "The biggest challenge is to ensure that my mother is well, and so am I… Knowing that I have done my job responsibly is my greatest satisfaction, and having very good children too."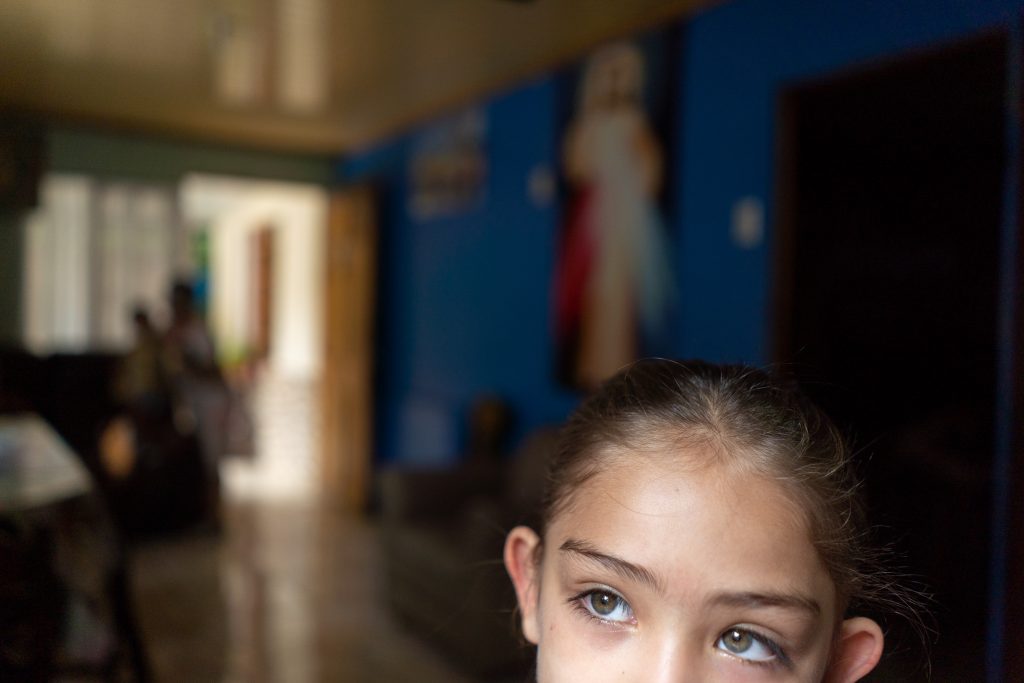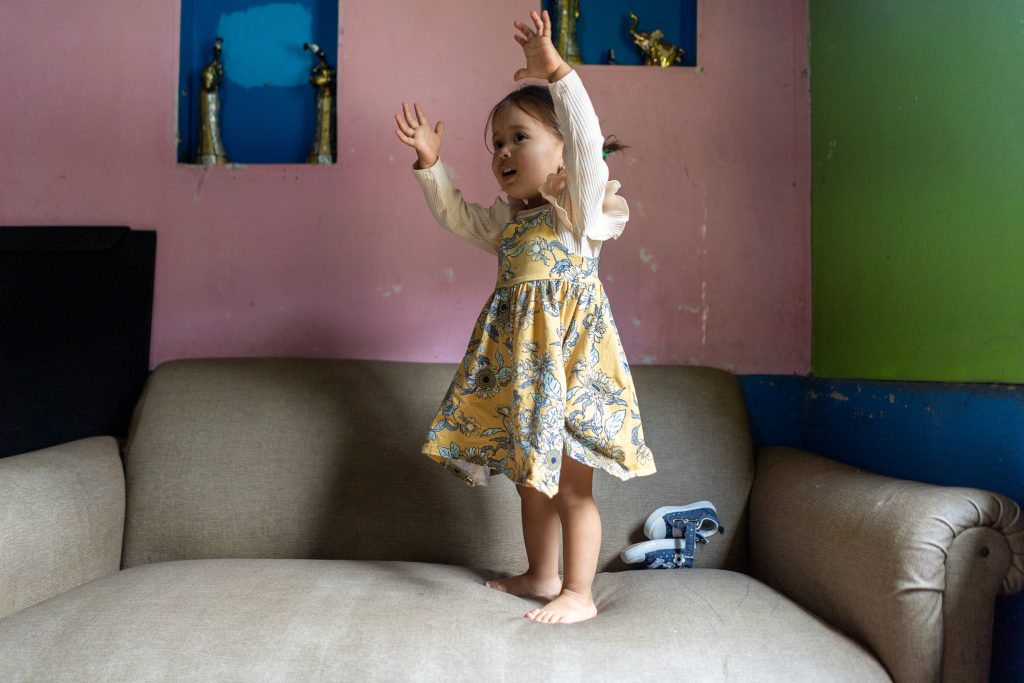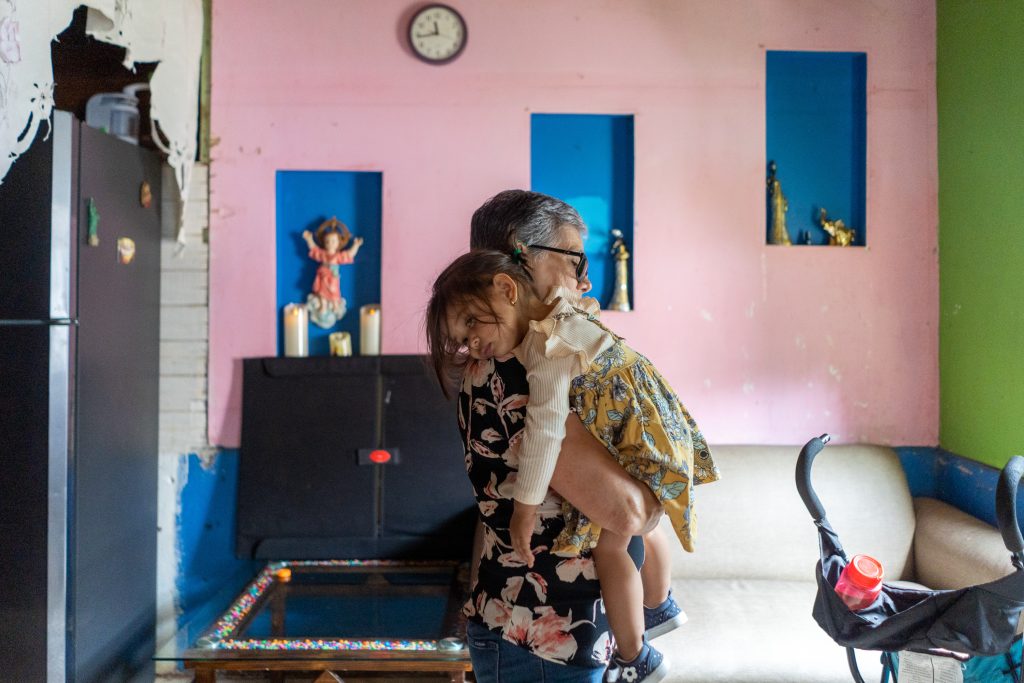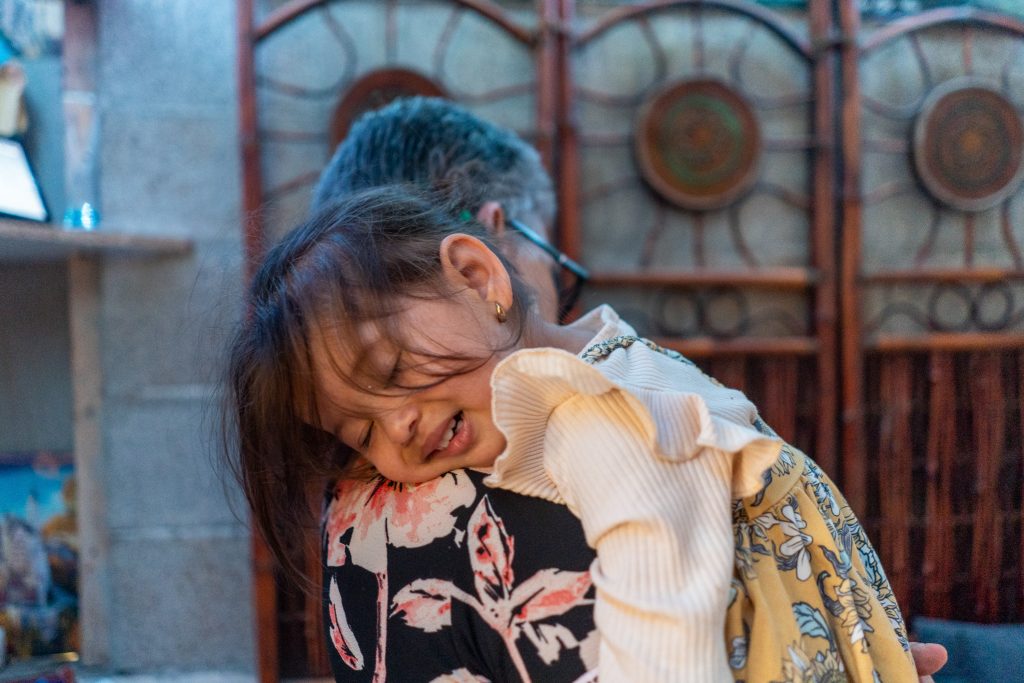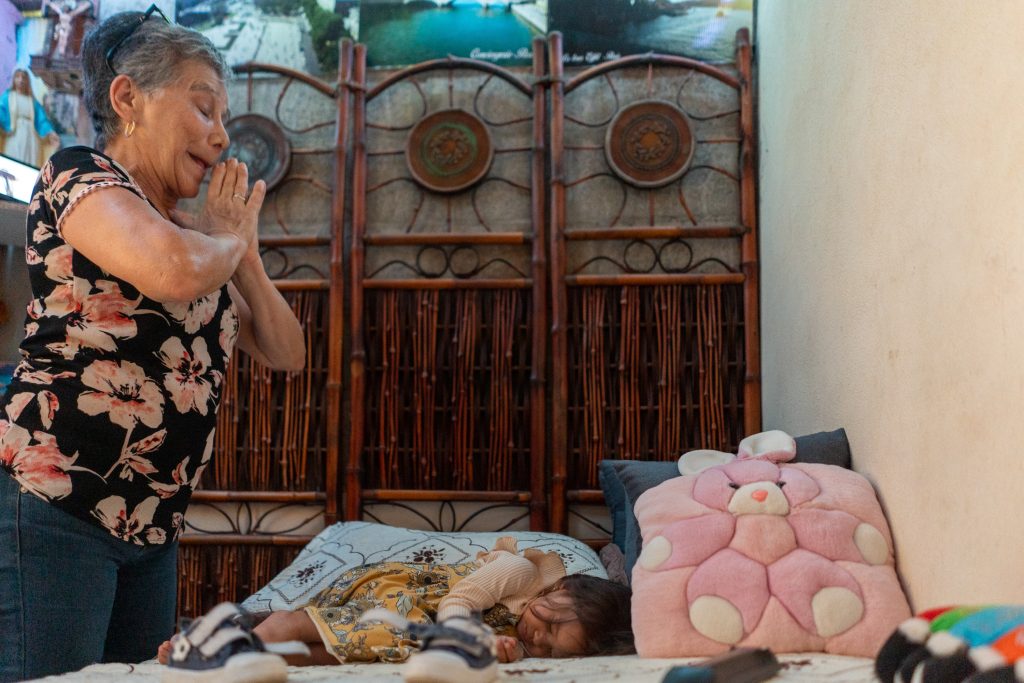 She offered to be the main caregiver for her mother, but asked for a specific form of help from her siblings.
"I promised to take care of my mother and I stopped working, but I told my siblings: I have to earn something, because my mother's pension only covers her own needs," she explains. "I asked them to take turns bringing me her lunch one day a week."
She also tries to enlist her mother as an ally.
"Sometimes my mom crosses horns with one of us, starts to argue, and I tell her: 'Look, you and I are two old ladies,'" she says with a laugh. "'You and I have to get along because this thing is hard enough.'"
Doña Bellanira says that because of her own childhood, she never stops being thankful for the simple experience of being together.
"I was born on December 18, 1936, in Rincón Las Quebradas in Palmares, and I've never left," she says. "My mom died when I was seven, in childbirth. How nice it must be to have a mom. A seven-year-old doesn't know what it's like to have a mom. Those who have a mother, how nice that is, don't you think?"
She and her four siblings were cared for by her grandmother, and then by her stepmother when her father remarried—but that relationship was more one of equals, as she recalls.
"My stepmother was 18 years old and I was 14. It was so nice! We got up in the morning, we did everything and we all started to play like sisters. Every day, one of us split the corn, the other ground it, one made coffee and the other made lunch, and when the men left, we sat down to play. After we got married, my stepmother moved far away. I kept going to visit her until she died five months ago".
She praises the work of her "little girl," her daughter, Beatriz.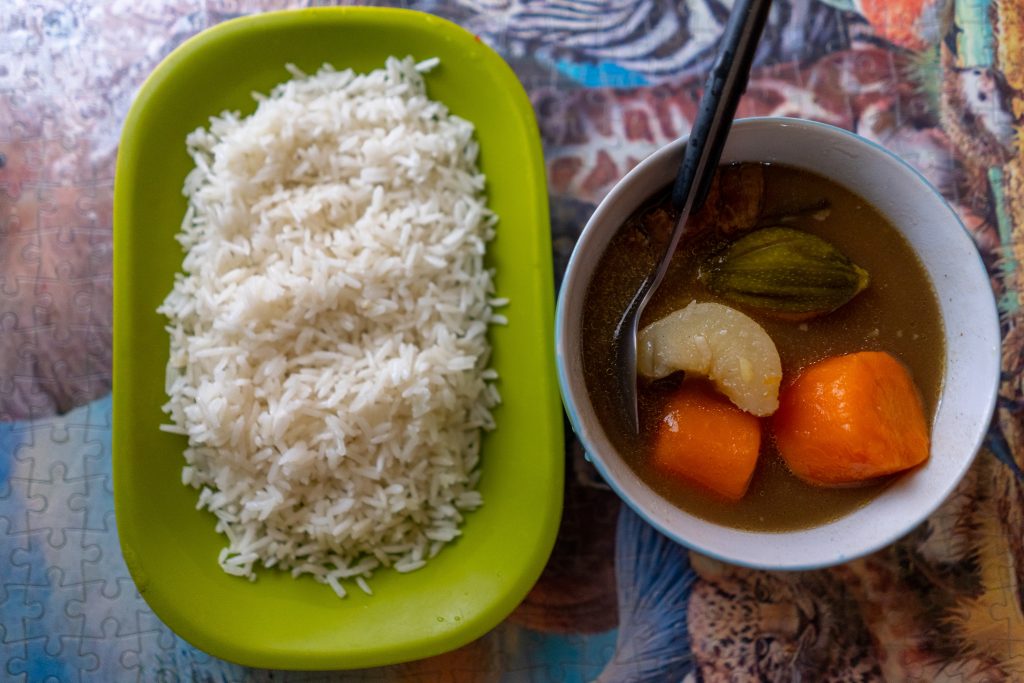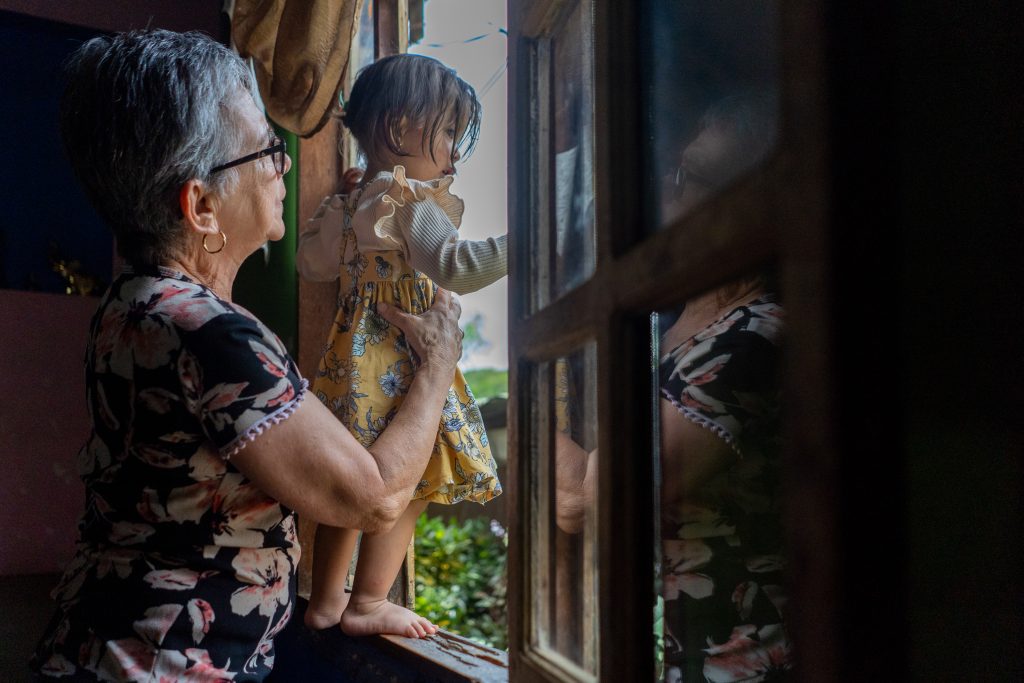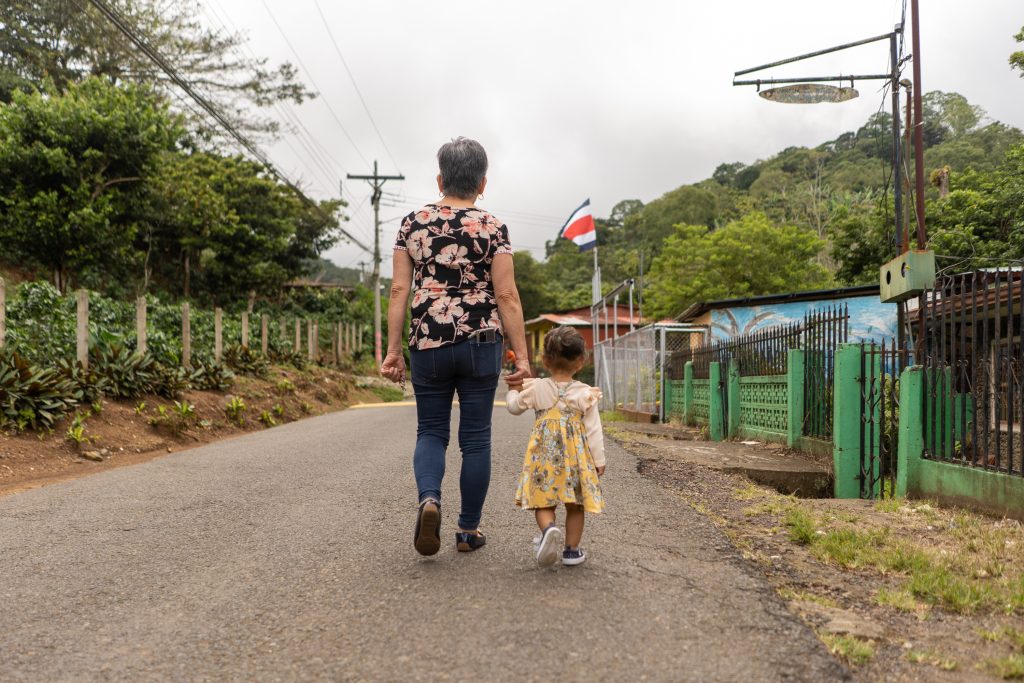 "It's so hard when you're orphaned young, as I was, but just look at how brave this little girl of mine is," she says. "She has been a father and a mother. She raised her children all alone. She then had to work at school, in a factory, she worked at home, later taking care of a grandchild over there, another grandchild over there, and now she is also taking care of me".
For Dialá Umaña Jiménez, the six-year-old granddaughter, things are even easier to explain.
"I like it when we eat salchipapas," she says. "I like being at my grandmother's house. I like being with her."