Read Part I, "A harvest turned upside down," Part II, "The 48-hour journey," Part III, "Second home in a strange land," and Part IV, "Making ends meet."
What were the moments in your life when things could have gone another way? Those moments where, if you were the superhero star of an origin story, a certain spark would start to gleam in your eye?
Often, when we cast our minds back that way, a parent looms large. One who, say, believed very fiercely in the value of our education, even though we lived in Panama's indigenous comarca and had no reasonable expectation that the stuff of classrooms would have any real impact on our lives. One who was negligent and forced us, early on, to decide whether to follow in that parent's footsteps or dig deep and forge a different path. 
Parents loom large. Journeys, too. Borders crossed, homes left behind, and what happens afterward. Languages and cultures that changed our lives.
What were the moments in your life when your path took a turn? Was it because of a person? A journey? A choice?
Was it because of coffee?
'He told me to lie'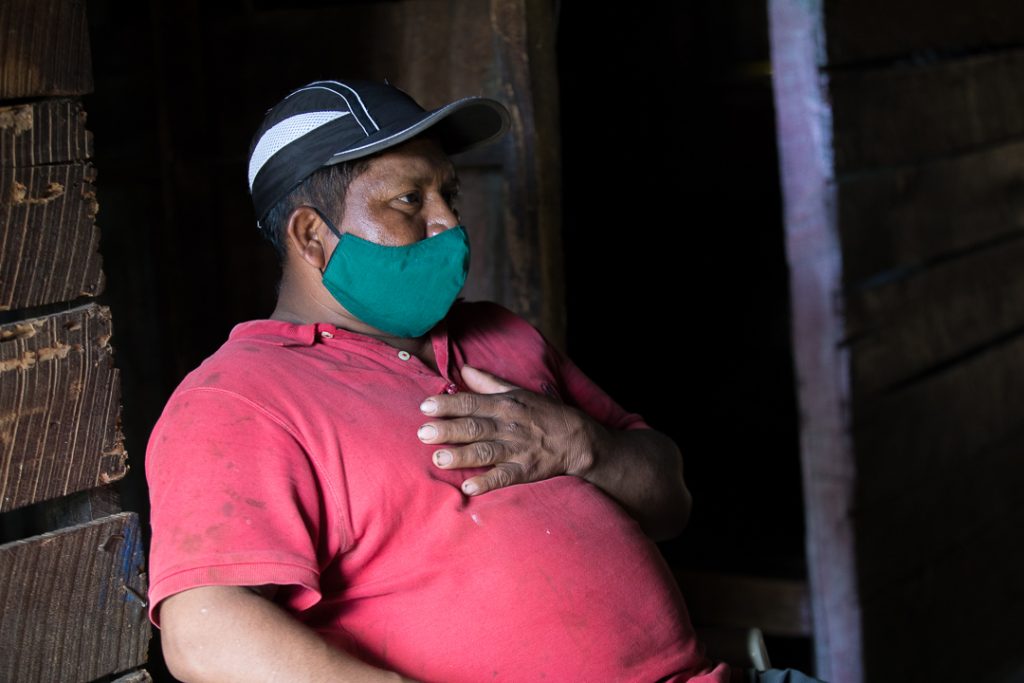 "I've just kept staying a little longer, and then a little longer," says Eduardo Cedeño, 44. 
It happens. The reason he gives for having made his life in Costa Rica is the same one many an immigrant might offer, including the journalist questioning him in his room overlooking another jaw-dropping Los Santos coffee field vista. But at the end of an hour, it becomes clear that the decisions that have led to this man's 16 years in Costa Rica have been anything but passive. A cast of characters outside the room have spurred him on, as has Eduardo himself. This man, a member of Panama's Buglé indigenous group, is grimly determined to chip away at inequality. 
His wife was the reason he came to Costa Rica from Panama in the first place, he says. Justina Santos had heard the workday up here was shorter, that workers call it quits at noon. ("She's the one who brought me," he says with a smile.) So when Eduardo was 27, the young couple and their first two sons, then just four and two, walked four hours from their home in the Tolé district of Panama's indigenous comarca to catch a bus that would take them to the border, another four hours. Back home, they'd supported themselves through subsistence farming, but in southern Costa Rica, they began picking coffee. 
Justina and Eduardo stayed in the Coto Brus area for about three years, he says, picking coffee and raising their kids. Their third child, another boy, was born in Costa Rica (their youngest, also born in Costa Rica, is a daughter, now 13). Then came Eduardo's accident. He fell backwards off a truck packed with workers at the farm where he was picking coffee, and needed treatment at a hospital. 
"He told me to lie," he says now, remembering how his boss prohibited him from telling health authorities that he'd been injured while working. "I had to lie, and I don't think that's right." The memory stayed with him, and as he continued working in coffee fields and moved his family up to Los Santos, he began hearing more and more about injustices faced by indigenous workers.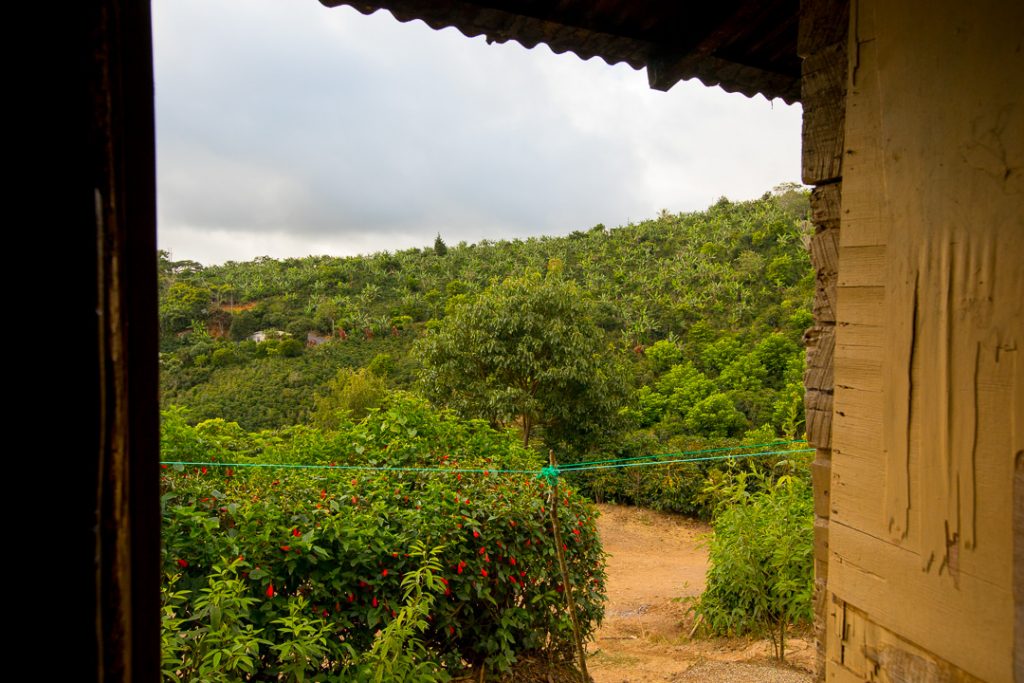 People sought him out to tell him their problems, he says—perhaps because, as part of a long family line of curanderos, experts in indigenous medicine, he has become someone people turn to with their medical needs. He still picks coffee regularly, including five cajuelas today at the farm, but he also works providing indigenous treatments. 
In this role, he's heard a lot of sad stories about labor rights.
"They'll work for 1-3 years and the boss will find some pretext not to insure them," he says. "Sometimes there's no decent house, no drinking water, no bathroom… I actually give thanks for COVID" for casting a light on these deficiencies. He says that he's gotten such a reputation for standing up for labor rights that "now, no one will hire me!" he jokes.
When the nonprofit Center for Indigenous Orientation, or COI, was swamped by a leadership crisis, Eduardo says, both members of the indigenous community and officials from local branches of Costa Rican government entities asked him to take charge. He's now the president of the organization, which counts 65 indigenous people as its members. The COI advises indigenous workers on their labor rights, health needs, conflicts with Costa Rica's child welfare officers, and other issues. Now, when he's not picking coffee or working as a curandero, he's trying to figure out how to get COI's legal documents in line and raise funds for the entity. 
He throws almost casually into the conversation that along the way, he's complemented the knowledge he inherited from his father and grandfather with a degree in physiotherapy from the Universidad Nacional, no small feat. As a child, he walked an hour each way to go to primary school. He was spurred on by his father Efraín, who, while he hadn't studied past primary school himself, was a fierce believer in education for his children. Eduardo made it into high school, a night-school program, but "couldn't finish." Little did he know when he left school that a country he'd never visited and, at that time, had no plans of visiting, would lead him to higher education and the presidency of a nonprofit. 
Eduardo is trilingual: Buglé is his first language, and he also speaks Ngäbere, his wife's language. He says he wants to learn English next. Most of all, he wants to take the COI to the next level, with an office and a budget.
"My idea is to present this to the President of the Republic," he says.
'We're in another time'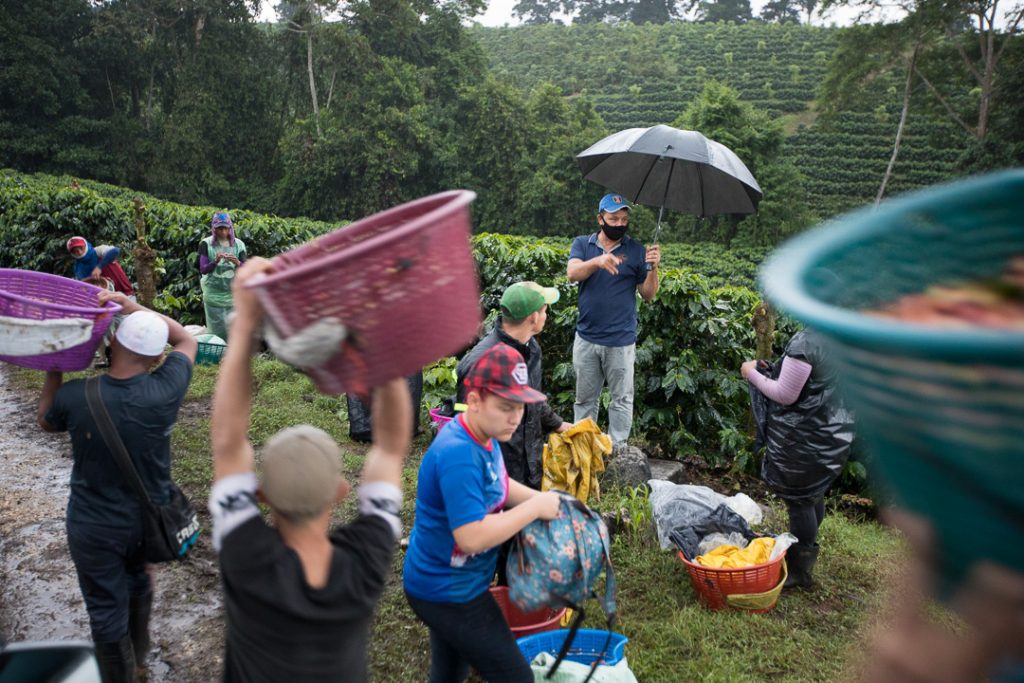 Marco Cerdas has some thoughts he might like to run by the president as well, on a very different topic. The administrator of Finca La China in Coto Brus receives us in his office, but it's not long before he's lobbed us into his pickup truck so we can race off with him to the medida, the measurement of the day's harvest. 
He says that to keep a handle on the farm's 300 workers—who, at medida time, are moving around the sloping hills of the farm as if through a maze, some waiting to measure what they've picked, some already heading back to the farm's payment area and general store—he likes to take a hands-on approach. His rapport with supervisors and coffee pickers he greets along the way bears this out. He calls out a name here, gathers a group of pickers there under his umbrella to advise them on the next day's picking area, picks up another group here to take them back down the hill. 
He's been multitasking for as long as he can remember. 
"I grew up working on coffee farms," he says, painting a picture of a very different Coto Brus from the one we're sitting in now. "We'd go to school barefoot. There was enormous poverty." 
Like Eduardo, he dropped out of high school: in his case, because his father was an alcoholic and it was up to Marco, the family's oldest boy, to pick up the slack. At 15, he started working three jobs: picking coffee all day, measuring coffee in the reception facility in the evening, and working in a processing facility at night. This meant that in each one of his workdays, he'd see the entire journey of the coffee bean, minus roasting. He'd finish at 1 in the morning and get up around 4 to start again. 
It paid off. By the time Marco was 18, his family had managed to build a house, and he'd been given a more permanent job at the processing plant, which he went on to administer until the age of 40. From there, he became the administrator of Finca La China, so called because its previous owners hailed from China.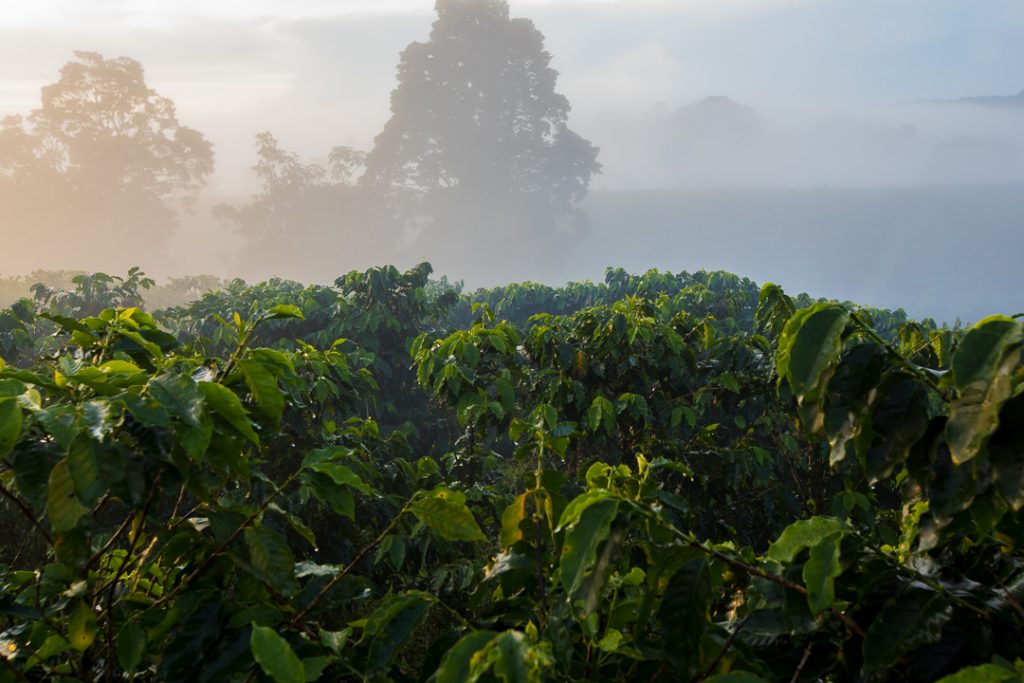 "I'm not religious, but I do think that God performed a miracle in our family," he says now in his spacious office. At the same time, he's quick to note the impact of his decades of hard work. And he laments what he sees as a drastic decrease in Costa Ricans' work ethic, caused by too many government handouts. 
"We're in another time now where whatever the dad can't provide, the State provides," he says. "I have a bad taste in my mouth because there are so many kids who aren't going to be able to get ahead" because they don't know how to work hard. He told his own daughters they could work on the farm, or pursue studies: up to them. They're now studying nutrition and interior decorating, respectively, in San José. He expresses gratitude that his older daughter received a scholarship to study English at the National Training Institute, but at the same time, like many who are self-made, he says he is uncomfortable with the very notion since "I never got a scholarship for anything in my whole life."
He says he sometimes feels he has more in common with his Ngöbe-Buglé workers than with his fellow Costa Ricans. 
"As an administrator, I have to work with a class that does want to work: the indigenous," he says, adding that in the area, he sees lots of young people who leave school but aren't picking coffee, either. He worries about what he sees as lack of industry and gumption that could open many doors.
"Coffee gives work to many families," he says. "From there, they have the sustenance that allows them to think of something bigger."
'People were astonished'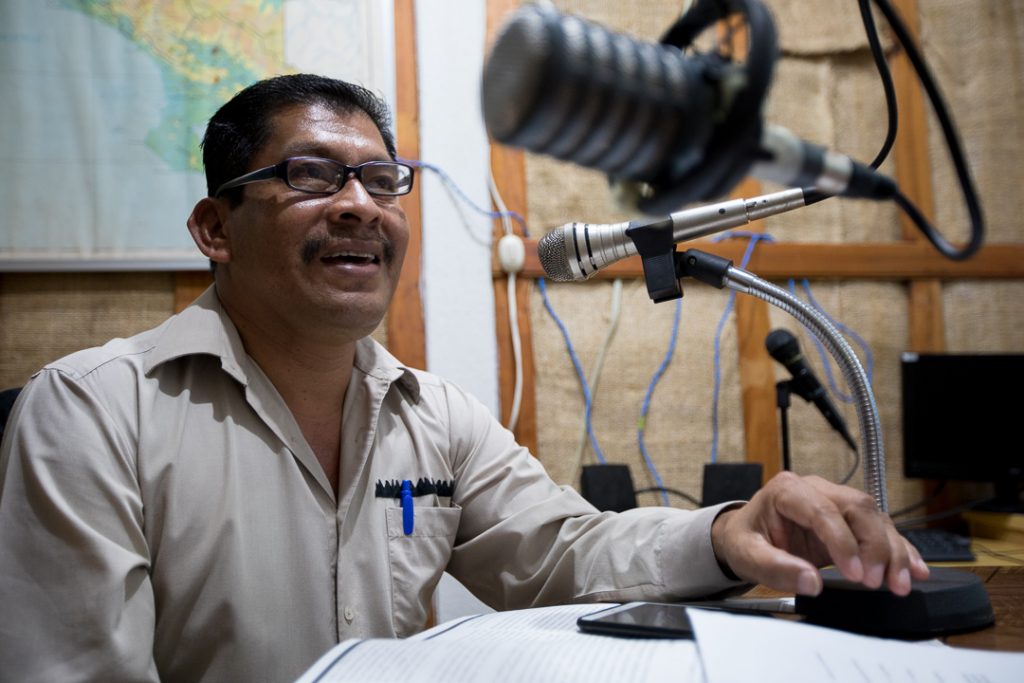 Candelario Gómez was one of the first Ngöbe workers in Los Santos, 30 years ago. He was just 18. Like Eduardo, he initially worked further south, in Pérez Zeledón and San Vito, but Candelario continued on to Los Santos his very first year after hearing that the harvest was better up here. When that year's coffee harvest ended, he stayed on as a farm worker. 
"People were astonished, because they'd never seen anyone who spoke another language," he says, adding that more indigenous workers started to arrive in the mid-90s. By that time, Candelario was already settling in. He'd met his wife in San Vito and she followed him to Los Santos; they were married in 1994, and their daughter was born in November of that year. 
She was the catalyst of what would follow.
"I began to see my little daughter start to walk," he remembers over gallo pinto at a little soda in the center of San Marcos de Tarrazú, where he now lives. "I wondered what I would have to do so that she could be a professional… I started to look for information about how I could study."
And oh, how he studied. It sounds as if he's taken the Costa Rican government up on any free training opportunity it offers, and some that have required investment, as well. He ticks them off on his hands. He's studied accessibility of the justice system, fundamentals of business administration, small business management, project design, information technology, food handling, and sewing techniques. He sells tablecloths and bags with traditional Ngöbe designs as a side gig, showing off photos of the products at the end of interviews. 
He also studied locution and now hosts a weekly radio show, the Ngöbe-Buglé Voice, at Los Santos Cultural Radio. When we visit him weeks later to see how he runs his show, he insists on interviewing us about our reporting, taking evident pleasure in grilling his odd guests about whether they believe indigenous rights should be respected. He leans into the mic, pontificating at length about the duties of employers and the rights of indigenous workers, calling out the names of listeners around the region. He seems restless and a bit self-conscious. He never thought he'd end up with a radio show, he says at one point.
It is hard to picture Candelario, unlike Marco and Eduardo, picking coffee. Maybe it's because of the sterile setting of the recording booth, or the effect of all those hours in classrooms and workshops. In almost all of them, he says, during all these years, he was the only indigenous person.
"I've been like a dark spot on the wall for the coffee farmers, because I'm taken care of informing the whole population. Not just Ngöbe-Buglé, but also Nicaraguans," says Candelario, now 49. "I've done everything possible to get them to throw me out of here, but they can't seem to manage it."
He misses his parents, 87 and 85, back home in Panamá. They ask him to return home all the time. "My only wish is that you live close," he says, quoting the mother who urged him to go to school, even when his father would have liked Candelario to work in the fields, instead. "No one will ever love you like I do." He sighs.
But it doesn't look like a return is in the cards. His daughter is now a student of business administration at Costa Rica's Universidad La Salle. He's also signed up for another course himself, he says proudly, this one sponsored by the U.S. Embassy. It's a course for certification as a marriage counselor.
'Playing with the tiger'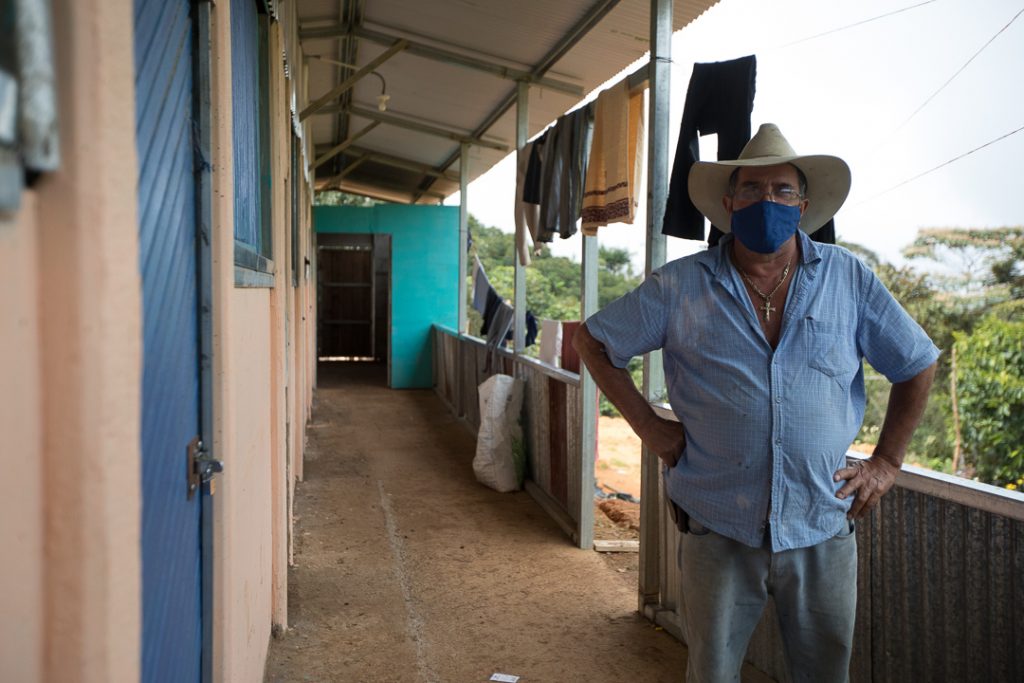 Isauro Abarca can trace his success back to an effort that began disastrously: his trip across the U.S. border as a young man. After growing up right here in rural Alto San Juan, Los Santos, as one of eight siblings, he'd managed to buy some land of his own, but couldn't afford the payments. He decided to tempt his fate and see if a stint working in the United States could change his fortunes.
"¡Me fui mojado!" he says with glee, explaining that he tried to get a visa but was denied and decided to make the trip undocumented, leaving behind his wife and their one-year-old son. "We made a little group here and I packed my bags."
He paid a coyote an absolute fortune—250,000 colones—to get him to the United Stats, but the coyote disappeared after Isauro and the group flew to Mexico City and took the bus to Tijuana, both things they could have done on their own. 
"I had to make a new contact," he said. When he did and the group tried to cross, they were detained by Spanish-speaking U.S. border police, who beat them, Isauro says.
"My other friend, they hit him a lot. They said, 'Tell us the truth about where you're from!' He told them, but they'd say, 'We don't believe you. Tell us!'" Isauro faced the same fate, explaining he was from Costa Rica only to be told he must be lying. He warms to his subject, an obvious raconteur. "He hit me right in the stomach, so I hit him back, 'Flah!' He said, 'Ah, now you're playing with the tiger.'"
Eventually, they were released, and found a new route across the border in the trunk of a car, one migrant stacked on top of another in a trunk. They made it to a safehouse in Los Angeles. A friend of Isauro's who was already working in Paterson, New Jersey paid for his plane ticket across the country. Unfortunately, the person who helped Isauro book the ticket in L.A. sent him to JFK instead of Newark Airport, an overwhelmingly confusing mistake for a young migrant with no English and no money who had been counting on his friend to pick him up. 
"A heaven-sent person helped me," he remembers: "some girl who spoke Spanish" and somehow grasped the plight of this young Costa Rican who had no idea where he was or how he could get to an entirely different state. "She found a taxi, wrote down the license plate number, wrote down her phone number for me, and said to me, 'If this taxi doesn't take you to the address you're giving me, you call me. I'll take care of him. You know what? That taxi did take me to my friend."
Isauro worked at a food preparation center during the day and a restaurant by night; caught two hours of sleep between shifts; and saw fellow undocumented immigrants living packed like sardines, sometimes subject to mistreatment and abuse. After a year of this, Isauro, spending almost nothing, had saved enough to return and pay off his million-colón debt on his land. The year in the United States got him started as a coffee farmer.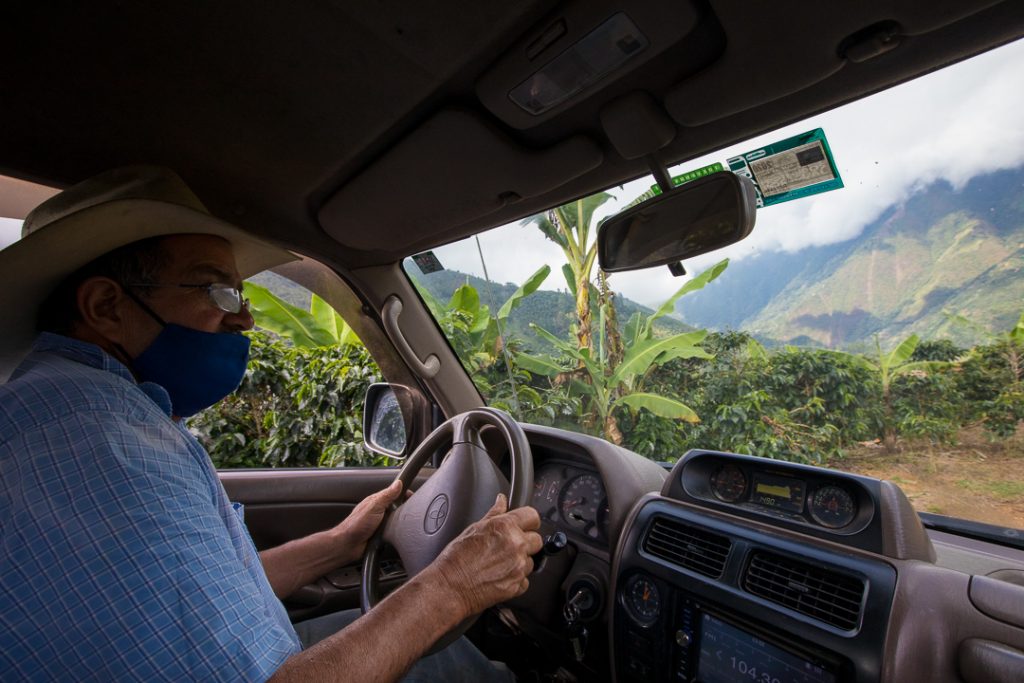 We've noted that often, in Los Santos, someone telling his or her life story will gesture out to the hills—I was born over there, but my mother was from back there. With Isauro, it's even more immediate. "I was born there," he says, pointing to a place just a few meters from where we stand on the mountaintop. "Right there." The dirt road we have been driving on was a path in those days. He remembers an old woman who lived nearby and had to be carried down the mountain on a stretcher, multiple times, hours of bumping in the cold; he can still remember her cries. When we started the morning at his pink house, perched on the edge of the valley, it seemed like a lovely and spacious home; when we return, these hours later, it looks palatial. He has come a long way, Isauro, without leaving the town where he was born.
Driving through his farm, he points out varieties of coffee that have worked well, others that are less successful. He is part of an industry that has been hit hard not only by the pandemic, but by the coffee rust that threatens farms throughout the world and has caused 6,000 Costa Rican coffee farmers to give up the ghost. Like Marco, he talks about a childhood spent mostly barefoot. Like Marco, he peppers his conversation with comments that show the fragile balance and constant hustle that it takes to keep a farm running. The farms' near-total dependence on a fluctuating migrant workforce to pick the crop is part of that fragility.
"In the United States, the Americans, without those people [migrants] don't achieve what they're achieving. I was in restaurants, Italian, Greek, American, and all [the workers] were Hispanic," he says. "Here in Costa Rica, if the Nicaraguans didn't come, the Panamanians, what are we going to do with the coffee?… And the day coffee is no good here, there would be such poverty. It would be like the Indians." 
He speaks of the ups and downs of working with migrant farmers with the direct pragmatism of most any farmer, but says that he's proud when he is able to provide decent lodging.
"I tell the people, understand, I suffered a lot. I don't want that for you. I know what it means for you to earn money here," he says. "I'm glad that here, they have running water, electricity. These are little things. [Life] is a school, where you learn. You two are educated, you're prepared… but you don't even know what's inside my head."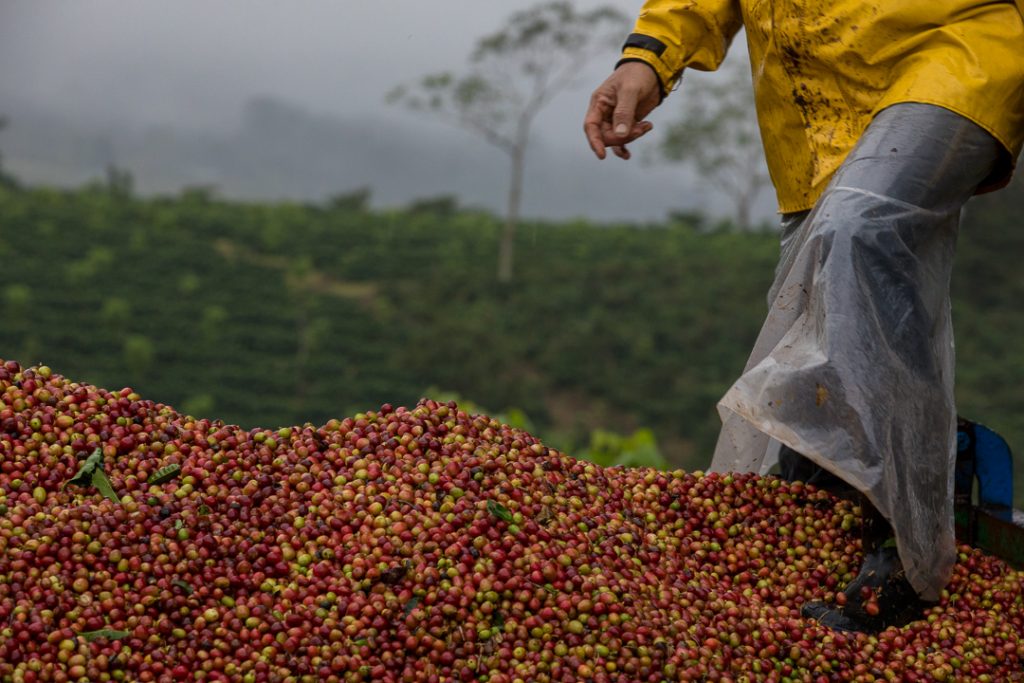 It is impossible to look at Isauro, standing on the mountaintop where he was born, without thinking of the three other men.
Eduardo in his little house with the jaw-dropping view, Candelario in his radio cabin, both living within a few dozen miles of this spot: two who left their homes, never to return.
Marco, more than 200 kilometers to the south, driving the paths of Finca La China: one who never left, but made sure his daughters could.
Isauro: one who left on an epic journey, but found his way back to the start, albeit to greater heights than he had ever imagined.
The four men's partners, absent from the interviews but present to varying degrees within the stories. Left behind here, leading the way there, taking care of children, balancing the books. Stories for another day.
The idea that coffee has been a distributor of wealth, building a strong middle class—in part, because the government parceled out small lots to motivate the cultivation of the new crop, resulting in an industry dominated by small farms—is repeated ad nauseum in Costa Rica. In the stories told with such gusto and occasional bravado by these four men, however, the concept springs to life.
What's at stock in Costa Rica's coffee industry is more than a drink. It's a climbing wall. It's a marketplace that allowed these four, and many others like them, to make trade after trade. Traditional knowledge for a nonprofit post. A food handling course for an advanced degree. A night shift processing coffee for a management position. A year in New Jersey for a farm. 
If coffee rust has its way with these plants, if pandemics and storms keep closing borders, will this marketplace survive? What will happen when better living conditions in Panama and Nicaragua cause the coffee pickers to lose interest in this work, as have so many Costa Ricans? Will the ladder Candelario and Eduardo climbed turn into a nice easy staircase for future generations, or will their story become less and less common?
Is there a win here that would come without a loss?
Marco says this question troubles him deeply. He's worried about the future of Coto Brus, where less coffee is planted every year. He's worried about the future of Costa Rica.
"I think that today, we have a situation where I feel that people might not realize that we all have to make an effort in order for a country to grow," he says. "The truck is carrying an awful lot of people. The tank is emptying out. We're not going to have enough gas."